Every closet needs a little refreshing now and then, but what if you don't have the funds? Upgrade wardrobe on a budget with these 7 simple hacks.
Are you still holding on to clothes you bought years ago?
If your wardrobe is looking out-of-date or falling apart, it may be time for a makeover.
But clothes can be expensive. If you don't have the funds for a huge shopping spree, you may think you're stuck with the clothes you have.
Luckily, you don't have to a millionaire to dress like those women in fashion magazines. There are some tips and tricks that will help you upgrade a wardrobe on a budget.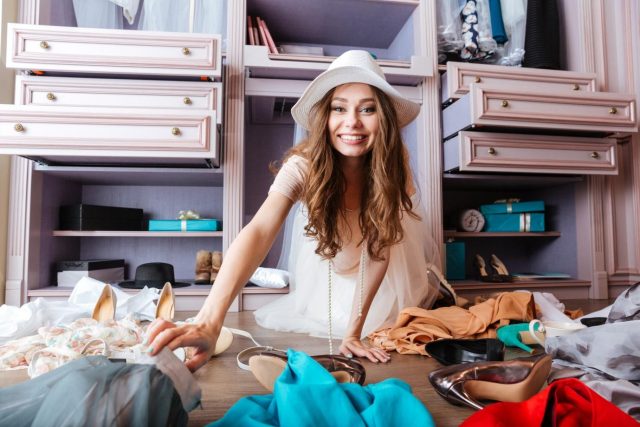 Do you want to know what they are? Keep reading to find out!
Take Another Look in Your Closet
When was the last time you really dug out those clothes from the back of your closet? If you've been wearing the same handful of outfits, it's time to recheck those clothes you never wear.
Try pairing them with different pieces and try on outfits you've never thought of before. Maybe you decided not to wear your chunky knit sweater because it looked awful with jeans, but it may end up looking great paired with some leggings.
You can save tons of money by finding ways to rock the clothes you already have.
Once you've surveyed what you have, decide what you need. There's no sense spending $65 on black pumps if you already have 4 pairs at home. Focus on filling in the gaps of your wardrobe to update it without spending extra money on things you don't need.
Accessorize
Did you find some outfits that look a little bland? Well, don't be so quick to count them out.
Accessorizing is one of the best ways to upgrade a wardrobe on a budget. Not only are accessories cheaper than new clothes, but they can be used in various different outfits to elevate them.
You can add a fun statement necklace to that plain outfit to add interest. Or take an outfit from day to night by choosing the right accessories. This is the best way to get the most out of your clothes without spending a fortune.
Learn How to Mend Your Clothes
We've all been there — you're wearing your new shirt for the first or second time and you spill red wine all over it! "Well, there's $50 down the drain."
But it doesn't have to be that way. Learning how to mend your clothes is a great way to keep a chic wardrobe without having to spend extra money replacing your favorite pieces.
Learn how to resew a button and find tips for removing tough stains before you just throw your clothes away. You can lightly run a razor over pilling or use a needle and threat to close a small hole. There are plenty of ways you can salvage your clothes.
Buy at the End of the Season
It's all too tempting to hit the mall at the start of a season to buy the hottest trends. But this is when clothes are the most expensive.
Instead, shop towards the end of the season. Stores will start running sales to get rid of all their clothes, so they can make room for the next season's collection. You can snag some great sales and update your wardrobe for a fraction of the price.
Don't Limit Yourself to the Mall
When it's time to go shopping for new clothes, you probably instinctively drive to the mall. But there are tons of other options that will allow you to get fashionable clothes for a more affordable price.
Hit the local outlet stores to shop your favorite brands for cheaper. Thrift stores and second-hand stores are also great options. Companies can be picky about what they accept, so they're perfect for finding gently used brand-named clothing for a fraction of the price.
If you have some trendy clothes that you don't wear anymore or that doesn't fit you, you can even sell them to these stores for a little extra cash. You likely won't get much, but if you're going to get rid of your clothes anyway, you might as well get a little something for them, right?
If you're not ready to get rid of old clothes, another way to get quick cash is to apply for online loans no credit check. With these, you might be able to find new clothes you need.
Focus on Pairable Items
Have you ever fallen in love with something when shopping but ended up never wearing it because it didn't match any of your clothes? This can be a frustrating way to lose money.
Before you buy anything, think of at least 3 or 4 things you could pair it within your closet. There's no sense in buying something that doesn't fit in your wardrobe. Instead, focus on items that are easily pairable.
Go for Classic Pieces
It's no secret that you'll want to buy trendy pieces when you update your wardrobe. But try not to limit yourself to things that are trending right now. Doing this means you'll need to do a complete wardrobe overhaul again in a few years.
Instead, go for classic pieces that never go out of style. You can't go wrong getting a little black dress or a peacoat. You may want to spend a little extra on these pieces to ensure they are durable and will last you for years to come.
How to Upgrade A Wardrobe on a Budget
If your wardrobe is looking a little worse for wear, your finances may be holding you back from going on the shopping trip you so desperately need. But, you can upgrade a wardrobe on a budget. Just follow our tips and tricks to stretch your money further and give your clothes a makeover.
Are you looking for more fashion advice? Then check out our blog today!