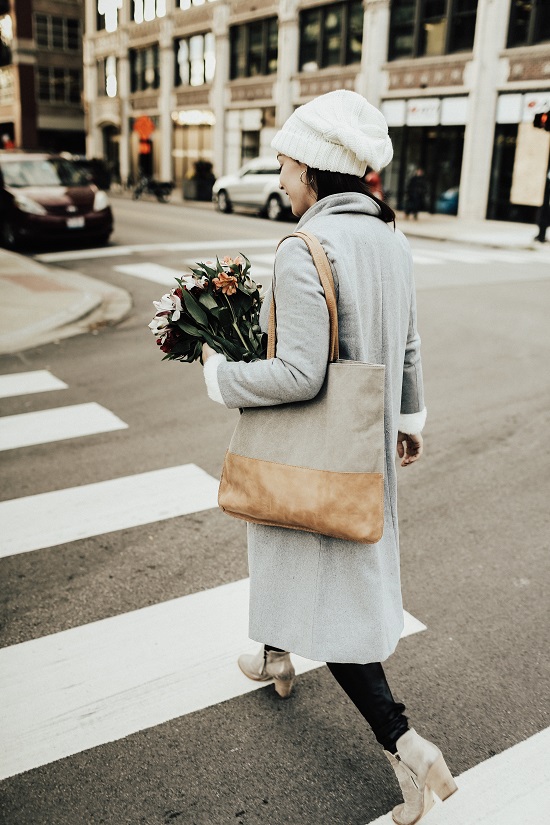 Capsule wardrobes have become increasingly popular due to a series of reasons. They are low-maintenance and you end up looking exquisite every time. Plus, you enjoy higher quality level since you can spend more money on fewer clothing articles. And the best thing is, you will be able to even travel in style since all your clothing will perfectly combine in various outfits. But below we will teach you how can you master the art of looking exquisite during those cold, winter days and looking like a million bucks.
Understand what does capsule wardrobes involve
Capsule wardrobes are virtually based on minimalist and neutral elements which can be successfully mixed and matched so they create visually pleasing combinations. The color palette is also neutral, which allows more flexibility combination-wise and includes black, grey hues, beige and camel. Some accent colors are allowed and you can always choose a splash of color to make your outfits pop. Clean cuts are also advisable in capsule wardrobes' case as they are more approachable and stylish.
Warm, Stylish Bottoms
As said before, it's best if you focus more on investing in neutral elements. And when it comes to your pant choices, make sure that you purchase those in black and dark greys. They will look stunning in most outfits, plus they are easy to combine. What needs to be part of your pants and jeans collection is a pair of black skinny jeans, a pair of warm leggings and the obligatory pair of black leather leggings. For fancier circumstances, a black leather skirt can be ideal, as it can be dressed up and down, depending on your needs. But make sure that you don't invest in elements that don't have the potential to keep you warm, as you will be restricted when it comes to keeping yourself comfortable.  Some pairs of stocking will certainly come in handy when it comes to those fancy outfits.
Cardigans and Fancy Shirts
Keeping yourself warm during the winter can be quite of a hassle but follow the tips below, for the best results. You will end up looking stylish and feeling warm at the same time.
Invest in several pullovers in a high-quality fabric. Merino wool is just perfect if you want to be warm and stylish, plus it is highly breathable and has impressive odour-neutralising properties. Pick those in neutral colours.
Chunky knit, slightly oversized sweaters are also great if you want to successfully pull off a minimalist yet stylish outfit. A cardigan or two will also make wonders for those time when style is what you go for. Make sure to also invest in some stylish, minimalist shirts since you can successfully wear those at the office and you can dress those up and down, depending on the situation.
Some silk tank tops are also amazing for those times when you want to look classy and stylish since these can be adapted and incorporated into a variety of fancy outfits.
Casual outfits call for some tank tops and tees, so several of those will surely come in handy especially when you just want to simply run errands. However, you can make those look more stylish as well. Add a blazer and some accessories, a pair of high heels and you have just the perfect outfit for a day at the office.
Clean-Cut Outwear
Outwear plays a great role in winter capsule wardrobes, so make sure that you choose yours in wool-blend fabrics for more warmth. It's worth checking out the different brands when you shop for such elements since the offer is wide and can fit everybody's needs and preferences. Once again, neutrals colours will offer you more flexibility in the future when you try to create consistent outfits. Clean, straight cuts work wonderfully when it comes to coats, for those warmer days. However, if the temperatures reach below-freezing values, you might want to invest in a black puffer jacket to keep you warm and stylish.
Down jackets and parkas also make great outwear choices for those extremely cold winter days.
Shoes and Boots
Black and brown are those boot and shoe colours you should go for. They offer more flexibility than other colours do and with only a few pairs you will be able to satisfy all your style needs. A pair of hunter boots, a pair of black moto boots and a pair of sturdier, impermeable boots for wet and unpleasant weather might be just what you need. Also, make sure to invest in a pair of high heel boots for those times when you need to be fancy.
Some pairs of white sneakers will also work wonders if the weather allows. You can create quite some amazing and comfortable outfits if you have a pair nearby.
Accessories
Accessories will help you dress up and down your outfits, but they will also make your clothing choices more suitable for a variety of circumstances. Others have functional purposes as well.
A pair of wool gloves and a wool hat will work wonders when you want to protect yourself from the harsh, cold air. A blanket scarf is a great element in which you have to invest. It will offer you a stylish air, plus it will keep you warm.
Your capsule wardrobe should also incorporate a leather backpack in relatively small dimensions, as well as a crossbody purse. Make sure that your bags and purses are black or beige at the most. This way, you will have a significantly easier time when it comes to incorporating them in various outfits and making them work together just perfectly.
Aim for a wardrobe of approximately 30 elements, maximum, and that should include your shoes and accessories as well. This will offer you more flexibility outfit-wise as all your clothing articles will work perfectly together.
Plus, if you plan a vacation, you will certainly have an easier time keeping your luggage light and looking stunning. After all, who needs 100+ clothing articles in their wardrobe?