Have you ever counted the number of pairs of jeans you have? When it comes to jeans, you have countless options from which to choose, different brands promote different types of jeans. They come in a wide array of colors, styles and models. People regularly wear jeans on informal occasions, but this article will show you how to wear your favorite clothing items even when you are invited to an evening event. Celebrities are taking their jeans even on the red carpet; there is no rule that establishes the occasions when you can wear jeans. It all depends on the type of jeans you can wear and on how you accessorize them.
Dressing up for evening events means you trying multiple outfits, and sometimes you end up wearing the most uncomfortable items. The purpose of an evening event is to have fun, so stop being so worried about what you are wearing, pull from the closet your favourite pair of jeans and use your creativity to style your outfit.
Here are the celebrities who rocked their pairs of jeans on the red carpet and can serve as inspiration.

Kate Bosworth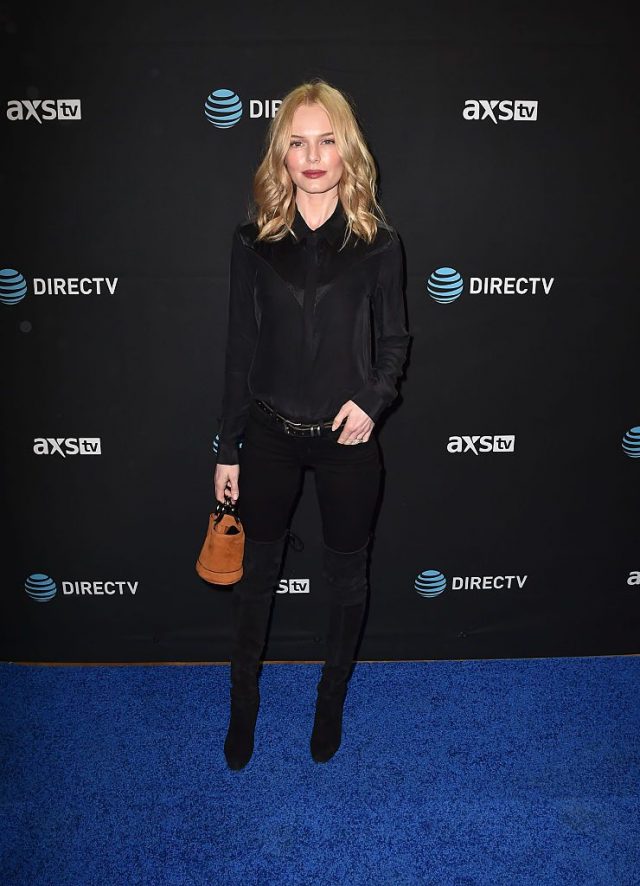 Kate Bosworth decided to wear a pair of black skinny jeans when she attended the DirecTV Super Saturday Night event at Pier 70 in San Francisco, California. She preferred to sport an all-black outfit; therefore, she accessorised the black jeans with wedge-heeled ankle boots and a long-sleeves black blouse. This is one of the outfits that fits perfectly a woman, who wears her blonde hair, in weaves. If you want to steal her look, then you can use it as inspiration for an outfit you can wear for a cocktail party. It is a perfect outfit for a night date, and if you want to make it look more elegant, you can wear a pair of stiletto heels instead of the boots. Also, you can play with the fabric of the blouse, because you can choose one made from a delicate material if you plan to impress during the night. For a pop of colour you can wear a statement necklace, it will draw attention to your face, and you will look wonderful.
Cara Delavigne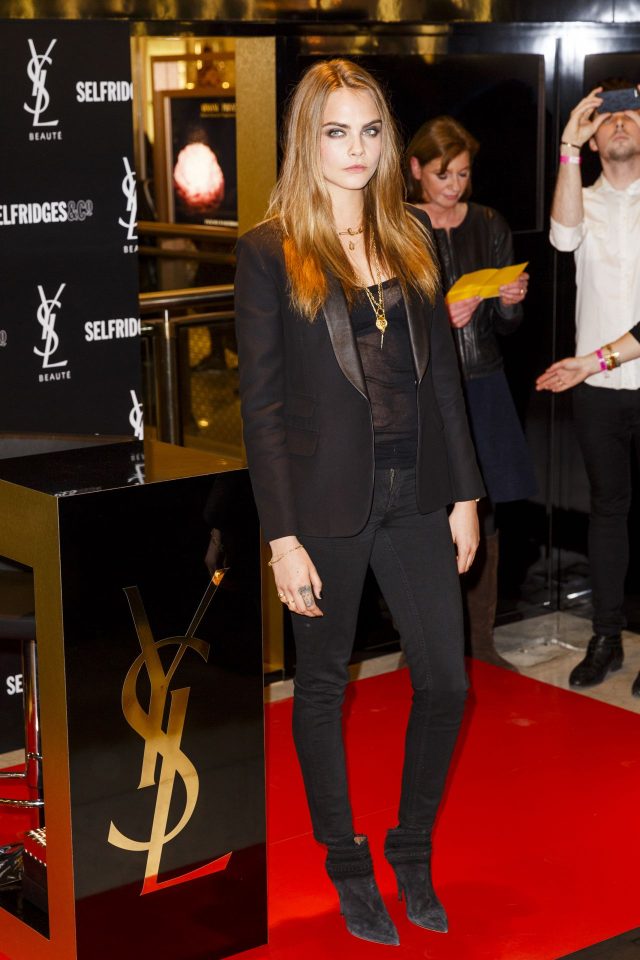 Cara Delavigne has also opted for a pair of black jeans when she attended the YSL Beaute: YSL Loves Your Lips launch at Selfridges in London, England. She is one of the models who promote androgynous beauty and she is always looking sexy and confident in her body. The outfit she sported for this event is perfect for the women who want to be provocative without showing too much skin. She accessorized the jeans with a black tuxedo and a sheer black blouse. As you can see, she has also opted for an all-black look, because her blonde locks are the pop of color she needs to stand in the crowd. And Cara Delavigne is teaching women an important lesson, not only with this look, but with all her appearances, it is no more perfect accessory than your attitude. If you have to attend a corporate party, or you are meeting with your clients at a dinner, this outfit will definitely help you. This outfit is also perfect for the New Year's party, all you have to do is to wear some metallic jewelries.
Ashley Tisdale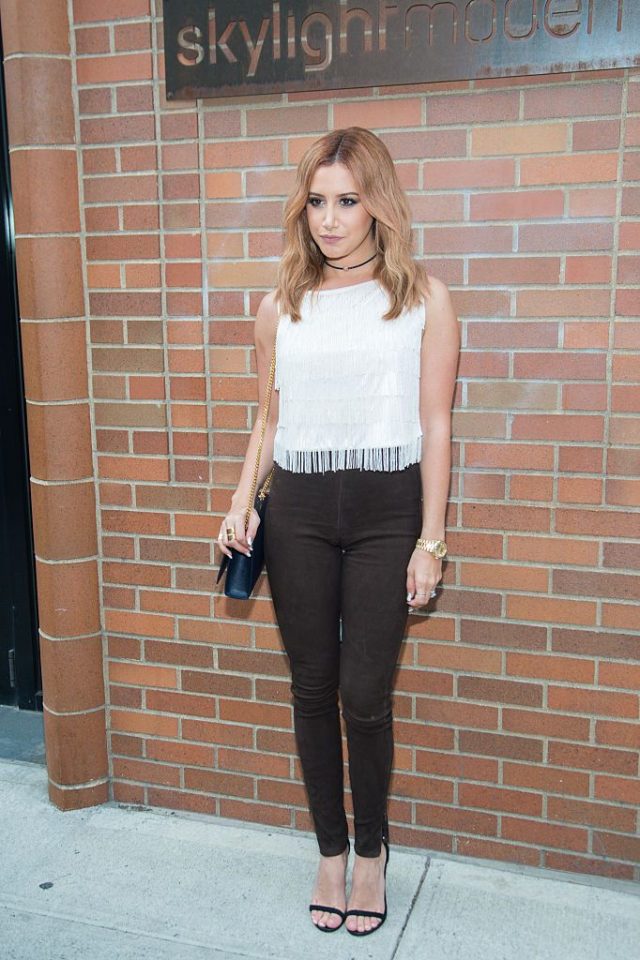 Ashley Tisdale shows that the top is the one that makes the outfit. She wore this outfit when she attended the Lauren Conrad Spring runway show during New York Fashion Week. She opted for a grey pair of high waist jeans, and for the top, she preferred a fringed white blouse. If you want to recreate the look then you should know that the SJYP clothing is special and unique and you can find on their website all the items you need to create a similar outfit. This look is flattering to all figures and if you want to make it look more stylish, you should accessorise it with a pair of high heels, a chunky watch and a cuff bracelet. This outfit is quite versatile; therefore, you can wear it for multiple occasions.
Shay Mitchel
The ones who have an Instagram account definitely know who Shay Mitchel is. She wore this outfit for the event from SiriusXM Studios in New York City. All you need is a pair of trashed grey skinny jeans and a draped blouse in a similar shade. To recreate her outfit is important to have a longer blouse you will tuck in your jeans, and a belt. If you want to obtain an elegant look, you should choose a pair of ankle boots, because they will elongate your legs. If you do not know what to wear on your first date this is a great idea. If you want to obtain a more glamorous look perfect for the night, you can accessorise the outfit with a pair of sandals and a multi-chain necklace.
Heidi Klum
All women worldwide admire Heidi Klum for her perfect look. She is one of the celebrities who wear jeans on the red carpet every time she has the occasion. For one occasion, she accessorised a pair of black skinny jeans with a black top and a glittering jacket. She is the type of celebrity who wants to play with her outfits, and for this one she preferred gold accents, because they perfectly match her hair. The trick for pulling out this outfit is to opt for a fitted top, because it will offer you a sleek look with the jacket. And because the golden glitter from her jacket was not enough, she accessorised the outfit with a pendant necklace. If you do not find a jacket in a similar model you can play with other colours, or you can wear a top in a bold colour. This outfit is perfect for an evening event, it will help you look perfect and it will accentuate your figure.
Channel your diva by wearing your favourite pairs of jeans on different types of events. These ideas will help you pull together some outfits that will impress everyone.