Prom is only a few days away and you don't have a date. Maybe you and your boyfriend recently broke up or maybe your crush said no. No matter what the reason, you don't have sit at home alone and mope, even if the 1980s movies like Pretty in Pink made it seem like you had to be paired off romantically and totally decked out to have a good time. I went to my prom without a date and if needed, you can too and still have the time of your life.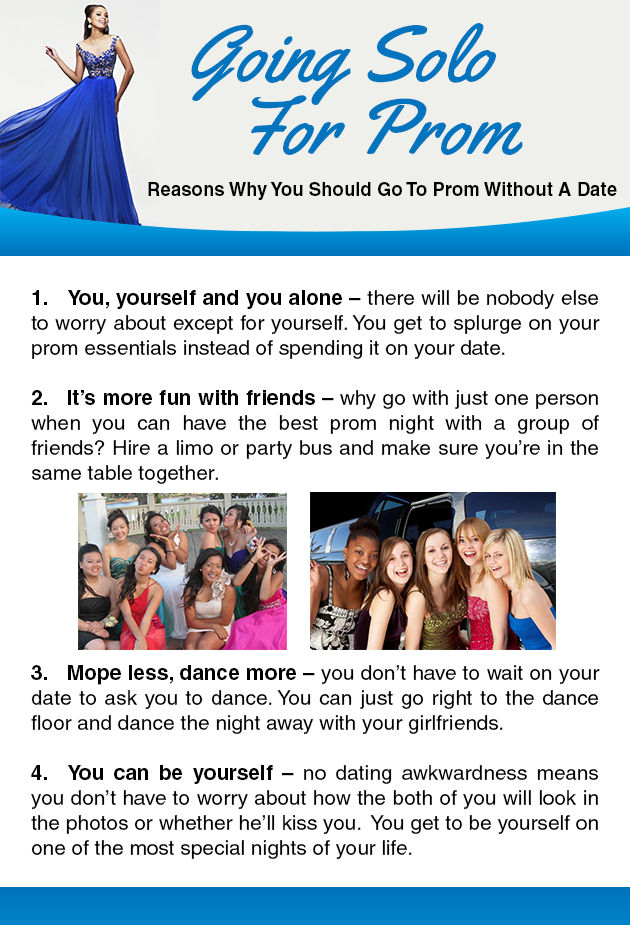 Reasons to Attend Prom Solo
While most people think of prom as the most romantic event of high school, there are lots of perks for attending it solo, including no added pressure.
You only have to worry about yourself. After selecting a dress out of all the fashionable Sherri Hill prom dresses, splurge on a silver clutch purse or dangly diamond earrings because you'll have a little extra money since you won't have to buy a boutonniere. If you feel weird showing up without a corsage, you can always pick one out yourself.
You can attend prom with a group of friends.  If a bunch of your friends, both male and female, are going solo too, think about seeing if one wants to go just as friends so you have a dancing partner for the slow songs. In any case, try to organize that a group of you share a limo or party bus to save money and purchase tickets at the same table together. That way, it'll be more of a group thing, and you'll be spending time with those that matter most to you-your best friends.
You'll be able to dance more. Typically, unless they've taken lessons in ballroom or swing, most guys avoid the dance floor. So this means you and your girlfriends can kick up your heels and even belt out the tunes along with it and laugh like crazy, since you're not trying to impress a date.  When the music switches to slow, romantic tunes don't be shy and ask several different guys to dance throughout the night.
Speaking of heels, you can wear them if you want, without worrying about the stigma of towering over your date. If you find a pair of strappy sandals that's sparkly and comfortable, you should totally work it.
You won't have to experience any of the social and dating awkwardness that comes with prom. From taking rigidly posed photos for the school yearbook to wondering if she's going to kiss you good night, this can all be avoided by attending solo. You'll have plenty of opportunities to strike a model pose for a stunning photo as you enter the ballroom, or take smiling pictures with your friends.
No matter if you attend prom with a date, solo, or in a big group of friends, remember to keep your expectations in check. The movies may hype it up but you more than likely will not get drunk, or get the best first kiss on prom night and that's okay. It's more realistic to think of prom as the kick-off of celebrating graduation with your friends.