There isn't a more iconic item of clothing in American culture than a varsity jacket. Every college student has one, but fashion has gone way beyond school walls. While being still popular today among young people, its origins date back to the 19th century. How did the trend begin in the first place and what makes varsity jackets such a 'cool' looking piece of clothing?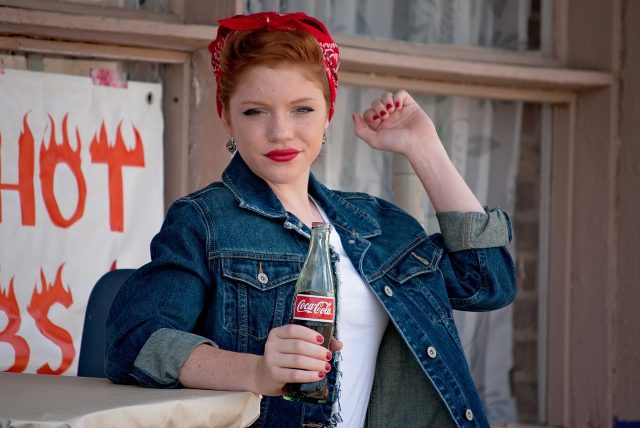 Origins of Varsity Jackets
Varsity jackets, as we know them today, didn't exist until the 1900s. They originated from letterman sweaters worn by Ivy Leaguers back in 1865. Back in those days, elite Harvard baseball players needed to look more prominent. Someone came up with an idea to sew a giant 'H' on the center of their outfits.

Along with letterman sweaters, strict rules applied to those wearing them. If you played well on the field, you were allowed to keep the outfit throughout the season. If not, you had to return it. This added a sense of eliteness and competitiveness.

As years passed by, more athletic teams started to wear letterman cardigans, personalizing the outfit. Everyone wanted to tweak its design and feel unique. The adjustments focused on the letter mostly, changing its font, style, placement and the letter itself. Letterman sweaters kept evolving and by the 20th century, its permanent place was on the side of the sweater.
Early Years and Growing Popularity
Once the design became stable, the letterman cardigans started to gain popularity. A lot of schools in America adopted the outfit to fit their sense of identity. Fashion didn't stay in colleges only and spread to high school too. Phoenix Union High School was one of them.

Soon after, athletes started looking for something more comfortable, and in the thirties, new outfits were introduced. Wool jackets with leather sleeves and the letter on the side entered the market. The design referred to letterman sweaters. They called them varsity jackets as they were associated with varsity teams. They became a symbol of students' schools, and at the same time a symbol of authority.

Even though the eliteness of varsity jackets was slowly fading, it wasn't easy to get a letter embroidered on them. There was a tradition stating how one could win it. Players had to prove their prowess in order to receive a letter on their varsity jackets. It was a symbol of honor and wearing a jacket with a lettered-badge was a pride back in those days.

Again, trends kept changing and in the fifties, new styles of jackets emerged. They became extremely popular and spread across the world, but were still associated with athletics. Mass production began in big sporting apparel manufacturers to meet growing demand. Soon after, fans started wearing varsity jackets when attending games, and later outside stadiums too. But the snowball didn't stop there.
Entering the cool 80s. and 90s.
In the eighties, we experienced the biggest revolution. World class teams were wearing varsity jackets as a symbol of their greatness. New York Knicks and Los Angeles Raiders spread fashion across the world and varsity jackets were literally everywhere.

The biggest change in the eighties was the use of a different fabric. Instead of wool, satin came into play. Manufacturers started producing jackets with logos of various teams so that fans could identify more with their favorite players. Soon after, varsity jackets covered other sport disciplines too.

Once associated with elite fashion influenced streets as well. Everybody wanted a piece of it. Hip hop bands such as Run DMC adopted it too. Music industry drove sales. Varsity jackets became affordable and started to be seen more like an urban style outfit.

At the beginning of the nineties, everyone was wearing one. The phenomenon was impossible to explain. People were crazy about varsity jackets, and the biggest celebrities started wearing them as well such as Eddie Murphy and Michael Jackson. Fashion influenced street culture.
Varsity Jackets Today
Varsity Jackets today come in many styles, colors, and materials. Online shop Varsity Base offers a great variety of jackets for both men and women. Getting one is very easy and most popular chain stores have at least one in their look-book. If you want to get a more genuine one, there are stores which sell original varsity jackets. The prices start at $400.

With fashion's globalization, came additional options to satisfy customers. Today, you can customize a jacket adding a letter of your choice, your logo, by choosing colors, stripes, fabrics. You can literally design your varsity jacket from scratch. Who knows what the next years will bring.
Behind the Scenes – Design
Varsity jackets come in many options, and there are versions for both men and women. Certain elements, however, are identical to all of them.

Body – the biggest part of the jacket, usually made of wool or satin. Depending on the season it can have a thick satin lining or be made out of cotton entirely.
Collar – all varsity jackets have a banded stand-up collar, which is a more stylish look. It is usually made of spun nylon knit.
Waist and wristbands – both of them are made of spun nylon knit and usually match the collar.
Sleeves – traditionally the sleeves are made of a different fabric, usually leather. They can also be decorated with stripes, but they're not necessary.
Closure – typically there is a snap front closure, but a zipper is also possible.
Pockets – are lined with leather.
Why are Varsity Jackets Still Popular Today?
Ever since varsity jackets have been introduced, its popularity hasn't stopped growing. Today, with modern tools such as the Internet it's even easier to get one, and the prices are affordable too. But what made this particular piece of clothing so trendy these days?

The most probable 'offender' is mass media. It presented varsity jackets as an integral part of schools across the world. Thanks to its limitless reach everyone got to hear about the new-old fashion. It's not surprising, therefore, that they gained popularity so rapidly leaving the world of sport behind and entering the world of fashion.

Now, the biggest fashion houses offer varsity jackets in their collection. We can see them on runways. From street fashion, they became high fashion too. They're more hypnotizing in terms of design and can reflect individuals better due to customization.
Conclusion
It turns out that varsity jackets are timeless closet pieces. Despite their transformation over the years, they are still trendy and it seems that they're not going to disappear from the store shelves anytime soon.