Don't know how to dress for a flight? You might not find flying a very comfortable experience, especially in economy class. The way that you will dress can really change everything and help you feel more comfortable. It doesn't matter if it is a short or long flight, you should always be prepared properly. Remember that you can always feel comfortable and be stylish at the same time. As being a frequent flyer, I have some really helpful tips to share from my own experience. I summed them up for you so that you can read them in a few minutes and get the idea. Read on and find out how to dress properly for your flight to avoid any hassle!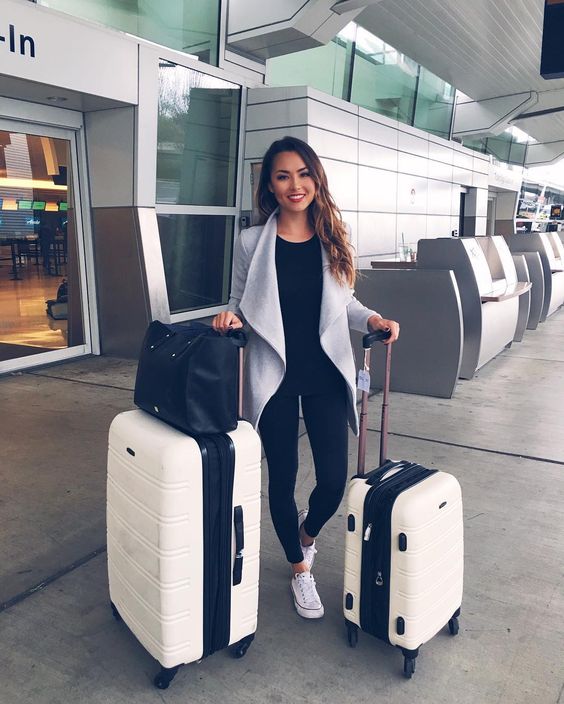 Loose Cotton Clothing
The most important thing is having comfortable clothes on you. You don't want stiff and tight pieces that will only limit your movement. But, it doesn't have to mean that you won't look fashionable. Pick loose cotton clothing that you will feel comfortable in. Cotton is the best choice, as it is a lightweight and breathable material.
Remember that layering is your way to go. Place cabins can get extremely hot or cold, so you might want to have something such as a cardigan or sweater in case it gets chilly.
Avoid wearing shorts, or anything that exposes your skin. Planes are known for being dirty, and you don't want all the bacteria to end on your skin.
In case you need some inspiration on making your outfits, head to this post: SUMMER TRAVEL OUTFIT IDEAS FOR YOUR NEXT ADVENTURE
Comfy And Closed Shoes
Heels look cool, but you will hate yourself when you find out that you have to walk for miles to get to your gate. Leave the heels home and get your comfy shoes on. You will find it relieving when you won't have to stand in the line for boarding with heels on. A pair of sneakers is the best choice that you can make. You should avoid open-toe shoes, as you don't want the nasty bacteria from the floor on your feet.
Avoid Metal
Metal is not prohibited, but you still have a reason to leave your metal accessories at home. The beeping alarm at security will only slow you down. So, if you don't like to be slowed down for nothing and being patted just skip on the accessories.
Here is another round of helpful tips for you: TRAVELING IN STYLE- FASHION TIPS FOR WOMEN