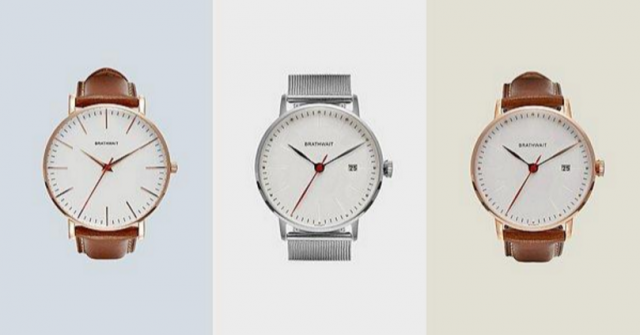 A watch is one the best accessories you can wear — if it fits your taste, your size, and your actual lifestyle. But picking out a great minimalist watch can be a daunting task; there are so many choices it's easy to get confused. Never fear, however: here are seven elements to look for in a great minimalist watch, that can help you select the perfect one for you.
Accuracy of Timekeeping.
A watch with great fashion sense is one thing; a watch that keeps accurate time, all the time, is quite another…and they're not always the same. Look for a watch that keeps accurate time no matter how much "action" you put it through; a watch with hands that are too affected by normal actions of your hands and arms isn't a watch worth investing in. Better watch brands on the market have natural governors in their mechanisms to prevent such fluctuations, so look for this as one of your benchmarks.
Type of Band or Bracelet.
The watchband you choose depends on several things such as whether you're wearing the watch in a casual situation or a formal one, whether you plan to wear it every day or only for certain occasions. If you're sensitive to metal bands, you'll want to choose leather or cloth — and don't forget about checking out a selection of different bands you can "change out" to a different feel or "mood." The same watch can go from black-tie to a camping trip with ease and panache, simply by swapping out elegant black leather or a metallic band for a cloth or vinyl one. Don't be afraid to be creative!
Color and Finish.  
Are you a "goldtone" guy or a "silvertone" guy? Some people have color analyses done of their "types" and plan accordingly — different finishes look better against different skin tones. But basically, it doesn't have to be complicated: what you like is what's right for you.
The same goes for the color of the watch itself. Manufacturers produce watches in a wide selection of colors, but the retailers you visit may carry only a few "standard" colors in stock. Keep in mind that if you custom-order a watch, it can take a little extra time to have it in hand. But if you've always wanted a deep burgundy-toned watch and the manufacturer offers it, you might consider the small wait a worthy trade-off to indulge your personal sense of style!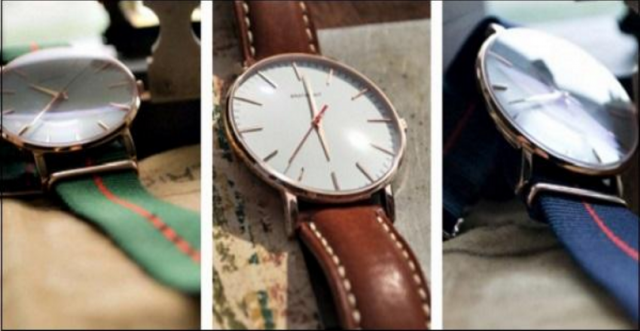 Size and Style.
Do you believe the bigger the watch, the better? Or are you the type who likes unobtrusive jewelry and accessories? Good news: minimalist wrist watches accommodate both tastes. While large faces and oversized watches can be very trendy with the right outfit, they're not a great choice when paired with a more tailored look—and a small-scale watch is equally "in" when it complements you.
Above all, think proportionally: if you're a large person, a large watch will look good on you regardless of the outfit you wear. Just switch out bands if you need to go from very formal to informal or fashion-forward. Likewise, if you have small hands and wrists, you don't want something too "clunky" or it draws attention away from your total look because it's out of balance.
When picking minimalist watches, consider what you normally wear every day.  If you want a unique look, shop around for something that doesn't look just like what everybody else is wearing; just be aware that the more unique the style, the more you're likely to pay for it.
Comfort.
Just as you normally try on clothing and shoes before buying them, you need to try on the watch you're thinking of buying to see how it feels. This means shopping online or through a catalog can be a risky business, indeed. There's nothing to be gained by buying a watch that looks great in the case but feels or looks awful on your wrist! You'll regret the purchase AND probably never wear it, meaning that you'll need to get another timepiece anyway. Friends, shopping buddies, and store personnel can all be helpful in giving you feedback on how a watch looks…but only you know if it's really "you" when it's on.    
Durability.
Every watch has a "shelf life": it's eventually going to wear out or break. But unless you plan on replacing watches often—maybe as frequently as you tire of one and want the latest, flashiest model instead—you'll want to check around for reviews on watches that last a long time. Brands such as Rolex and Piaget will cost you more up front, but they're made to last. Factor in the lifestyle you enjoy, too: sports watches hold up better than fine-jewelry types if you spend a lot of time outdoors, pursue athletics, or wear your watch in potentially harsh environments.
Price.
You can spend anywhere from under twenty to thousands of dollars on a watch, so think carefully about how much is wise for you to spend on one. While a good watch is an investment, it shouldn't be a "ball and chain": you don't want to be in debt still paying it off while having to replace it! Fortunately, minimalist watches, like all timepieces, have a wide range of prices. Choose the best for you and you'll be happy with your decision for years to come!