Let's talk about feet. Not a topic that many people think much about — until they start to hurt. Podiatrists understand the importance of feet; their job is to fix the ache and ensure that people are free of foot problems. The Illinois Podiatric Medical Association has some statistics to remind us of how important our phalanges are:
The feet have 52 bones, that's one-quarter of all the bones in the body.

One foot holds 26 bones, 33 joints,107 ligaments,19 muscles, and a heap of tendons to hold the smell mess together.

75% of Americans will experience foot pain at least once in their lives.
A good pair of shoes can eliminate foot and even back pain. For people that stand all day at work, a good pair of supportive shoes isn't a luxury — it's a necessity. Something else to consider would be insoles for working on concrete or hard surfaces. These can provide comfort, alignment, and support.
This article looks at 10 of the best shoes on the market to support and comfort our feet.
Wear These Shoes on Cement — For Men
Having good shoes can improve the back and foot pain people feel from running or walking back and forth on a hard floor. Basketball coaches, factory or hospital workers, or anyone that spend eight hours or more on a hard surface, can all benefit from a great pair of foot protection. We've pulled together a handful (or a shoebox full) of ideas for shoes that will improve the wearer's comfort. For example:

ASICS Men's Gel Foundation Workplace Walking Shoe


The ASICS line feature comfortable, functional shoes with ultra added cushion support in the heels. The

ASICS Gel Foundation

style features memory foam in the heel that perfectly conforms to the wearer's foot. There's strong arch support with extra support in the front and back of the shoe. Men can pick up a pair on Amazon starting at $50.00.




Rockport Get Your Kicks Slip-On


People that buy Rockports swear by their wearability. These are some of the most well-made walking shoes on the market today. The

Kicks Slip-On

was created specifically to reduce leg and foot fatigue while being exceptionally lightweight. These shoes also have memory foam and exceptional shock absorption.




Rockport is currently offering these shoes starting at $100.
Timberland PRO Men's 26078 Titan 6" Waterproof Work Boot


How about a hardcore, 30-year old boot that has stood the test of time as one of Timberland's top sellers for three decades? We're talking about the

Timberland Pro

.





Timberland offers a "Power Fit Comfort System," which is a fancy way of saying that these sturdy work boots offer maximum support. They're also easy to break in, durable, and long-lasting. Zappos has these boots, starting at around $154.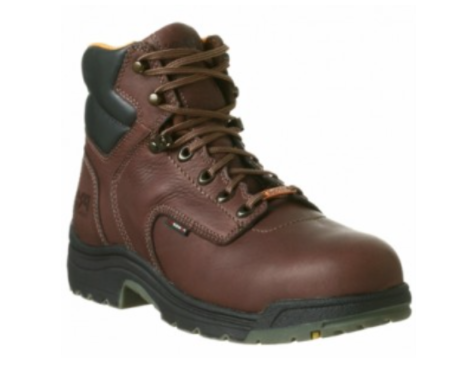 Reebok Work Sublite Men's Work Athletic RB4016ESD Safety Shoe


Who knew a guy could get a steel-toed tennis shoe with a safety rating? Reeboks are already one of the most comfortable tennis shoes on the market. Now they've taken that shoe, reinforced it, and made it suitable for the potentially hazardous conditions at work. Slip-resistant soles and cushioned arch supports and insoles make for a very comfortable, yet safety conscious shoe.

Amazon

has the shoe starting around $50.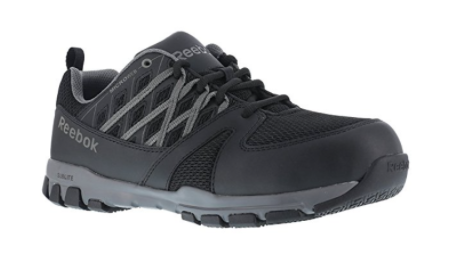 Men's Crocs – CitiLane Roka Slip-on
For men that are on their feet but don't need steel toes, Crocs are the way to go. The CitiLane Roka's are easy to slip on and off, they're lightweight and cool. They have the standard Crocs Croslite foam cushion for all-day comfort. You can pick up a pair at the Crocs website, or on Amazon.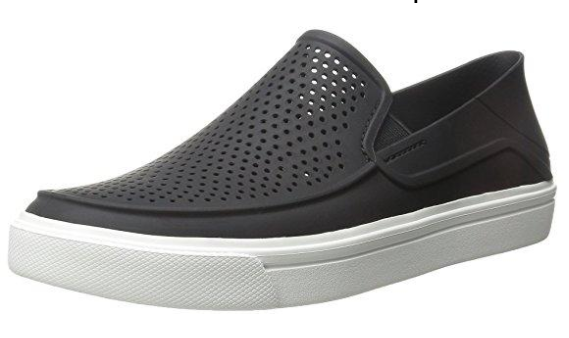 Wear These Shoes on Cement — For Women

Women working on cement floors need love, too. There are dozens of great shoes on the market that don't have high heels but do have massive cushioning, arch support, and can help feet withstand the rigors of an active life. Here's what we're talking about: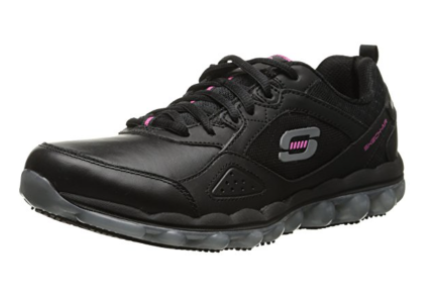 Clarks Women's Everlay Coda Flat


For the look of a business casual dress shoe with the comfort of a tennis shoe, we recommend Clark's. The Everlay has a small heel, with an adjustable strap and a very thick cushion for the bottom of the feet and insoles, and a soft inner lining.




Dansko Women's Abigail Flat


Dansko shoes probably won't make a person a better dancer, but they will make their feet feel lighter and more comfortable. The Abigail Flat is a slip on for women on the go; nurses, teachers, and warehouse workers will all benefit from this shoe. There's a removable footbed if the wearer chooses to add arch supports, but these shoes are very comfortable right out of the box.

Amazon

currently has these loafers for around $130.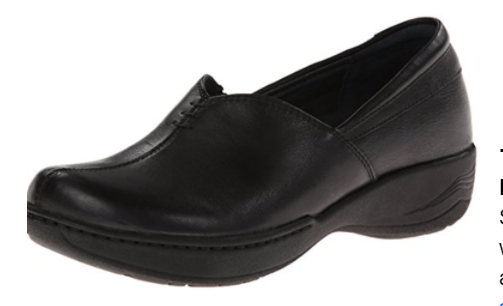 Skechers for Work Women's Sure Track Erath Athletic Lace Slip Resistant Boot


Skechers made the list again but this time for women. Even though this shoe is labeled as a boot, it looks and feels more like a

tennis shoe

. It does feel more durable than a tennis shoe, though, and is certainly comfortable, with a slip-resistant bottom and a memory foam footbed. Pick up the

Work Women's Sure Track at Amazon

for just under $100.
Croc's Women's Busy Day Stretch Asymmetrical Wedge


Last but not least on the top 10 are Croc's — some of the most comfortable shoes on the market. The

Women's Busy Day

is designed exactly right; they look nicer than the typical Croc but also wear well. The shoes are designed with yoga pant fabric and have the cushy foot support that Croc's are known for. Great comfort for around $65 on the Croc's website.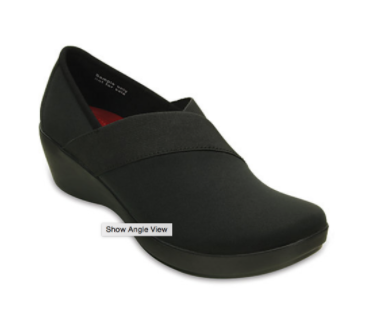 For those of us that have felt the discomfort of aching feet, comfortable shoes are a crucial part of working in retail, fast food, on the factory floor — or anywhere else. These were 10 suggestions for shoes designed for walking and standing are a good jumping off point when picking up your next pair of work shoes.