What does it take to be a BOHO bridesmaid? First, you must understand what has inspired the BOHO movement. Bohemian styling is free-spirited and artistic. It can derive from any era, culture, or theme. BOHO weddings are colorful affairs full of contrasts, patterns and textures.
BOHO styling is also eclectic. It calls for lots of layers of fabric, cushions and draping. Candlelight is essential, usually in the form of lanterns or votive holders hanging from trees. It can include unique furniture pieces like beautifully upholstered sofas that double as photo backdrops or "Glamping" tents where guests can relax and commune.
BOHO weddings might feature exotic music played on instruments from all over the world. Menus are often designed with a conscience, and with an emphasis on local sourcing and farm-to-table, sustainable ingredients. However, if you want to indulge your picky guests, who are more prone to standard variants you see on many weddings, you can opt for a BOHO candy buffet​.
BOHO weddings are true celebrations of love and new beginnings. More often than not you will see these loving couples even opt out of standard wedding present registries, avoiding the boastfulness of big presents entering their boho bubble. For the guests that would still like to help the couple with starting their new life and family, a simple online crowdfunding platform such as Plumfund can be used.
BOHO Fashion
BOHO bridesmaids embrace the same freedom of spirit. Fashion is natural and billowy, full of color and personality. Maxi dresses are practically the uniform of BOHO bridesmaids. Fun and free, they embody the Bohemian ambience, and as an extra benefit, they look great on many different body types!
Flowery patterns are also very Bohemian, not to mention popular this fashion season. Bold prints contrast beautifully against solids – think of a springtime combination of monochromatic pink bridesmaid dresses next to more avant garde floral-patterned gowns. It makes an irresistible garden-inspired statement. You can even incorporate highly popular separates on some of your bridesmaids. They might choose solid color chiffon skirts paired with contrasting embroidered tops, for example. The eclectic look is totally BOHO.
Temporary Henna Tattoos
Long a tradition of Southeast Asian brides, henna tattoos now draw in wedding parties of all cultural backgrounds. A henna session before the wedding is a bonding opportunity, and the results are definitely both beautiful and Bohemian. A henna artist will apply long-lasting, but ultimately temporary, henna dye directly to the skin, creating super-elaborate patterns that signify things like peace, unity with nature and the universe, and love.
Headbands and Floral Crowns
Another staple of the BOHO bridesmaid look is the floral headpiece or crown. Reminiscent of the peace and love 60's, wreaths of flowers in shades taken from your color palette, or even halos of all greens. Lately, brides are requesting more glimmer in their headpieces, replacing some of the natural florals with beading and jewels. Often BOHO brides will choose headpieces in place of bouquets. You can complete the look with strappy sandals or even more BOHO authentic, bare feet!
Bohemian Jewelry
Accessorize the BOHO look with oversized, mismatched, collections of unique jewelry pieces, layered and individualized for each bridesmaid. Floral dresses look wonderful with chunky solid color necklaces, bracelets, rings and earrings. You can choose pieces with more colorful designs to accompany solid dresses and separates. Or choose more delicate, natural looking jewelry including unique items like simple, beautiful anklets.
The best thing about being a totally BOHO bridesmaid is that nearly anything goes. Personal style shines through in a way that celebrates freedom, independent spirits and most important of all, romance.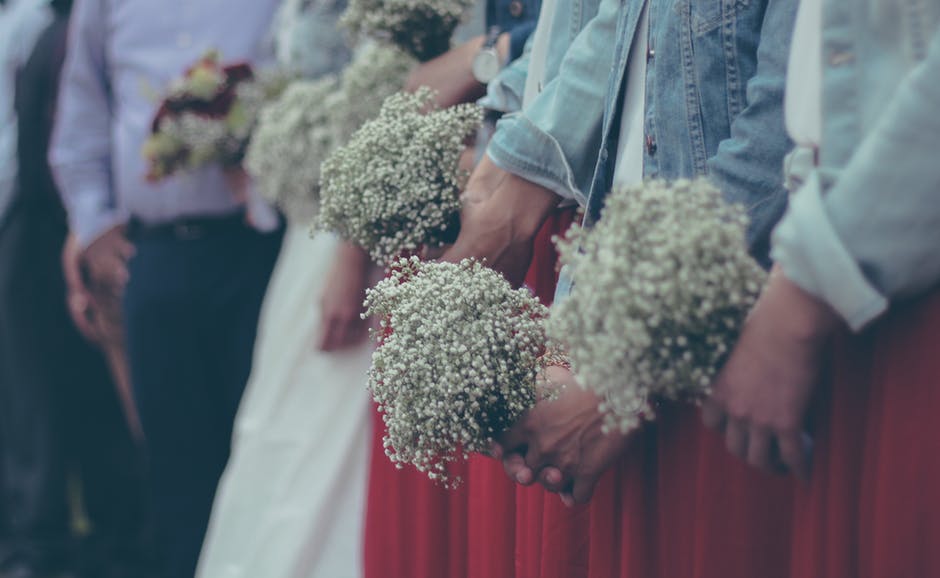 Author Bio
Wendy Dessler
Wendy is a super-connector with Outreachmama who helps businesses find their audience online through outreach, partnerships, and networking. She frequently writes about the latest advancements in digital marketing and focuses her efforts on developing customized blogger outreach plans depending on the industry and competition.