It all started when you popped the question: "do charcoal toothbrushes work?" Now, you are greener than ever!
Everything from your bamboo pillow to your bamboo air purifiers and speakers is sustainable.
And now, you have agreed to share this happy, eco-friendly life with someone else.
So, as you embark on a new journey into married life, it only fits to start it the right way: With an Eco-Friendly Wedding.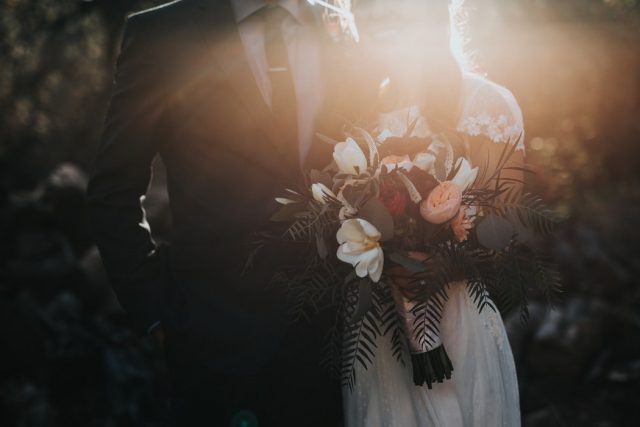 Here are some tips to help make that happen:
Use Rentals Whenever Possible
As you are surely aware, single-use items are bad for the environment.
On that note, there are so many rental companies out there with beautiful pieces to choose from that, unless you are planning on buying things for the wedding and then incorporating them into your house later, it is better to rent than to buy and trash.
Renting flower vases is a good idea because they often end up in the trash. If at all possible, use rental tableware and various items instead of disposable dinnerware.
Downsize the Guest List
Keeping your guest list small is one of the easiest methods to cut waste and overall costs drastically. The fewer people invited, whether a list of thirty valued ones or just direct family, the lower the environmental impact.
A smaller wedding also expands your venue options. With fewer attendees, you may be able to have the event in a family member's backyard, creating an exceptionally private and meaningful event. Even a small destination wedding with a few guests can have a less environmental impact than typical weddings.
Send Out Eco-Friendly Invitations
As wedding vendors grow more conscious of the environment, finding invitation suites printed on recycled paper or using alternative materials such as upcycled fabrics, leather, and wood is easier than ever. While shopping for a stationer, look for companies who give back to the environment.
For instance, some businesses plant trees for every order they receive.
Or, you can print invitations, programs, and menus on seed paper for the most environmentally friendly stationery. Seed paper is a biodegradable substance that, when planted in soil, grows into flowers.
Provide Edible Favors
Delicious favors are one of the most popular gifts, and for a good reason. Traveling guests usually appreciate a midnight snack, and most people would rather have something sweet or savory than a frame with your wedding date on it. To support the local economy, buy snacks from local vendors or the farmer's market.
Furthermore, an increasing number of couples are foregoing favors entirely in favor of making a charitable donation in their guests' names. Make a note of the kind deed on your menu cards or a single elegant sign near the escort-card station.
Support Local Businesses for Your Wedding Needs
If you are looking for catering, pick local artisans and suppliers. Going local allows you to avoid some of the transportation costs associated with bringing in other people or resources while supporting local businesses. Moreover, when you choose locally sourced goods, you avoid the need for added preservatives to keep them fresh during the long trip.
For another option, you can also look for businesses that give back to the community.
Avoid Food Waste
Food waste is unavoidable when it comes to weddings, but starting the planning early can help reduce it. Buffet dinners are known for leaving a lot of food on the table. Consider plated dinners instead to avoid food waste.
If possible, ask your caterer about packaging and freezing any leftover plates to take home and use later. Due to food rules, many caterers will not allow this, but it never hurts to ask.
Donate What You Need to Purchase After the Ceremony
There are many solutions for decorations, such as mirrors, signage, and lanterns. Use something you currently have or want to incorporate into your house after the wedding. On the other hand, if something is not a good fit, donate it to a local thrift store.
Donations are, after all, tax-deductible, which will come in useful. Furthermore, you can rest easy knowing that you will give these things a second chance by someone less fortunate.
There are sustainable, eco-friendly solutions for practically every aspect you will be arranging leading up to your wedding day!
Remember: it is not the decor, the wedding bouquet, or the centerpieces that guests will remember about this day. It is about making a memory for you and your loved ones that will last a lifetime, all while being thoughtful, creative, and kinder to the environment.