Kanye West is an imposing name in fashion nowadays. He decided to offer an innovative line to his clothing brand, and he used Kim Kardashian West, his wife as his main promoter. If it is someone who can promote something, and everyone to become obsessed with it, that is Kim Kardashian. Lucky Kanye for marrying her. She showcased outfits from his collection several times. It does not matter if she stepped out in town for errands, or if she travelled to Tokyo for especially for promoting the Season 6 line, she remained loyal to advertising her husband's brand. The impact was so great many other celebrities started to wear and promote his clothes, only for fun. Actually, social media experienced a new trend, people around the world, celebrities or not, started copying and recreating Kim's outfits.
But we are not all lucky enough to get Yeezy clothes, because let's face it, they are quite expensive. A wise idea is to recreate the looks for less. Because not the brand is important, but the looks.
First, get the hair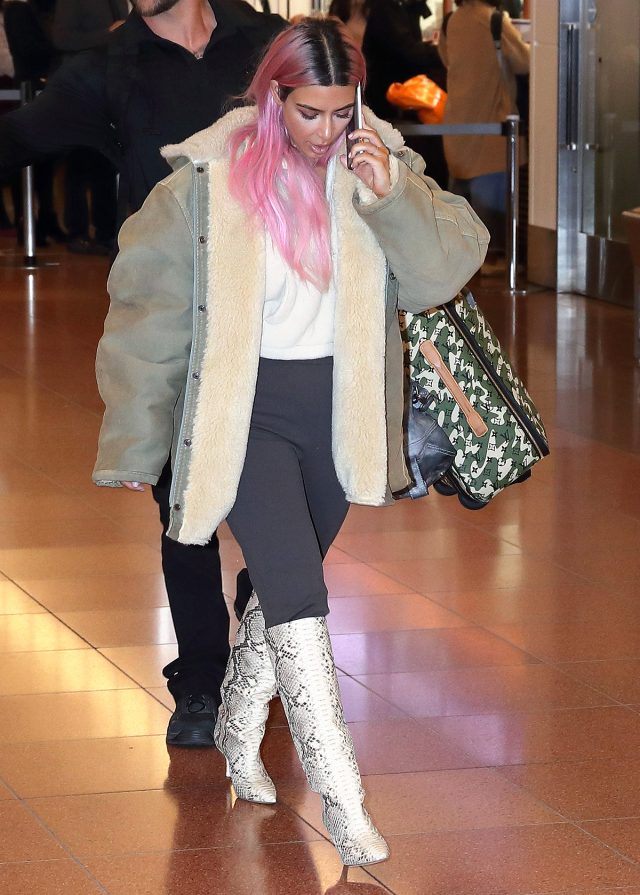 Chris Appleton is the hairstylist who created the silver blonde locks Kim Kardashian worn when she promoted the Yeezy neutral outfits. He recommends people t not o go with the change before their have some experience with a platinum blonde wig. It is a big change, for both their hair and overall look, so it is important for you to get used with how you will look. According to your skin tone you will have to choose the level of platinum your hair should be, because it is crucial it to be the right one for your eye colour and skin. The hair is the one that will make or break your Yeezy look.
First, and most important DO NOT TRY THIS AT HOME!!! Platinum blonde is not the type of colour you obtain at home with products purchased from your local store, or worse from an online store. Only a professional can achieve the right platinum level that will complement your features and they will make sure it will not get damaged. Chris Appleton states that they lightened Kim Kardashian's hair section by section, and they treated her hair for several days.
If you do not have long hair, then you can sport the outfits even with short platinum locks. But if you want to recreate Kim Kardashian looks 100% then you can get hair extensions.
Now that you have the hair, let's get the looks!
Look 1 – earthy tones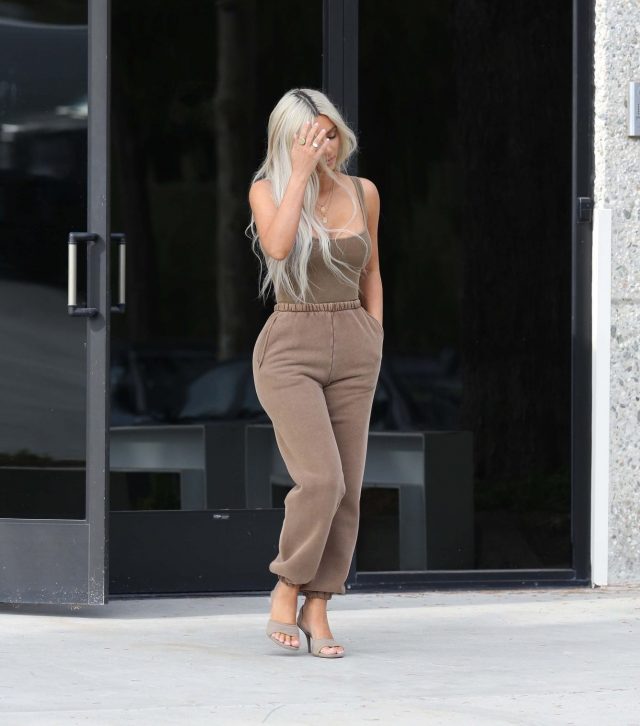 Yeezy promotes comfortable clothes. It is important you to feel comfortable while wearing them. When combined the right way they not only that feel comfortable, but they also look high-fashion. Yeezy is a luxury brand, but you can easily recreate the outfit composed of earthy tones clothes. For this look, you will need a pair of camel leggings, a white crop top, a nude hoodie and a pair of high heels. The shoes should come in an earthy tone also, to recreate the same outfit Kim worn. It is recommended to choose an oversized hoodie, to cover your back assets.
Style your hair in loose curls, and you will look effortlessly chic. You are ready to take some Instagram pictures.
If you want to sport this outfit when you go out with your buddies but you are not friend with high heels, you can swap them with a pair of sneakers. Yeezy started the trend of wearing sneakers with varied outfits; it does not matter if we are talking about casual looks or elegant ones.
Look 2 – flared pants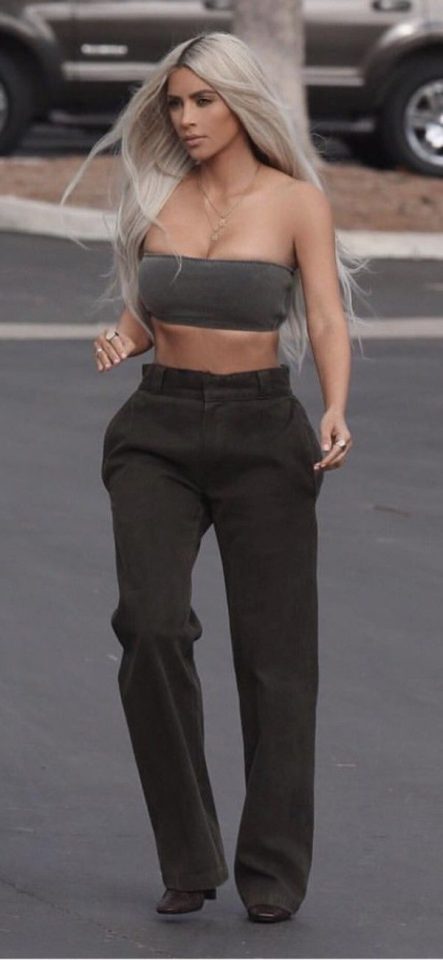 Yeezy brought back in trend the flare pants. They will make your body look amazing if you are a tall person, or if you wear them with high heels. The last season, all great brands promoted fitted pants, but Yeezy decided to break the norm and to bring back the wide leg and flared pants. Kim knows what the secret for looking stunning when wearing flare pants is. You have to keep it simple with the top. A fitting top is essential for this look. If you have killing abs then you can go with a crop top.
Get a pair of high wasted flare pants, in a dark brown tone, a crop top in a petrol grey colour, and a pair of high heels in an earthy tone. Use the straightener to style your hair, because Kim wore her locks loose with this outfit. If you want to wear the outfit during nighttime, complete it with an oversized denim jacket like the ones from Boutique 1. The denim jacket should be in a grey tone of course, because the secret of recreating Yeezy outfits is to keep your clothes in a singular shade.
Look 4 – joggers and bodysuit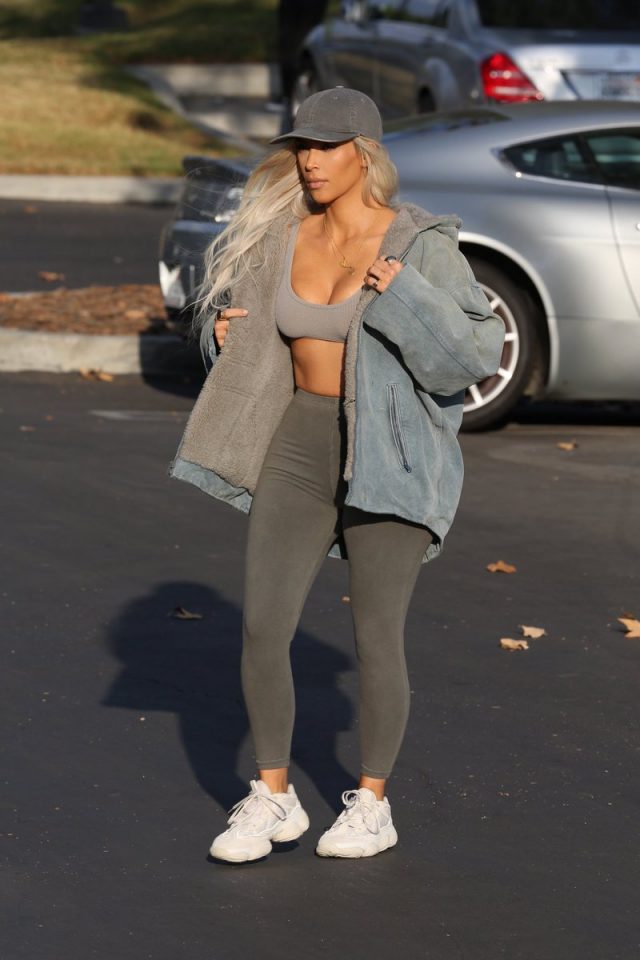 Yeezy started the trend of wearing joggers with high heels. This is the moment to take your sweaters from your couch look to the streets. Choose a pair of black joggers, pair them with a black body suit and you are ready to hit the streets. For making the outfit more interesting, add a pair of snake print boots. When it comes to Yeezy looks, you do not usually see pops of colour. The outfits keep the same line, if they start with nudes, then the clothing pieces will come in varied tones of neutrals.
The colour palette is quite limited, but this is exactly what makes the outfits stand in the crowd.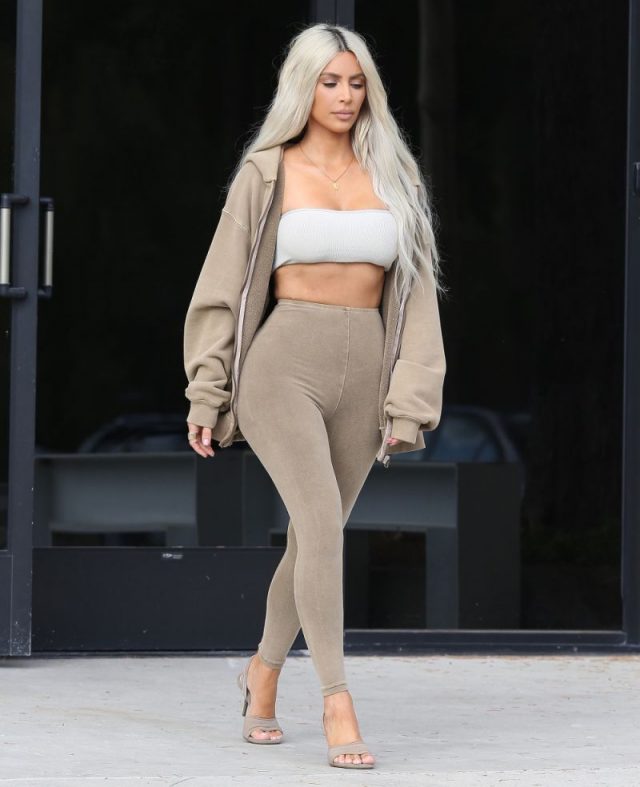 In Japan Kim made an exception, and she wore a pair of cargo sweater pants, with a girly pink bodysuit. It makes the outfit look edgier, but this time she paired the pop of colour of the top with the pink pastel shade she chose for her hair. The outfits from Japan were the second part of the advertising plan they designed for the Yeezy collection.  She also paired a pair of dark brown jogger pants, with a cropped sweatshirt and knee snake boots. Her accessory for this outfit was the pink phone case that featured emoji, butterflies and rainbows.