Being one of the most adored gemstones around the world, diamonds never fail to inspire love and awe. Apart from their grand aesthetic appeal, what makes diamonds so popular is the value and importance attached to them. Over the years, along with being synonymous for grace and elegance, diamonds have acquired an emotional connect too. Due this reason they enjoy a special kind of love and coveted position in every woman's heart.

Diamond jewelry therefore, has become symbolic of strength, purity as well as commitment. Keeping in mind this immense love that women around the world harbor for diamonds, brands pay an incredible amount of attention to these beloved gemstones every time they launch a new collection. Be it bridal or everyday subtle jewelry, all jewellery showrooms in Delhi for instance house the latest trending diamond jewelry designs.

With a plethora of designs to choose from, you will be spoilt for choice whenever you go shopping for you beloved jewels. One of the most loved brands housing brilliantly exquisite jewelry designs is Hazoorilal diamond jewellers. Their magnificent collection will definitely capture your heart the moment you lay your eyes on them. From their grand collection of ravishing jewels we have picked some pieces that stood apart. Take a look at these unique pieces to revel in their grandeur.

This delicate and exquisite diamond and pearl piece with an emerald in the center personifies tradition. Shining bright in its own light, this piece is a gem in the truest sense. With intricate work and pearls attached to the dainty droplets of diamonds, this piece exudes class and elegance. This makes it a great choice for all your indo-western or traditional attires.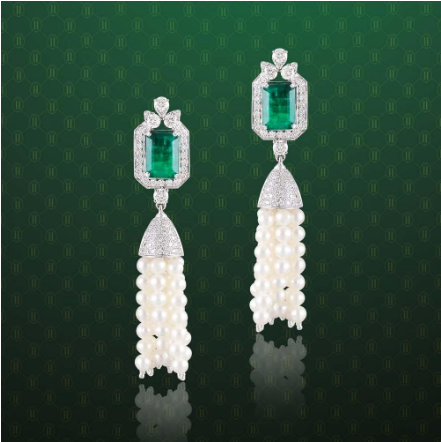 Tired of wearing boring jhumkas with sarees on weddings? Here is a delicate piece, perfect to break the monotony of the same-old designs. Studded with diamonds through and through with a gorgeous emerald to complement, this piece is ethereal in its entirety. With the perfect amalgamation of tradition and modernity, these earrings are indeed a divine change from the overused trends that have been in circulation since ages.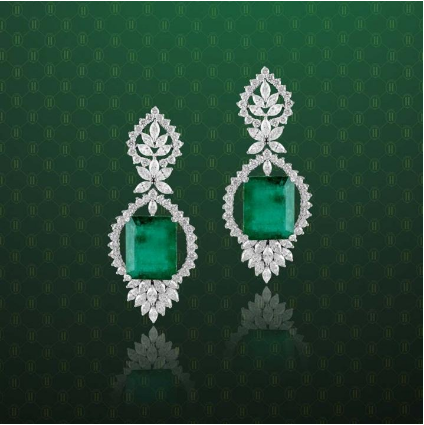 Whether it is an extravagant gala, a book launch, or any other event, this pair of diamond earrings is the ideal accompaniment for any outfit you will choose. Exuding sophistication and extravagance simultaneously, this pair will definitely make heads turn everywhere you go.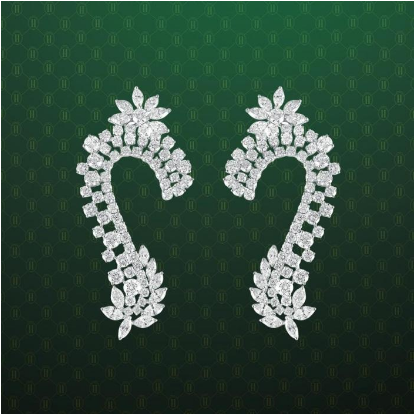 It is bold, it sparkles, and it is not gold. Splendid in its impact, this pair has a lot to tell. Perfect for all your informal and formal occasions, this pair of diamond and blue sapphire earrings can easily be dressed up or dressed down. Although exceptionally simple in their approach, this pair is all you need to make a powerful and yet graceful impression.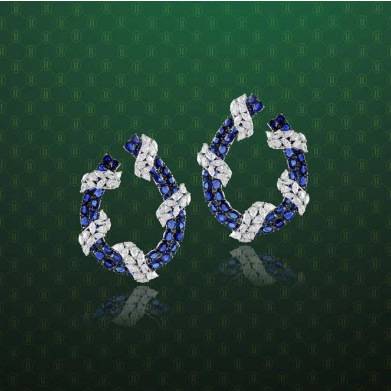 Simple yet elegant, this piece is a class apart. Sophisticated in its modesty, it is the perfect mix of subtlety and charm. With a linear setting, it can work well with any outfit. This pair is in fact all you need to elevate the oomph factor in all your traditional or western attires. Perfect for all occasions, adorning these earrings will for sure make you the center of attention wherever you go.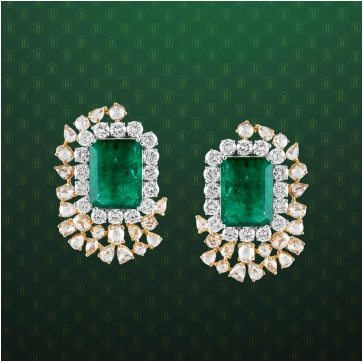 Crafted with innovation and immense expertise, one look at this piece will render anyone speechless.
With tender white and yellow diamond droplets paired with rubies, hang with undulated fragility, these earrings have a lot to say.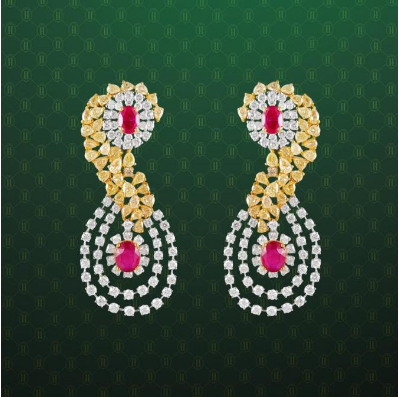 Along with the above mentioned pieces, Hazoorilal has many other tremendous options to choose from. Their wide variety of diamond jewelry will leave you spellbound. Take a look at their collection next time you decide to go shopping.