What if you uncovered a secret that not only had you looking chic and your best at all times but also simplified your life and, even better – saved you money? Well, the secret is out, and it's a classic wardrobe. Don't confuse a classic wardrobe with a capsule wardrobe (but that's another legitimate way to go). A classic wardrobe is filled only with pieces that will stand the test of time, versatile for different seasons and occasions, and flattering on almost every body type. The same way nude nails give you a classic and chic look, so does a classic wardrobe. Let's dive in on what you need to get your closet timeless; you might be surprised that you already own some of it.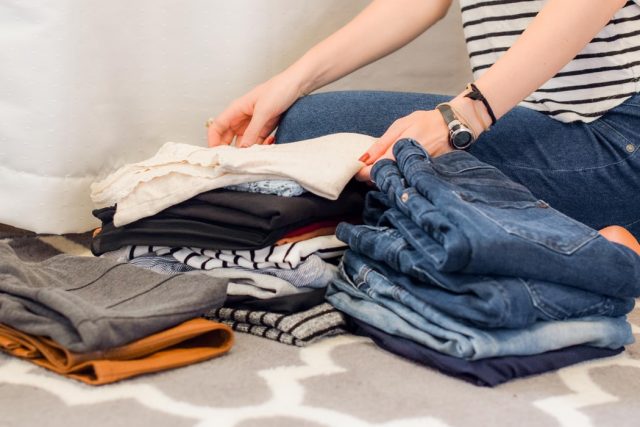 Start With The Basics
You want to invest in crucial basics for a classic wardrobe. Straight-leg jeans are never going to go out of style and are universally flattering. While trends like skinny or flare, low and high rise may come and go, mid-rise straight-leg jeans will always be in style. Though uncomfortable at first (we're all used to a bit of stretch), going 100% cotton on your denim will pay off in that they will last you a lifetime. Any rips or tears can easily be repaired by a tailor or you if you're sewing savvy.
Another set of basics you need are tops. A classic white button-up can be used in the office as part of a suit for a black-tie event (girls wear suits too, by the way, and look fabulous in them), and button-ups even look killer with a pair of cut off shorts. No matter your aesthetic, a button-up is a classic. The same can be said for some high-quality t-shirts. Ensure you're going with natural fabrics – cotton, linen, hemp – and that the fit is spot on. If you want an oversized look, still buy your usual size, so the oversize is a flattering oversized fit.
You may not lump your undergarments in with a classic wardrobe, but if it's in your budget to splurge on some high-quality undergarments that fit you correctly, you're going to feel like a million bucks, and they'll last. It's worth it to go to an actual lingerie store or department and be fitted by a specialist. Choose materials you feel good in, whether cotton or silk and in neutral colors that you can wear underneath sheer or light fabrics. If you take care when washing these delicates unless your size fluctuates dramatically, you can get decades out of high-end intimates.
Essential Add Ons
Seasons change, and even within seasons, the weather fluctuates. It would be best if you had key add ons for your classic wardrobe. Staples like a designer leather jacket and a camel coat will serve you well in fall and winter. Investing in a quality raincoat in a dark or neutral color will last a lifetime, same with a quality umbrella. Another add-on that can't be neglected is your bag. Invest in a signature bag that can easily take you from day to evening. Smaller bags or clutches are better because they are great year-rounders and can be used even in a black-tie setting. While not everyone is financially able to buy designer when it comes to their bag, it's worth considering saving to purchase the bag of your dreams. You'll use it forever, promise.
Another area not to neglect in your classic quest is your jewelry. You reach a point in your life where costume jewelry may still be fun but sometimes doesn't yield a good return on your investment. Would you rather have 10 $40 costume necklaces or one $400 gold or sterling necklace you never take off? Same with a classic pair of pearl or diamond studs or gold hoops. The great thing about fine jewelry is that it becomes heirloom pieces you can pass on to family and other loved ones.
Final Thoughts
While fast fashion can be tempting and impulse shopping fun at times, there's no denying the fast-fashion world's impact on the environment. Not only that, you don't get that many years and use out of those types of trendy, impulse purchases. It's okay every once and a while to treat yourself, especially if it complements the classic wardrobe you've created. But, if you commit to making mindful purchases you know you'll get a lifetime of use from, you're going to save money that can be better spent on experiences, retiring early, or just learning you have some freedom in general. Hopefully, this gave you some food for thought. Before going out and shopping for a whole new "classic" wardrobe, assess what you already have on hand that works in this way. And, if you do decide to declutter your closet of pieces you don't get much use out of, do so responsibly. You can do this by selling online or to a consignment store, donating used items that are still wearable, or finding somewhere that does textile recycling for you. Here's to your future and lifelong wardrobe!