I've been on a vintage kick lately. Almost everything vintage-y catches my eye and if I fall in love almost immediately, I gots to have it!
Which made me think, what is my favorite thing about all things vintage? Why, the gorgeous hairstyles of course! Vintage hairstyles that are oh-so pretty, oh-so elegant and yet oh-so easy! So let's get on with it!
Easy French twist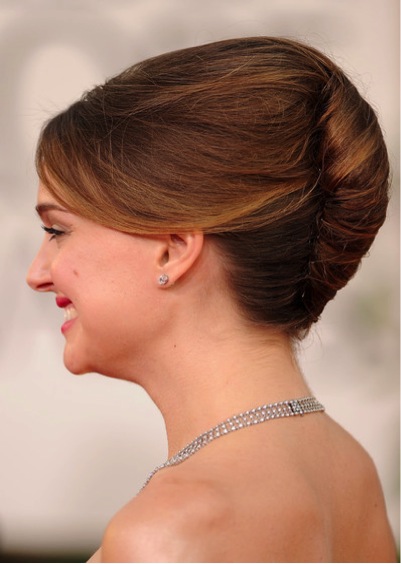 Perfect for a business lunch or a formal dinner event, the French twist is easier than you think. This is how I do the French twist and it literally takes 5 minutes to put together. Completely hassle-free, gorgeous results:
1)     You'll need a regular flat brush, some hair pins and bobby pins and a hair spray.
2)     Brush your hair till it's silky and smooth. Then gather your hair at the nape in a low pony.
3)     At this point you need to start twisting your hair upwards. Be sure to not twist your hair up too tight; just tight enough.
4)     Then start to tuck the ends of your hair into the twist. You want to make sure the ends are well-hidden in the twist.
5)     Use your hair pins to pin your twist in place. I usually secure the pins right into the twist, at the nape and at the top of the twist. Spray some hair spray so your hairstyle holds for a few hours and you're done!
Vintage waves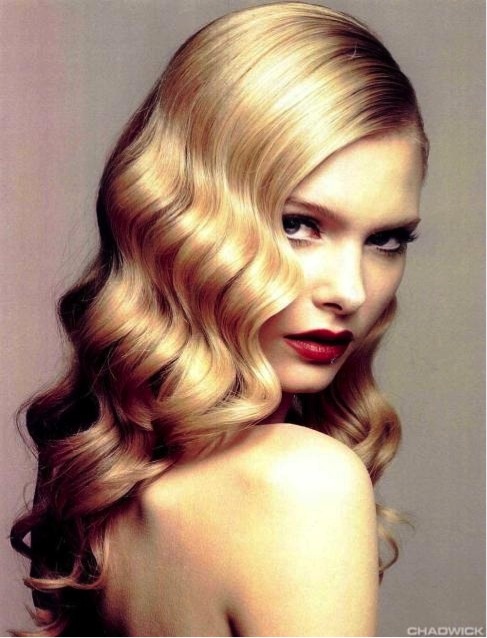 The 1940s vintage waves never went out of style, kids. It never did. Here's how I do it:
1)     Wash and blow-dry your hair straight. Spray your hair with heat protectant.
2)     You'll need to divide your hair into 2 sections. Start by gathering the hair above your ears and pinning it up. Divide the loose hair into 2 sections- right and left and bring them forward so you can start working on them. (I further section this hair into 2 sections, but if you have fine hair that won't be necessary)
3)     Now start curling your hair forward (towards your face). Take the curling iron down to the end and reel it back up, count to about 10 and release. Take the curl press it together (as you would a spring or a coil) and secure it with an alligator clip. Continue in the same way for the rest of head.
4)     Once your hair is cooled, remove all the pins and run your fingers through them. Then part your hair to one side. I usually part my hair to the right.
5)     Now use a studded hair clip (use whichever you like, really) clip back a small section of hair on the side opposite your part. (Clip to the left of you part your hair to the right and vice versa)
Gibson Tuck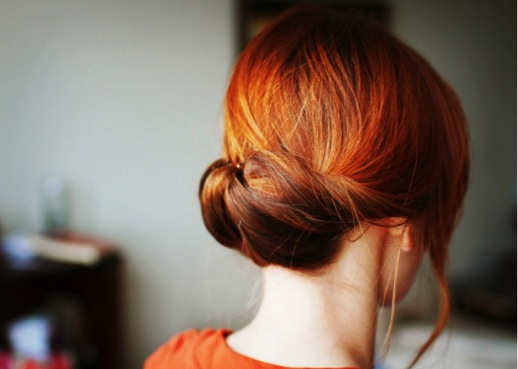 This Edwardian hairstyle is so hot these days that you absolutely HAVE to try it right away.
1)     Since you're rolling up your hair, it doesn't matter if your hair isn't freshly washed. Day old hair works fine too. Grab your hair into a ponytail- high or low doesn't matter.
2)     Next you'll have to pull at the base of the ponytail with both your hands- where it's been tied with a hair elastic. This will loosen out your ponytail a bit and create an openingand keep it open with one hand.
3)     Then start to twist your ponytail around a finger of your free hand and roll it up and through the opening where you'd pulled at your pony. Keep rolling your hair till it's tucked firmly against your head.
4)     Secure the tuck with hair pins and it's done!
Put a bow on it!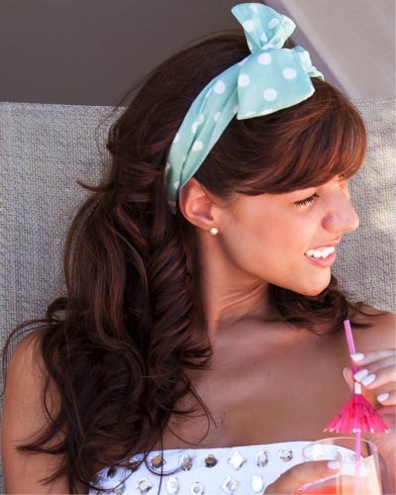 Just like 'em pin up girls! You're going to want to wear this to a day at the beach of even a casual soirée! I wore the crap out of this hairstyle back as a student at Marinello and years later, I'm still rocking it at the beach. Think flawless skin, extended eyeliner and ruby red lips. Onto the hair!
1)     Start by washing and blow-drying your hair the same way you did for the vintage waves hairstyle. Once your curls have cooled, run your fingers through your hair to create soft, romantic curls.
2)     Brush your hair backwards and then slip a playful hair-band, ribbon or bandana onto it to complete this look. Absolutely perfect and so simple, am I right?
How's that for simple and vintage and elegant and oh-so pretty!?