With the start of the new year comes all new styles and trends! When it comes to dance costumes, choosing the right style and color is important. Not only can an unstylish costume harm the dancer, but it can lower one's confidence! There are a lot of different colors to look out for in 2018! This year is all about feminine, trendy colors that aren't as bold as those we saw in 2017. Keep reading to see the best colors and styles in 2018 for dance costumes!
Why do the trendy colors matter for dance?
Dance costumes should capture something about both the dance and the dancer. Costumes for dancers empower dancers to give their best performances. There's nothing worse than wearing the wrong style or outdated trend when performing in front of judges or an audience. Dance competitions are competitive enough as it is! The right costume featuring the latest trends can give the dancer or dance group the right confidence to do his or her best!
Dusty rose is the 2018 color of the year!
After studying the latest styles and fashion trends, it's clear the 2018 color of the year is Dusty Rose! This is a change from last year's bolder Millennial Pink and Rose Gold trends! While feminine, dusty rose is a toned down version of 2017 favorites. This neutral pink complements all skin tones and body types, and it's also easy to wear with other patterns for a more unique look!
Dusty Rose is great alone, but even better with metallics! This year already is seeing a rise in metalics and sparkles, and dusty rose is the perfect combination for these styles! Dusty Rose is soft enough to add just the right tinge of grace to more stikining styles. It's all about balance in 2018!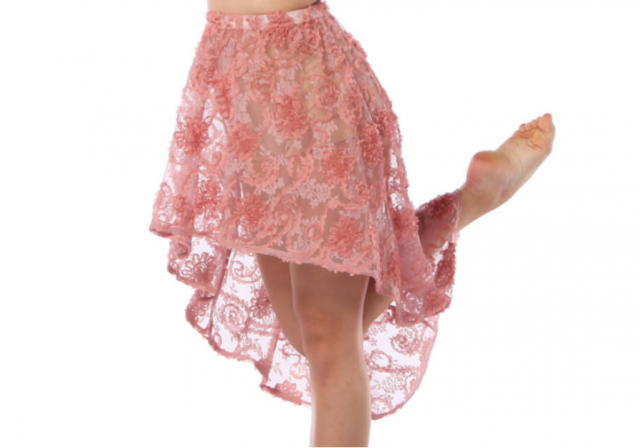 Falling Slowly Skirt from Alexandra Costumes
In close second is Marigold Yellow!
It's surprising to see this bright shade of yellow making such a powerful statement in recent fashion trends. Marigold Yellow is brighter than dusty rose, and it might not look great with every skin tone, but those who can pull it off will find this shade to be perfect for upbeat routines! The best part of wearing Marigold Yellow is that it works great on its own. There's no need to dress up this colored costume with additional metals or frills. It speaks for itself!
Express yourself with Ultraviolet.
The 2018 color of the year by Pantone is Ultraviolet! This lavender made a big splash on the runway with big fashion names embracing the shining shade of purple. It's no surprise to see Ultraviolet making an appearance in dance costumes! Purple has long been a favorite shade for many performers, and this new trend is a great chance to explore new statements on the stage! Ultraviolet, like Marigold Yellow, looks stylish on it's own, but it's also easy to tone down with neutral accents.
What are the trends to look out for in 2018?
Now that you know the colors that will be taking over the dance stange, you might be wondering what trends will come along with them? There are a number of major trends joining the limelight in 2018, and it's easy to see why these are so popular! Combine these with the latest color trends to find the perfect dance costume!
Open front skirts are one of the first trends popping up recently. These skirts pack big drama into a small package. The high-low style is both feminine and bold, and they help dancers make big statements with their movements. These skirts are easy to pair with other accessories and dance apparel like leotards or briefs. As with any dance costume or apparel, make sure to choose high-quality items like those from Move U which are customizable and made to last.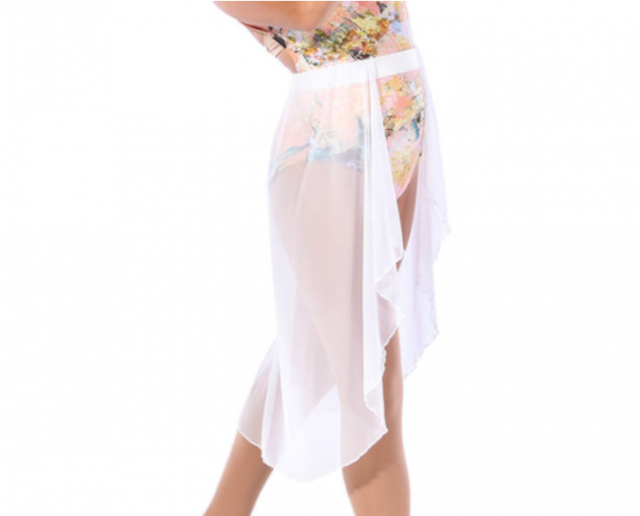 Open Mesh Skirt from Alexandra Costumes
Another trend taking over the dance world is mesh. This sheer material is all over the place in 2018, and it's so versatile it's perfect for dancers! Mesh makes a great addition to any simple dance outfit. It can be easily paired with a leotard or it can add a much-needed dose of modern drama to a jazz number!
The best dance costume colors for 2018!
This year might have just started, but already big trends have made an impact on the dance world! These top colors like Dusty Rose and Ultraviolet are just what you need to refresh your style and feel your best going into a dance competition! Make the most of these new trends while they last!