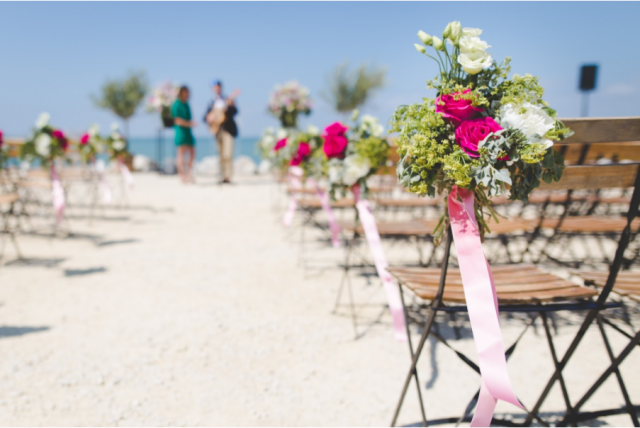 All photos sourced from Pixabay
Beach weddings are a popular choice for a variety of reasons. They tend to be more affordable than a formal venue, and couples save money on decor by using the natural beauty of their surroundings as a backdrop. Beach weddings are the perfect blend of simple and romantic.
When choosing how to do your hair and makeup, it is best to keep things light and airy. The ocean air and natural light add challenges to consider when choosing your colors. Here are some tips and tricks for wearing beach makeup for your wedding.
Make Sure It's Waterproof
While you may not be planning to take a dip while in your wedding gown, you should still invest in waterproof makeup. The moisture in the air mixed with the warm sun (which will hopefully be shining on your special day) can essentially melt makeup off your face. If you plan on getting photos taken by the surf, you will have to be especially mindful of your makeup.
In addition to discussing your concerns over waterproof makeup with your makeup artist, ask for a setting spray which will help keep everything where it should be.
Rock the SPF
Preventing a sunburn will likely be the last thing on your mind on your wedding day. However, the sunny skies and the glare from the water can be dangerous to your skin and affect your photos– and comfort– later on. Furthermore, your foundation can leave weird tan lines on your face once the makeup is washed off.
Use a foundation with an SPF rating on the label. If your wedding is taking place in a warmer climate than you are used to, apply sunscreen before your makeup is applied. Just be aware that you will need to do this well in advance of your makeup application, as the greasiness of most sunscreens can impact how well your makeup stays.
Nude and Natural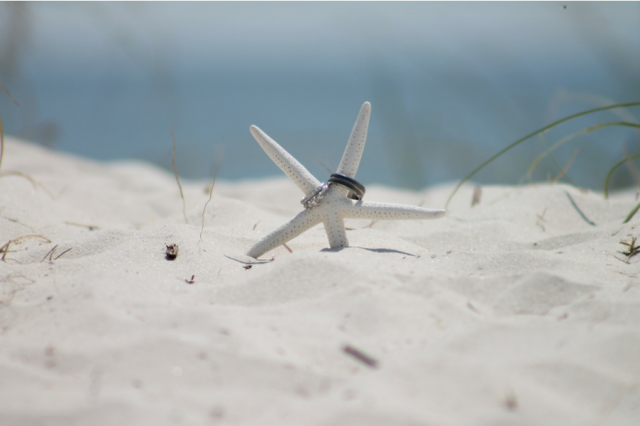 Keeping things nude and natural doesn't just apply to events at the local nudist beach! When selecting your palette, choose something light and natural. Dark, dramatic makeup looks gorgeous indoors, but can look harsh under the natural light on the beach.
For lipstick, choose a color that is similar to your natural lip color. Eyeshadows should complement your skin tone and make your eyes pop. Blush or bronzer should be applied with a light hand. Pair your makeup with Pink Gellac and you're ready to walk down the aisle in style.
Eyebrows
Eyebrows frame the face and pull the bridal look together in a beautiful way. While many eyebrow artists tend to use a powder to keep the brow looking defined but natural, it is best to use a pencil for a beach wedding. A pencil will stay in the humid air, whereas powder will bleed or wash off.
To keep your penciled brow looking natural, use a color that is a shade lighter than your natural brow. For extra security, add gel to keep everything where it belongs.
Illumination and Highlighting
Illumination and highlighting are a subtle, yet key feature, for a complete look. While it may seem counterintuitive, the beach is the perfect place to add some extra light. Add highlighter or illuminator to places the sun will hit during the ceremony to add an elegant glow to your photographs. Be sure not to overdo it, as you want to add shimmer and not light up like a disco ball.
Carry Blotting Papers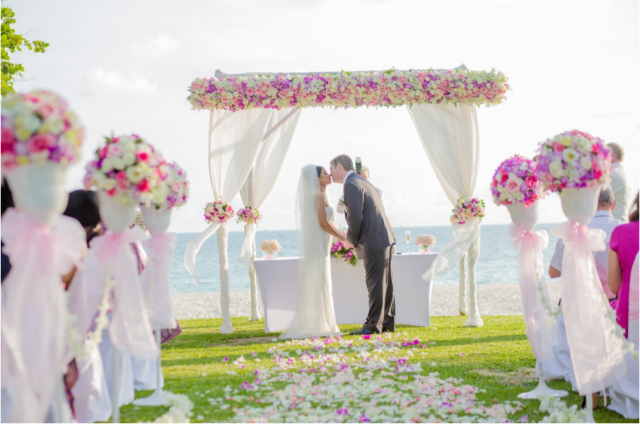 Once you expose your face to the elements, there will be very little time to do touch-ups and reapply. Be sure to carry blotting papers with you to help remove excess oils and sweat. These can also be handy if your lipstick feels too clumpy before sealing your vows with a kiss.
Blotting papers can be a useful tool for your bridesmaids as well, so grab some extras to hand out to your best girls before the ceremony or photo session.
Avoid Thick Products
In addition to keeping your look light and airy, you will also want the texture of your makeup to be the same. While thick foundation can offer extensive coverage, and layers of contouring can make the planes of your face pop, chances are you will sweat off the hard work before you can appreciate it.
You might choose to avoid foundation all together and opt for a tinted moisturizer. Just remember not to seal anything with powder, as it will noticeably cake up.
The DIY Approach
If you are hiring a makeup artist for your big day, be sure to mention your concerns in advance and find someone who has experience with outdoor weddings. If you are taking a do-it-yourself approach, read lots of reviews on Amazon to find out what products work best for your needs. Also, the Amazon wedding registry is a universal wedding registry should you see anything you like while perusing.
Keep these tips and tricks in mind, and you'll have an unforgettable beach wedding in which your natural beauty shines through!