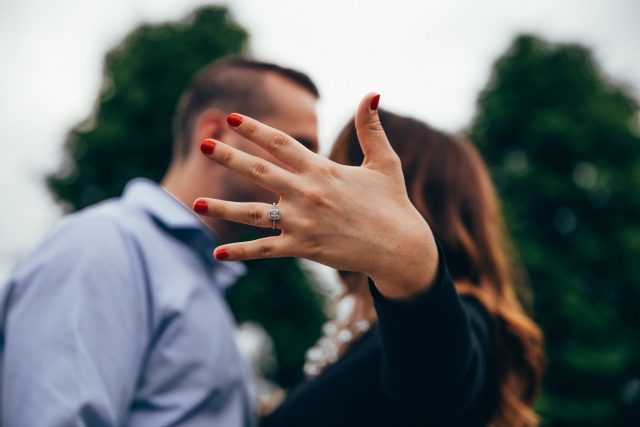 An engagement ring is a prized possession, a symbol of the commitment of your relationship. Here's how you can keep that beautiful ring part of your wedding sets sparkling for years to come in a few simple steps!
Get Insurance
You can take out an insurance policy easily to help you in case of loss or damage. This is easy to add on to your current homeowner's insurance as a jewelry rider, or you can look for a separate policy just for your ring. With the sentimental and financial value of your engagement ring, having an insurance policy is one of the best ways to be able to replace your ring or help offset the cost of purchasing a new ring, in case of theft or damage.
Top leading insurance companies like Geico offer unique jewelry policies, and there are many insurance groups specific to jewelry, such as Jewelers Mutual, that you can check out. Also a great idea for engaged couples to look into for all the items in their wedding sets is to insure all aspects of the wedding, from the dress to the venue itself.
Clean Your Ring
You can keep your engagement ring clean with a simple solution of warm water and mild dishwasher soap to help remove everyday oils, dirt, and other substances from your skin, such as lotions or perfume. Keeping this as a habit can help you keep your ring sparkling and beautiful for years to come.
Depending on the type of stone and the metal of your ring, you may want to look up specific cleaning instructions. For example, soaking a diamond ring in equal parts ammonia and cold water can clean it efficiently, but this method can also damage other stones, so make sure you are using the correct method for your jewelry type. The best option is to use the combination of warm water and mild soap and then to wipe dry with a microfiber cloth or leave to air-dry. Jewelers of America has a fantastic website with many resources on how to efficiently and safely clean and polish multiple types of jewelry.
Jeweler Maintenance
It is a great idea to go back to your jeweler to have an expert check in on the strength and quality of your ring every six months to a year. Resizing your ring is also a possibility since your finger size may change in instances like weight gain, weight loss, or pregnancy. Resizing should not be done more than twice, though, as that will damage your ring permanently.
The integrity of the prongs or the setting can deteriorate, so check in regularly with your jeweler to help enforce the settings. This can help prevent a loose stone and a potentially stressful situation if you're in the middle of your workday or in a crowded area, searching for a missing precious stone!
You can also care for your ring by making sure you remove it before exposure to harsh chemicals or potentially high-contact sports, for example, when cleaning or exercising.
Always Remember
Your engagement ring is a physical reminder of the lifelong commitment you are about to make or have made with your partner. Take extra good care of your ring. Keep it always looking shiny and new, and avoid situations where you risk losing or damaging your ring.