Winter weddings are deeply romantic, especially if snow is falling and fires are burning. Brides are free to wear long sleeves, luxurious shawls and smokier makeup looks. It's also a great opportunity for the guests to get cozy and creative with their fashion choices. Read on for tips and suggestions for Winter wedding guest dresses to turn heads.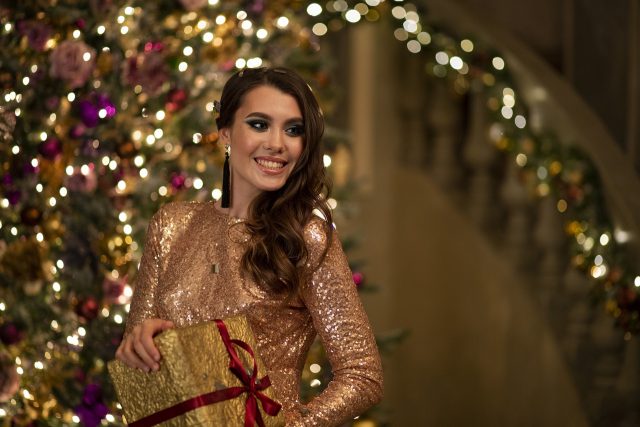 Go for rich, deep colors: choose jewel tones such as emerald green, sapphire blue, and deep garnet red. Not only are deep tones flattering, but they look fantastic under firelight. There's a jewel tone to suit every skin tone and hair color. Imagine a deep green against pale skin and fiery red hair, or a deep amethyst against a deep, chocolate complexion.

Try a midi dress: dresses which fall to the mid-low calf are super flattering and modern. They allow you to show off some amazing shoes while remaining classy and covered. You could pair a deep-colored, slimline midi dress with a pair of high-heeled boots and a bright-colored wool coat for a pop of color and warmth.

Try a mini with tights: if you're a lover of mini dresses, you can still rock one at a Winter wedding. Try a mini shift dress or flared skater dress with opaque tights underneath. A great shoe pairing is a cute heeled boot, with a faux fur coat or leather blazer to keep you warm on top.

Go for a tailored suit: suits are incredibly stylish and chic. For a Winter wedding, you could get yourself a tailored suit with wide-legged pants, a blazer with a deep V-neck, layered with a merino camisole or long-sleeved top underneath. For lucky gals with long, slender legs, you could opt for a slim-leg suit pant.

A skirt and top combo: you don't need to choose a dress, you could go for a skirt and top combo for your Winter wedding guest look. This is a cost-effective way to go because it means you have two pieces which you can mix and match with other garments in your wardrobe later on. You could go for a slim pencil skirt and full blouse, or a 1950s style swing skirt with a fitted wool sweater. Add tights and a coat for warmth, and voila!

The perfect bridesmaid dress for Winter weddings…hot shade: burgundy
Imagine a shining bride in an ivory dress with a group of bridesmaids in rich, deep, wine-shaded burgundy dresses. Even better, imagine these tones against a snow-covered setting. Burgundy bridesmaid dresses flatter all skin tones, and allow jewelry to shine in contrast against the deep shade.

You could choose a deep shade of burgundy, and have bridesmaid dresses curated to suit each different woman's figure. Or, you could choose a flattering, long-sleeved, draped design which can be belted or accessorized to suit each body type and individual style. Add a touch of burgundy to your venue styling with burgundy flowers or chair ribbons to tie your color theme together.

When finding your Winter wedding guest dress or outfit, go for something which can be layered with coats and tights for warmth. Try deep, jewel-tone colors and match with a bold makeup look. Don't underestimate the eye-catching look of burgundy bridesmaid dresses for a romantic Winter wedding. Have a look at a few fabric swatches and see how you feel! You may just find your perfect color palette.