Going into higher education can be an exciting time for so many reasons. Not only will you be learning a new topic, but it is often a time where you have the chance to live alone for the first time, make new friends, enjoy a brand-new city and everything it has to offer – and these are only some of the benefits.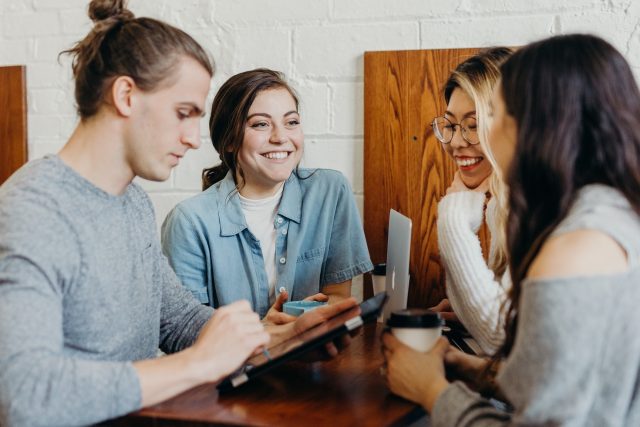 Usually, during this new transition of life, you might want to reinvent yourself or start to think about how you present to the outside world. You might be conscious of your style, and for some, this might be the first time you have been confident or able to wear what it is you truly like.
Whatever reason has brought you here, this piece will offer you some style tips so that you can look and feel your best, whatever your course throws at you! Whether you are embarking on a fashion degree, a nursing degree or a teaching degree, learn here how to stay stylish and to embrace everything that makes your style unique and individual.
Comfort is Key
While the rumors are that the first year of a course can be pretty laidback and relaxed, at least in comparison to the following years, you will still find that you will be facing an adjustment period. You will be in new surroundings, meeting new people, having to find specific room numbers in buildings that do not appear to exist, and beginning to learn a topic that could be entirely new for you. Not only this, but you also might have chosen a course that requires a lot of hands-on learning and experience, such as a Family Nurse Practitioner or Outdoor Education. If this is the case, choosing something comfortable that will help you be on your feet for long periods of time, keep you at the right temperature, and will allow you to focus on what you are doing will always be more important than how you might look.
That being said, comfort does not always mean a fashion disaster. In fact, it has been far from it since the pandemic kicked off. You can find plenty of comfy and cozy two pieces that will make you look like you made an effort while also giving you the comfort you need to do your course without any other distractions.
Think About Your Personal Style
You do not have to dress like everyone else just because it is in the fashion, especially if you do not like it. It is always good to try new things and give different styles a go because you never know what might end up sticking or what might become your new favorite look.
With that in mind, knowing what your style is, is a fast-track way to putting some solid outfits together for college. It is a great time saver for those students who are always on the go and do not want to spend any extra time worrying about what they should wear in the morning but still want to look put together and represent themselves and their personality.
If you are not sure what your personal style is, or you have never had to think about it before, then some of the easier ways to discover what you like is a good old-fashioned collage.
You can create a collage by cutting and sticking clothes, outfits, and accessories that you like the look of onto a canvas of your choice. Or, you can create a digital mood board on a social-based platform such as Pinterest. Doing this is probably the easier option, as you will have access to all of the photos on the internet, which means there will be no limit to your creativity, and no glue involved.
Do Not Be Afraid to Try Something New
College is a time for experiencing everything and trying things for the first time. It is a time where regrets should be limited, and courage should be prized. If you have been waiting for the perfect time to switch up your style or create an entirely new look – now is the time to do it.
You do not have to do everything in one go. Baby steps work well, too, especially if you do not feel completely comfortable swapping to another style. Slowly start to implement the look which you want to achieve into your daily life in small increments. It could be with a bag or some shoes, first of all, maybe a different style of makeup or hair. Then slowly but surely, replace more items out for the things that you genuinely want to wear.
Notice how these changes make you feel. If you are happy with them, you know you are onto something special! If something does not quite feel right to you, you can tweak it until it does.
Style does not have to be prescribed. You do not have to fit into an already named aesthetic –create your own and do what makes you feel good. After all, you are the one wearing it!
If you are ready to embrace this new look for the foreseeable future, you can commit to it by throwing out all other clothes that do not make the cut. Doing so will not only help you commit to your new style but will also help free up some space in your room – something students often need.
Buying New Items? Put Quality First
When you think of shopping on a student budget, it probably does not scream designer clothes to you – far from it. But actually, designer does not always mean good quality, and good quality is exactly what you should be looking for when you buy new pieces.
While it may cost you a little more upfront, it will more than make up for itself when you do not have to replace clothes five washes later. Quality pieces will also fit better, making you appear well put together, and the fabric looks in good condition for much longer than cheaper fast fashion items, as long as they are also cared for properly.
If you want to be particularly thrifty, then take a day out or a lunch break to look at your local thrift stores and find some bargains. It may be a little more time-consuming to look for pieces that still have good wear in them, but you can also get very lucky, as many just give items that have barely been worn to thrift stores if they are the wrong size or do not fit well.
Create a Capsule Wardrobe
A capsule wardrobe is one of those magical discoveries that has been around for decades, but since fast fashion has fast taken prevalence, capsule wardrobes have been put a little on the back burner.
The idea of a capsule wardrobe is to own only 25-50 pieces of clothing that you can rotate and mix and match with each other. It can often be a much welcome time saver when getting ready in the morning, as the idea is that you can look effortless and put together without having to even try – everything is there ready to be put together and just *work* for you.
This can be a little shock to the system if you have never done anything like it before, so feel free to go slow and work out what you like and what goes with other items. You do not want to eliminate your personality or your preferred level of comfort.
If you are wondering what you need to start your capsule wardrobe, then there are plenty of guides on the internet, and if you are really stuck, then buy the basics. A quality t-shirt, pair of jeans, coat, jumper, and pair of shoes that will last will always be a worthwhile investment, especially if you opt for neutral, classic colors too.
Do not forget that you don't have to throw out anything you love wearing, even if it does not match any new items. A capsule wardrobe is all about helping you free up time on thinking about what you need to wear while allowing you to look stylish and put together.
Focus on the Details
One of the fastest ways to help you look stylish is to focus on the finishing touches. It almost does not matter what you wear if you have these finishing touches in place. This can be anything from having your nails trimmed neat or painted, taking care in applying some classic makeup looks, making sure your shoes are clean and polished up, and selecting some accessories that can complement your outfit.
It will depend on what course you are taking as to whether you are able to have your nails painted or wear jewelry. However, for those who can go that extra mile, utilize it. For those who need to be a little more natural, focus on making sure you have clean clothes and maybe opt to style your hair.