When experimenting with your style there is a saying in fashion that couldn't be more true, and that is "style will always come back around".
Shopping for vintage and retro clothing is an excellent way of finding hidden gems and iconic pieces for your wardrobe. It's the perfect hark-back to well-loved styles!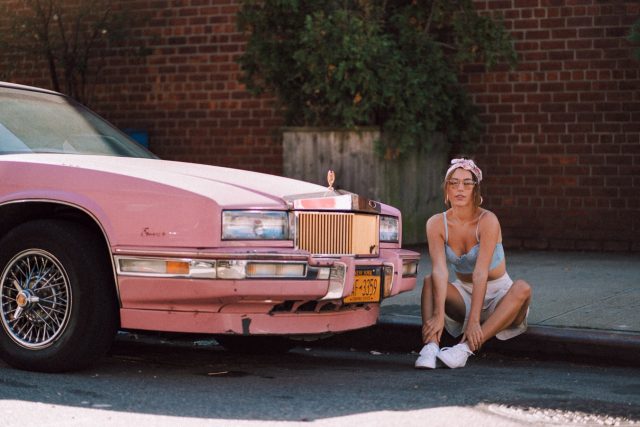 So maybe you're hoping to bring some nineties nostalgia into your every day, or you are just a lover of all things retro. Whatever your style, when you buy vintage clothes online, you are not only making a sustainable choice to fight against the fast fashion industry but ultimately a stylish one, too.
In 2021, a once cost-efficient shopping activity of going to a charity shop for vintage clothes has now evolved into a multi-million money-making enterprise. There are now many vintage Instagram stores charging a small fortune for what appears to be your dad's old jumper!
So if you are not sure where to start your journey into finding the best retro and vintage pieces, or need a hand in beating off pro hipsters that steal all of the good pieces, check out the below tips:
Check Depop
Depop has revolutionised the way we buy vintage clothing online. However, the plethora of sellers can be a little overwhelming. Still, if you know what you are looking for and have a particular item in mind, you can find the vintage item you are looking for at a fantastic offer or potentially haggle to get a better deal.
If you are a first time user, be sure to utilise their explore function to see clothes and accessories and all things retro for inspiration.
Dress For Your Personality
If you don't know your personal style, think of the clothes you have worn before that gave you the most confidence and shop for similar styles. Know that there is no right or wrong way to wear a specific era when shopping for vintage, so shop for pieces that make you happy.
Get Inspiration Where You Can
If you are stuck for inspiration, conduct some research. Retro clothing hauls on Youtube and Instagram hashtags will offer some great insight into what people are buying and where they are buying it.
You can also get specific when searching by including your nearest city in the video title or hashtag to see the hotspots of your favourite vintage wearing influencers.
Accessorise, Accesorise, Accessorise…
Don't be scared to go all out on the accessories when perfecting or introducing some vintage style into your wardrobe. Retro handbags, shoes, and jewellery can add a cool vintage touch to even the most basic of outfits.
Don't Get Too Carried Away
Start small when introducing vintage pieces into your wardrobe. Of course, it's good to embrace your new vintage style. But we recommend trying to show a subtle nod to past styles, rather than looking as though you have just stepped out of a period drama.
A good rule to remember is to ensure that you have a good balance between old and new styles, including your makeup and hair and accessories.
Wear What Feels Good
If you find yourself unsure about the clothes you are wearing, you can quickly feel unsure and insecure.
When shopping, look for clothes that give you a sense of self-confidence as you should always feel comfortable and confident in what you are wearing. Confidence is key to pulling off a vintage look.
So stay true to yourself, shop for the clothes you want to wear and, most importantly, have fun!