If you're like me, you struggle to find cute outfits for class. College is all about finding a balance between not wanting to try very hard to look cute for class yet also not wanting to look like a total slob. For college classes, you want to be comfy too.
We came up with 4 outfits that feature the items already in your closet. The outfits listed below are some ideas that are easy, simple, and cute!
 Long Cardigan and Jeans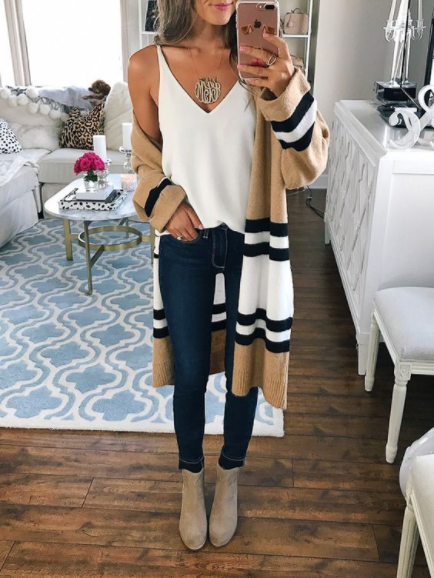 This outfit is a fall classic –
Keeps you warm, but if you're in a warmer classroom, easily adaptable. The patterned, long cardigan is an autumn wardrobe staple, and you can find a cute one for cheap at Forever21, Nordstrom, or H&M. Pair with your favorite jeans that have some stretch for sitting in a classroom all day.
Or –
Pair with your black leggings. Shoe choice is up to you – you could go with some cute combat boots, sneakers, or booties (if you're feelin' fancy). Wear a tank or a v-neck underneath your cardigan and you're all set!
Dress Up Your Crewneck Sweater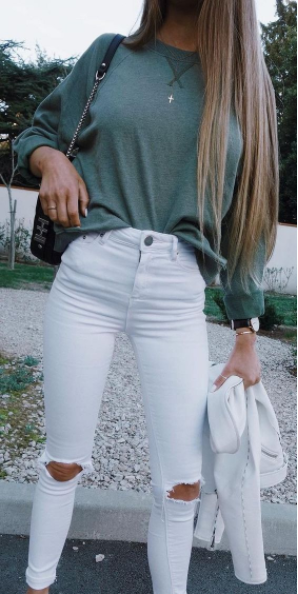 Take that cute crewneck sweater you've been saving in your closet all summer, and tuck it into your favorite pants for a dressier take on the classic look. The beauty about crewnecks is they are everywhere –
Thrift stores, your local department store, or mall.
My personal favorite is the thrift store – if you can find some bargains there, you can dress them up or down whenever. It's all about how you accessorize them! Complete this outfit with a large-faced watch, other bracelets and a dainty necklace.
Boom!
Comfiest class outfit.
Use Your Favorite Flannel – With Just About Any Outfit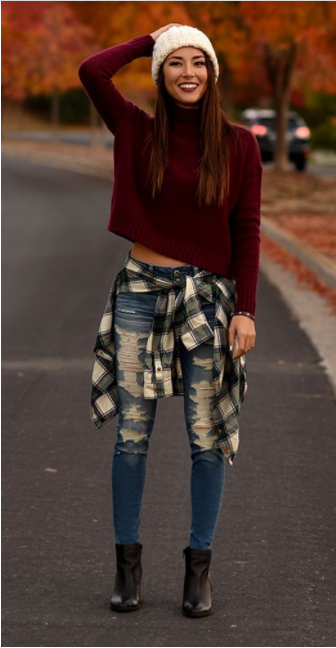 Flannels are so versatile –
That's what everyone loves about them. Plus, they're comfy AF. You can do a few things for class this fall with your flannels – One, pair with a long sleeve sweater and jeans and wrap around your waist. Two, wear with your favorite pair of black leggings for ultimate comfort during class.
(Try not to fall asleep, though! Don't say I didn't warn you.)
Or three, treat it as a sweater and layer it. If you are Greek, you can layer over a t-shirt, your sorority letters, or a tank top. You'll be the jealous eye of all of the girls in your chapter.
If you don't have a flannel in your closet yet, I highly recommend it. You can easily purchase them at a thrift store, for like $2 (not kidding).
Stock up, girl!
Athleisure Wear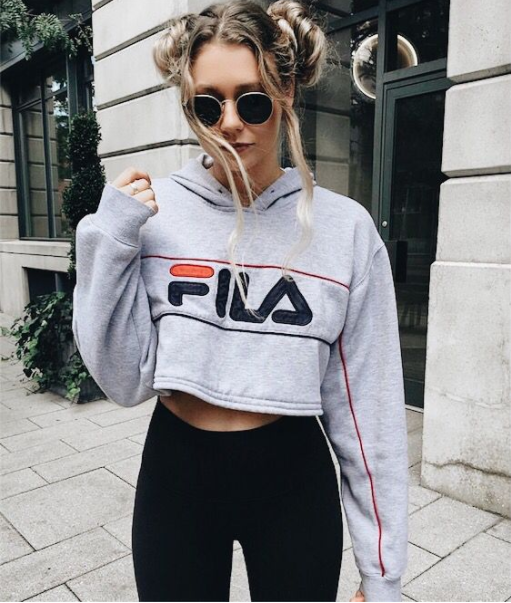 You can pretend you're going to the gym after Communications. But you prob won't (it's fine).
Athleisure wear is hands-down, the best outfits to wear to class because you feel like you're still in your PJ's. I recommend a cropped athletic sweatshirt, black high-rise workout leggings, and your fav tennies.
It'll also be faster to walk around campus when you have your tennis shoes on. Channel your inner Sporty Spice and head to class in your athletic gear. Another one of my faves for this look is wearing your joggers with your cropped sweatshirt or workout top.
So cute.
I hope you gained some new ideas for class outfits this fall semester!