Whether you're a fan of bright and saturated colors or you're all about quiet and muted shades and on a mission of upgrading your maternity wardrobe, you're in luck: the PANTONE color trends for 2018 are in and they feature the most stunning tones, ranging from gorgeous pinks to deep blues and soft greys. Check out our pigmented list showcasing the trendiest color picks of the year and their corresponding and utterly chic maternity dresses!
Rapture Rose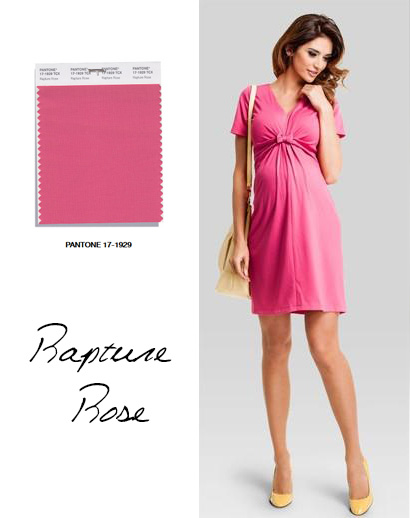 What PANTONE says: "Romantic and affectionate, Rapture Rose is an artful rosey red that brings a flirtatious charm to the Spring 2018 palette."
Not only is this shade totally on trend, but it is perfect for those days when you simply need a bright and happy pop of 'pick me up' color. Spice up your navy/grey mom-to-be wardrobe with a chic hot pink maternity dress like this 'Messey Berry' frock for a fun alternative to the neutral-tone outfits and rock it at your next lunch out or romantic date!
Blooming Dahlia
What PANTONE says: "With its seemingly suggestive scent, the subtly alluring Blooming Dahlia beckons us with its understated appeal."
If you're looking forward to upgrading your spring-summer maternity wardrobe, there's no better color suggestion than this ultra-feminine shade of pink: blooming dahlia! And if you're all about a versatile dress than can work in a wide range of occasions, then choose a softer, dustier version of this rosy hue. This empire waist maternity dress can work both as a neutral due to its powdery tone, as well as a color accent to an otherwise subdued outfit.
Quiet Grey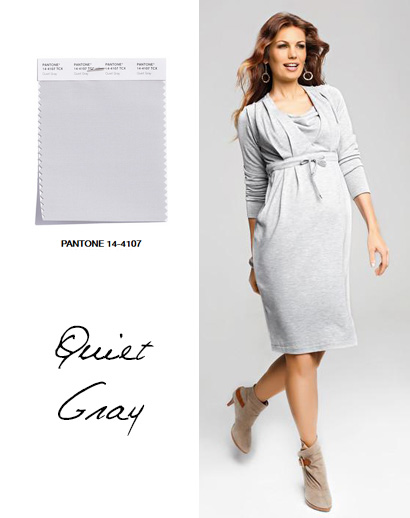 What PANTONE says: "Unobtrusive and timeless soft gray."
If you're devoted to neutral shades, then update your maternity wardrobe with the trendiest desaturated shade of 2018: meet quiet grey, aka the ultimate versatile, easy-to-wear & match shade, perfect for both the office and the weekend. Our adorable pick: this soft grey jersey dress that looks great when paired with warm tone neutrals (beige, sand or hazelnut), as well as with hot pinks, mauve or icy blues.
Ceylon Yellow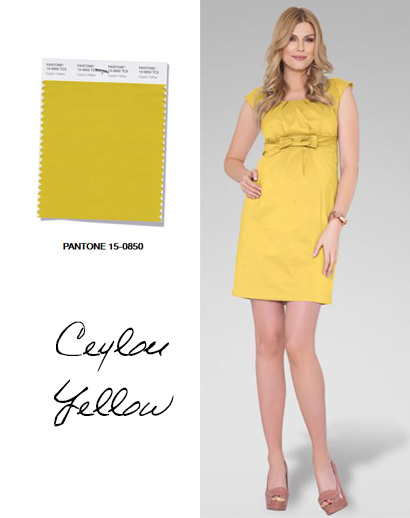 What PANTONE says: "Savory and spicy yellow adds an exotic touch."
If you're looking for a way to spice up your maternity wardrobe, what better choice is there than an utterly exotic, sunny yellow? As a brighter version of mustard yellow, ceylan is the ultimate citrus-hued shade of 2018 – and you can totally pull it off in combination with taupe, caramel hues and maroon. Opt for a classic-cut maternity dress like this coco lime frock for a spring or summer time daytime event that calls for a joyful and fun outfit.
Sargasso Sea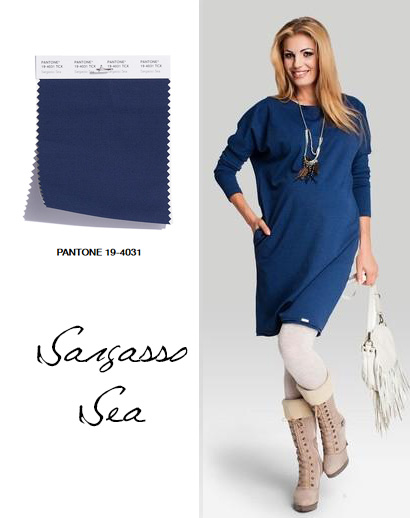 What PANTONE says: "Boundless and fathomless blue mooring the palette."
Perfect for the colder season, this shade of azure is both intense and soft: meet Sargasso sea, namely the trendiest shade of blue for 2018. Whether you wear it with ankle boots, thigh-high boots or sneakers, a comfy and relaxed maternity dress like this minimalistic one in Sargasso sea can look effortlessly stylish and put-together.
Cherry Tomato Red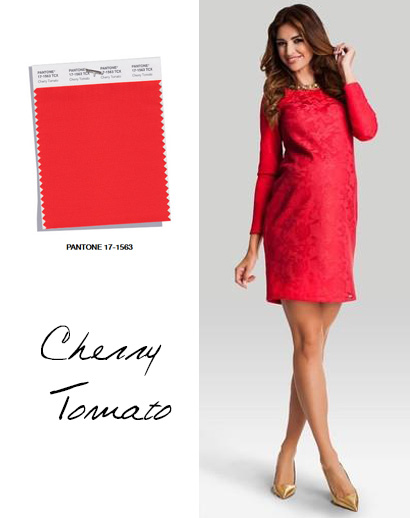 What PANTONE says: "Demanding attention, this courageous, never to be ignored shade is viscerally alive."
If you're not one to shy away from intense pops of color, then hop on the cherry tomato trend and opt for a bright maternity dress like this classy Valentine red one in a minimalistic cut. Perfect for a cocktail party or for a date night out with your love, this shade is simply unforgettable.