There is no denying that wine ice bucket is one of the most useful and important wine accessories. When it is about serving wine at a dinner table or during a wine tasting session, you need a smart and decent way to keep the drink at a suitable temperature. Walking to refrigerator back and forth is no doubt a pain. This is when the role of wine ice bucket comes into play. It is a sophisticated way to not only keep the beverage cool, but also serve it in style.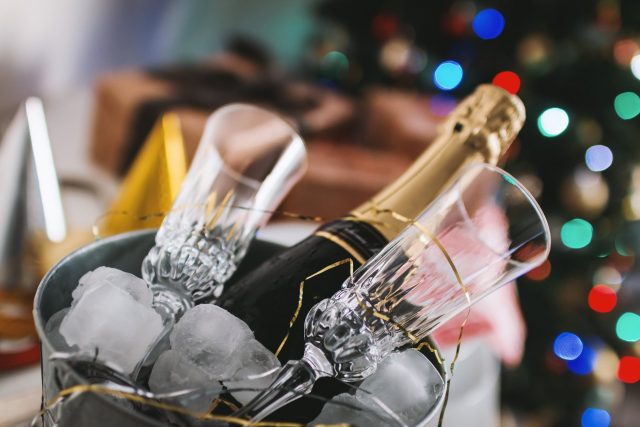 If you like to have a personal bar at home and are looking for some vintage and modern wine accessories, George Jensen offers you a wide range of perfect wine centerpieces. Whether you want to decorate your home bar or need pieces for table setting, George Jensen has matchless wine ice bucket designs.
Not only are these wine ice buckets elegantly designed to complement your taste and exclusivity, but they also meet all the functional requirements. Don't worry if you have unique preferences when it comes to choosing your wine accessories. From traditional sleek stainless steel buckets to outdoor party tubs, at professionals like George Jensen, you will get everything you want.
A wine ice bucket is commonly known as a wine chiller or cooler. People have been using this important wine serving accessory for many years. It is a simple and traditional way to keep sparkling or white wines at a serving temperature, no matter how hot an afternoon is. Along with other wine instruments, like wine stopper, bottle opener, and decanter, a wine ice bucket is a must-to-have accessory for any sommelier.
Interestingly, French people call wine bucket 'Seau a glace' that literally means ice buckets. The reason for mentioning this word is its comprehensive description not only in terms of its shape or design, but its functionality as well. Typically, a wine ice bucket is a container filled with ice and it is exclusively used for rose, white and sparkling ice.
Although you know the purpose of wine buckets, sommeliers use wine ice buckets for two main reasons. As mentioned earlier, the first reason is to keep wine chilled at an appropriate temperature during the meal. The second reason is to cool down the wine quickly before it is served.
Here we discuss some high quality and stylish wine ice bucket designs that will surely reflect your enthusiasm in bar accessories.
Stylish Wine Ice Buckets
Sky Wine Ice Buckets
Wide, simple and sparkling, the wine ice bucket has something extraordinary to catch everyone's attention. It doesn't only look elegant, but is also perfect when it is about functional elements. Accentuating the traditional elements of bar tools, sky wine ice bucket comes in ergonomic and asymmetrical shapes. The flat bottom allows it to sit firmly in the user's hand and gives it a dynamic and sculptural design.
Wine-Wine Cooler
As interesting as its name, the wine-wine cooler is for people looking for something super stylish and chic. This timeless wine ice bucket celebrates wine bar accessories in its own way. The classy wine cooler is an invention of a Swedish architect who brought together all the stylish elements in this one piece.
The delicate wine bucket is crafted with mirror polished, high-quality stainless steel. It takes double layers of steel that gives an isolating effect and helps you maintain wine at just the right temperature for a longer period of time. That means it doesn't only keep the wine cool, but maintain its temperature as well.
Indulgence Champagne Cooler
There is no doubt that every wine bottle deserves a companion like this dynamic champagne cooler. One of the perfect bar accessories, champagne coolers can be an ideal way to kick start your party celebrations. The sparkly wine bucket keeps your champagne chilled in style and gives you perfect bubbled wine when you pour it in the glass.
Designed with the polished stainless steel, this elegant wine bucket sitting beautifully on your sidebar or dinner table can be your style statement. The elliptical opening and shiny slant cooler shape allows for easy replacement and removal.
Manhattan Champagne Bowl
Want something wide and big? This Georg Jensen's Manhattan champagne bowl is your go-to choice. The beautiful design reinvents New York's Gatsby era with its glamorous look. There is no doubt that design is a true reflection of artisanal cocktails and a traditional culture. This decorative wine ice bar is wide enough to hold at least 6 bottles at once, making it a perfect bar accessory for grand events.F
All these wine ice bucket designs accommodate your needs while adding a unique touch to your bar.