Wedding sarees have got a very important role during an Indian wedding, especially for the bride. She needs to find her best wedding saree for her wedding day. A saree is a drapable fabric of 5-6 metres long fabric piece which is a traditional wear of India and also has its influence on the contemporary fashion trends.
Sarees in traditional fabrics like Silk are known to be the best wedding sarees for a bride, but there are so many different styles, colors, fabrics, patterns of sari which may be perfect to suit a bridal look. Below are some of the most trending wedding sarees for a bride and what she can pick for her wedding ceremonies and not just the main wedding day.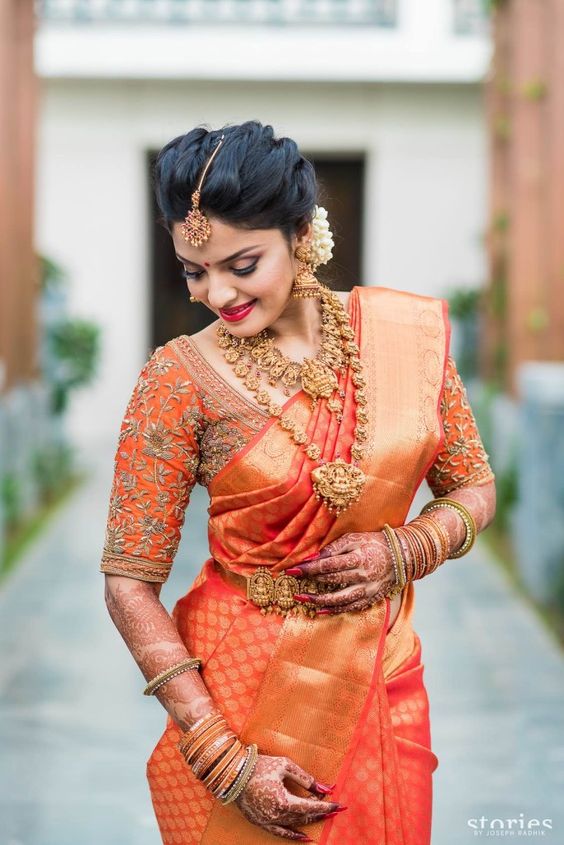 Handloom Silk Sarees for Wedding
These are traditional and contemporary styles of wedding silk sarees that we find today. They are woven in purest silk and yarns making exquisite patterns with weaves. The new trends of wedding sarees in silk are not different from inspired fashion from the traditional art of Banarasi sarees, Kanjeevaram silk sarees, Paithani Silk sarees, Patola Silk Sarees and similar traditional pure weaves. These are mostly the top picks of all brides, especially South Indian brides and Maharashtrian brides for their main wedding day. What we see today are the same sarees in new colors, and weave designs to bring a charm of Royal Indian Tradition.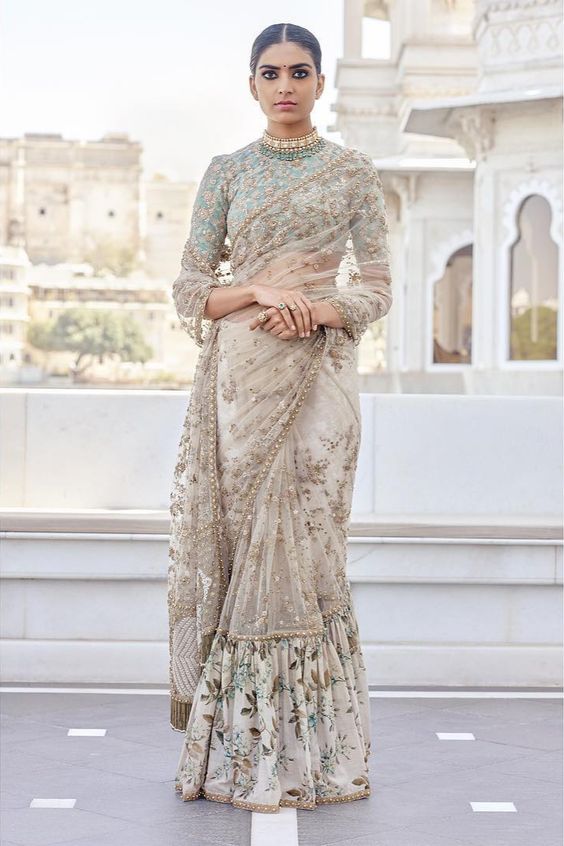 Lehenga Style Saree for Wedding
Lehenga sarees are a fusion of lehenga and saree, which is a pre-stitched version of lower drape pleats made to a lehenga or a single wrap and a saree pallu as a dupatta. The easiest way for a bride to dress in a saree is to choose a Wedding Lehenga Style saree. The trends we see for the season are in royal fabric and embroideries to kali lehengas. Contrast dupattas and saree blouses make the look more gorgeous and it's a very comfortable form of Indian wedding dress for brides.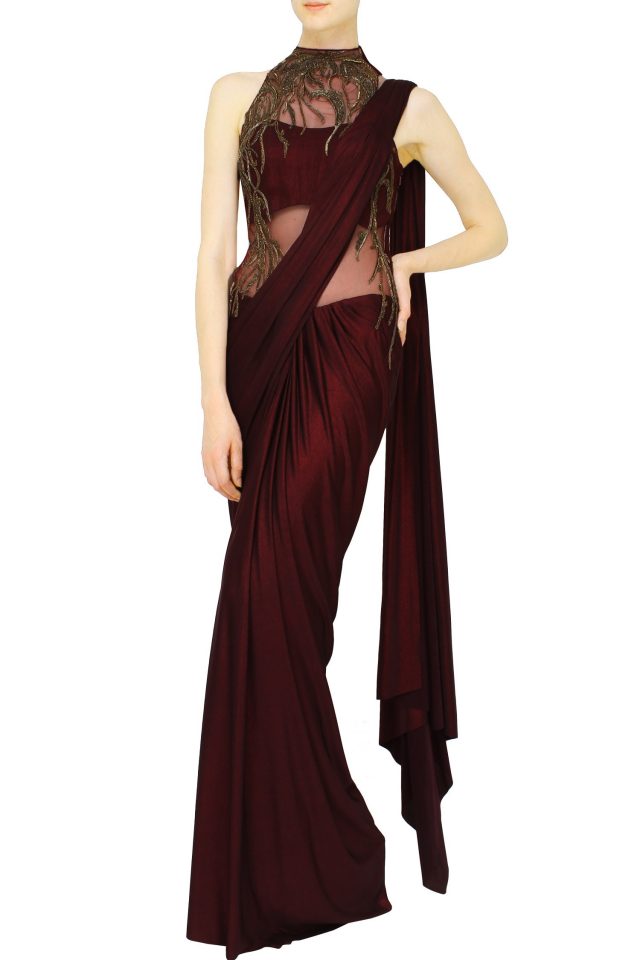 Saree Gown
Trends in wedding sarees like a saree gown is something that moves towards modern and stylish brides choices. A saree gown is a pre-stitched, pleated and pre-draped silhouette of a saree and a gown. The styles are so popular for Indian wedding receptions which were more set on trend by Bollywood actress Shilpa Shetty. Designers like Tarun Tahiliani wedding saree gowns, Gaurav Gupta saree gowns designs which still trends for brides to look stunning for an evening wedding.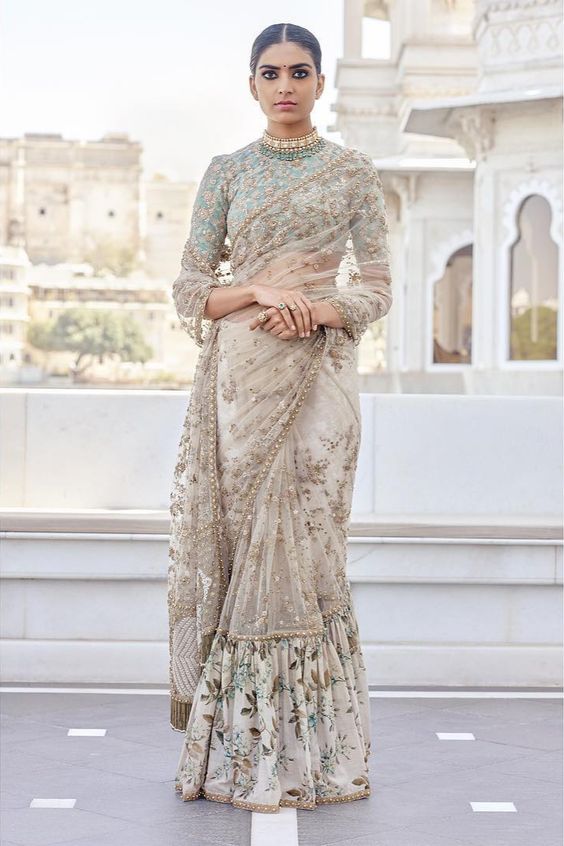 Half and Half Wedding Sarees
The half and half saree concepts are the most extravagant choice for a bride to look her best with a statement designer look. The saree for a bride to choose in half and half concept would be in net and intricate work of sequin, beads, threads, zardosi and more. Concepts designed by Sabyasachi and Manish Malhotra saree are perfect to look ultra-modern and gorgeous to your wedding. A half and half bling saree with either glittered work or swarovski embellished sarees to the Indian traditional metal work embellishments are the top trends, which can be found on G3fashion wedding sarees collection to shop sarees online.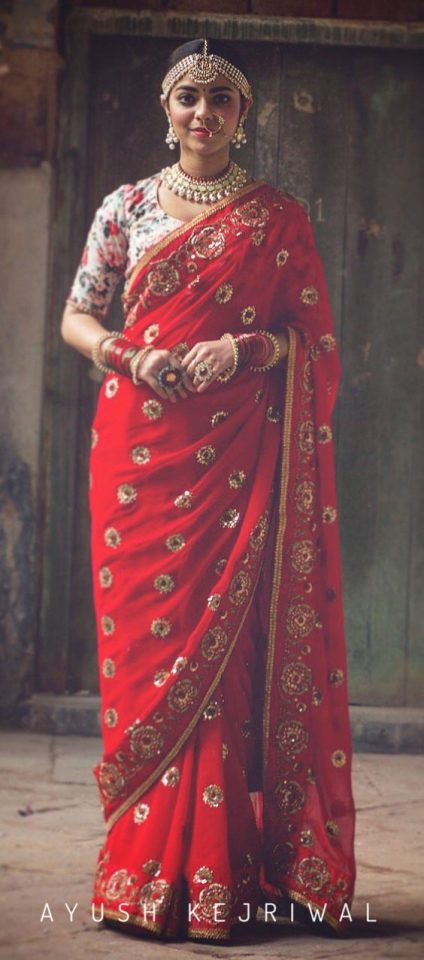 Red Wedding Sarees
These could be in a flowy fabric like satin, georgette, chiffon, or net, with embroidery in gold and resham threads to give it the perfect heavy bridal saree look. The flowy fabrics of the Red wedding saree is a perfect pick for new wedding drape looks for a bride and has the heavy look of gold and embroidery to make it a perfect bridal couture.
These are some of the Latest and on-going trends of a Wedding saree for a bride to choose for her wedding day or any ceremony she wishes to dress in a saree.