With all the types of hair extensions, sometimes it's hard to decide what's the best set for you, especially if you're worried about the extensions looking unnatural. It's possible to make your hair any length and any thickness you desire while maintaining a natural look. Whether you have glued or clipped-on hair extensions, the ones that look natural are the best.
Investing in a Set of Human Hair Extensions
When you're looking for natural-looking hair extensions that look natural, it's all about investing in a quality set. Hair extensions made of human hair — like virgin Brazilian hair — look more natural than synthetic hair extensions, but they come with a higher price tag. Unlike human hair extensions, synthetic hair extensions easily tangle, don't blend well and can't be shampooed, dried or styled with heat.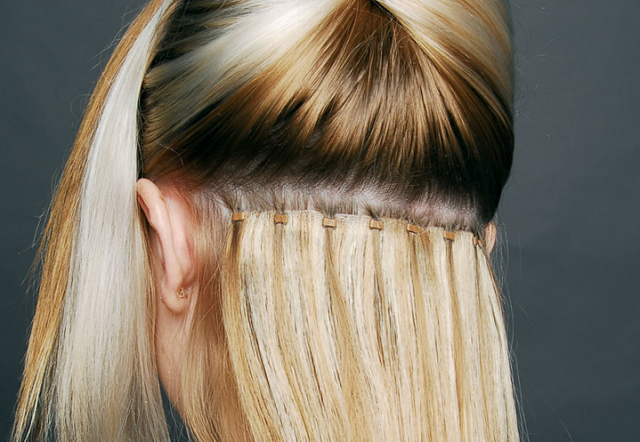 Matching Your Hair Color
The most give-away sign is when someone's hair extensions do not match their natural hair color. When selecting your hair extensions, consider the tone as well as the color. For example, if you're selecting blonde extensions, ask yourself if you have ash-toned blonde or golden blonde hair. Standing in natural light may help you see a truer representation of your hair color. Human hair extensions can be dyed up to two shades darker, so if you have the wrong color of hair extensions, you're not completely out of luck.
Choosing the Cut
Don't get ahead of yourself and choose any length and cut of hair extensions. If you're using the hair extensions for length, choose hair extensions up to 5 inches longer than your current length. Otherwise, choose the hair extensions that are the same length as your hair.
Deciding on Your Natural Style
Extensions come styled in many ways, depending on their texture, like curly, wavy and straight. Choosing the style of hair extensions is just as important — if not more important — than selecting the color and length. Matching the extensions to the texture of your hair is the best way to do it, because they will not look out of place or unnatural if they do not match. For example, if your hair texture is normally kinky and curly, then choose extensions that match that texture.
Taking the Time to Find the Right Set
The key to getting your hair extensions more natural-looking is spending time looking for the right set. The more time you take searching and matching the extensions to your natural hair, the better the chances are they'll look natural when you wear them.