'Tis the season for shopping. Whether it's a brand new pair of boots, cropped tee or formal dress for a winter soiree, if you have a teenage daughter, get ready for some serious togetherness time. The picturesque mother-daughter shopping trip usually entails glossy bags brimming with new goods. In reality, this experience doesn't always equate to holiday cheer.
Let's face it, mother and daughter tastes can be very different. You pick out a cardigan you think she'll look adorable in and she's already across the mall checking out that trendy and too-tight pair of brightly colored jeans she can't live without. Much like your relationship, shopping together needs to be a compromise.
Carve Out the Time
First, allot a few hours that work for both your schedules so the trip to the mall doesn't turn into a mad dash to just find something. Setting the tone before you even step out of the car is crucial for shopping success. If you are both calm and have the afternoon to relax and indulge in some retail therapy, that will set you up for a higher success rate than beginning the trip off by yelling at each other to get in the car and hurry up before the mall closes. With extra time to kill, you and your daughter will be able to visit other stores surrounding the mall and kick back and enjoy trying on the latest women's shoes, splurging on some fro-yo and modeling outrageous outfits. Taking breaks between searching for particular items on your list curbs stress and ensures the trip will stay fun, which is what this day should be all about.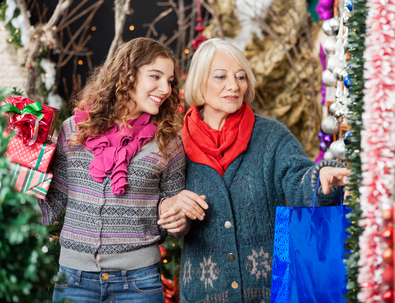 Be Understanding
Try your best to be supportive of her fashion choices. Yes, those high-top gold shoes are not the most professional looking, but do they need to be? Remember that she's growing into her own style. If it's not offensive, too sexy or out of your price range, let her have it. If you can live with it, support it, because those times when she picks something completely cringe-worthy off the rack, saying "no" is going to be more positively received.
Encourage Basics
Going back to compromise, let's say you let her buy the trendy coral skinnies she thinks will make her the coolest girl in school. In the back of your mind, you know these will only be worn a handful of times before they're deemed 'not cool.' Encourage her to try on simple items, like a long-sleeve grey tee or subtle chambray button-up to complete the outfit. Basics like these will last a lot longer, while being friendly to your budget and your daughter's feelings. This gives her go-to clothing options she can mix and match over time. If she insists that it's too plain, let her pick out a statement necklace or gold bangle to show off her personality while pulling the outfit together.
With a little patience, some guidance and the ability to let go, your mother-daughter shopping trip may actually be an enjoyable experience for both of you. Plus, you might just be able to pick up a few new things for yourself.