Most of us are anxiously looking forward to the end of this particularly cold winter and "warming up" to the idea that sunnier days of Spring and Summer are quickly approaching. Obviously one of the main attractions about this time of year is the onset of warmer weather and thus the beginning of swimwear season. Maybe you're one of the lucky few who enjoys summery temperatures all year long, but whether you have 2 months or 10 months of beach-friendly weather, we're all faced with a similar dilemma when our desire for a new swimwear wardrobe exceeds the available funds in our bank account. So instead of feeling anxious over your inability to buy an entire new wardrobe, let's consider the options for revamping what you already have with items you already own, and keep your purchases to a minimum.
Consider Your Cover-Ups
First, you can easily change the appearance of your entire swim ensemble by simply updating your cover-up. You can easily find beautiful sarongs for very little money, or go through your scarf inventory to see if you have any options that could pull double-duty as a sarong. Also, sort through the summery dresses and tops you already have. That cute maxi dress will look fabulously sophisticated-chic as you walk to and from the beach, while a breezy tunic  will easily evoke a beachy boho-chic look. You can also add a skirt to the outfit, leaving your swimsuit top exposed, if you're dying to show off those hard-earned abs.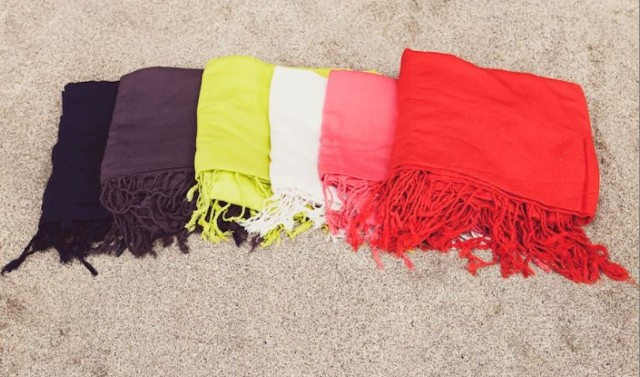 Accessories Are a Girl's Best Friend
One of the easiest ways to spice up any look is with the addition of jewelry and other accessories, which can often be purchased for much less than the cost of an entire new swimsuit. Dig through your jewelry box for cute chains, stackable bangles and funky earrings to embellish your outfit. If you have a few extra dollars to spare, consider purchasing a few new statement pieces to play up your look, such as a bold, chunky necklace, leather-wrap bracelet or a chic body chain, all of which are hot at the moment. You can also switch out your basic flip-flops for a pair of espadrilles, chunky sandals or wedges if you're going for the whole beach-glam look.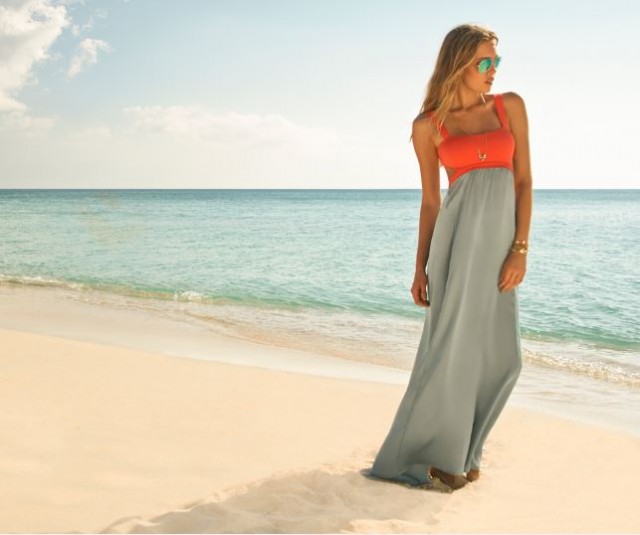 Experiment With Your Swimsuits
If you've ever wanted to be a stylist or designer, this last one's for you! You can create an entirely new look, simply by mixing and matching your swimsuit separates. Go through your solid and printed tops and bottoms, and create your own unique combinations. In addition, many women find success in wearing their top in multiple ways, which an internet search can easily provide pictures and inspiration for (halter and wrap tops are perfect for this!) Finally, if you are willing to break out your "DIY" skills, you can literally re-do your swimsuit into something completely new. For example, adding a fringe trim to an existing suit will provide a completely new look. Or for something a bit more bedazzled, beading, sequins and rhinestones can go a long way. The possibilities are endless, girls!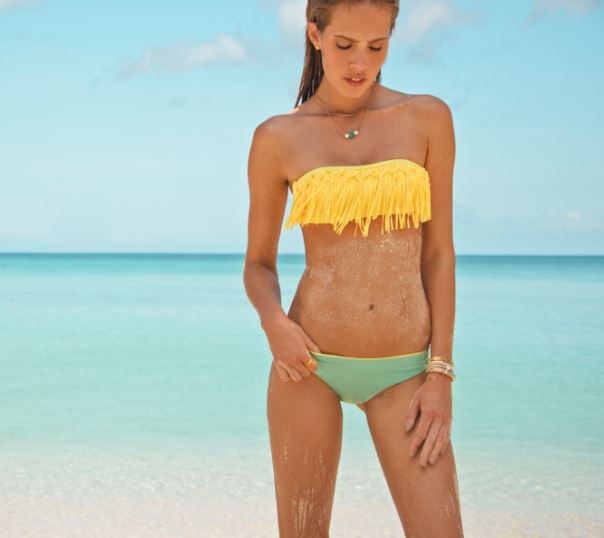 Remember–you don't have to break your budget to look hot at the beach. Get ready for a brand new season of summer fun, and don't forget the sunscreen!
Susan is the PR and Social Media Marketing Manager for InStyleSwimwear.com–a Philadelphia-based online swimwear retailer. In addition to writing about the hottest styles and trends, Susan enjoys spreading her swimwear-related tips and knowledge with her fellow fashionistas. For more tips on looking beach-chic ready, check out the InStyleSwimwear.com blog.