Whether you're newly engaged or in the midst of planning your dream wedding, it's always helpful to stay up to date with the latest wedding fashion trends. Doing that will help you to shine your absolute brightest on the biggest day of your life. 2018 has been host to a variety of stunning trends that are truly breathtaking. From statement bows to black accents, capes, tiered ruffles, embroidery, and dresses with pearl backs, here is a look at the hottest bridal trends of the year so far.
Statement Bows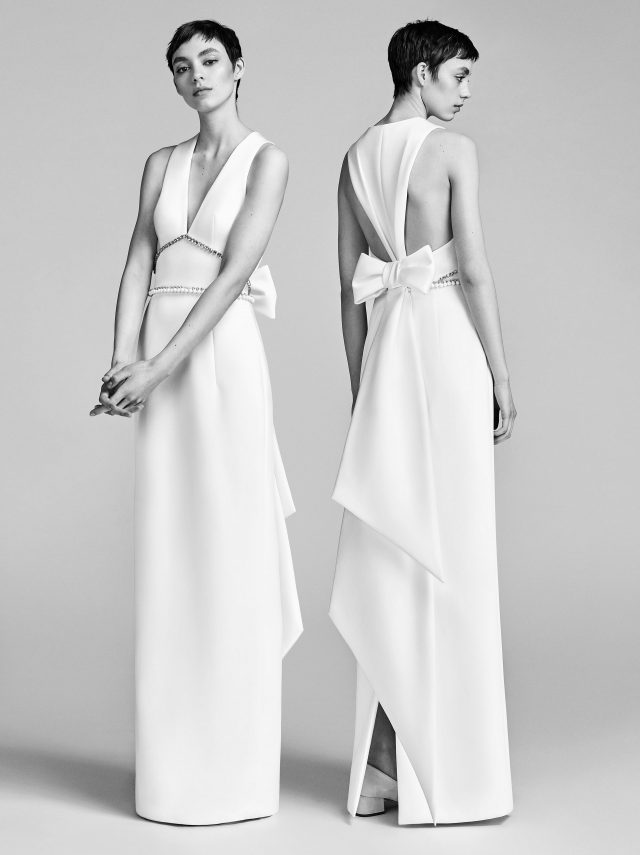 Oversized bows are the perfect finishing touch on a classic gown. Despite being relatively popular for years now, designers Oscar de la Renta and Viktor & Rolf have turned them into one of the 2018's hottest trends in wedding fashion. These designers are using bows to flawlessly accent the backs, shoulders, and belts of classic silhouettes. The versatility of the trend gives brides a rich variety of options to choose from if they decide to go for the look. Regardless of how it's worn, however, the two-looped knot is always ultra-chic, fun, and special. For a jaw-dropping look that is the perfect combination of elegance and flair, a big bow should be at the top of your list!
Black Accents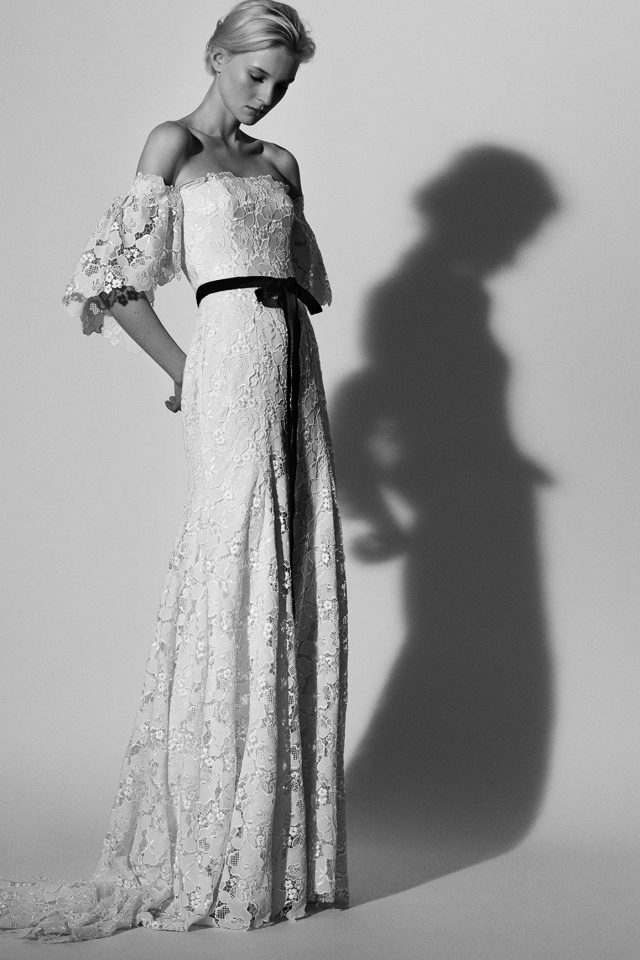 (Image Courtesy of Carolina Herrera)
While black dresses (which are getting more and more popular) may still be too much for most brides, black accents, on the other hand, have been a huge hit in 2018. Whether it's a black bow, bodice, sash, or embroidery, a dash of this color can create an unforgettable look. This is undoubtedly the trend for brides who are looking to make a statement on their wedding day. Our favorite look from this trend is an off-the-shoulder gown from Carolina Herrera with all-over lace and a gorgeous black sash around the waist. Striking, yet subtle, and still sophisticated, black accents are a trend that we believe is going to be around for a very long time.
Capes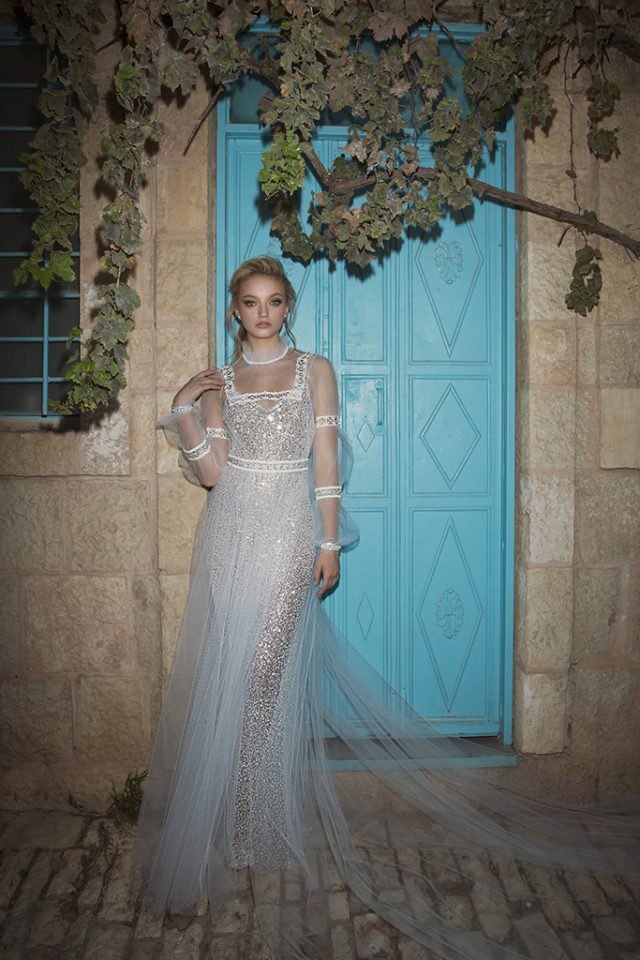 Capes are a go-to option for brides who are trying to create the perfect vintage-inspired ensemble that's oozing with class and refinement. Many are opting for capes instead of veils to help add an element of originality while still retaining a traditional look. A long sheer cape is perfect for walking down the aisle during the ceremony, but can be removed for the reception as you get ready to dance the night away. Not only is it comfortable but also perfectly functional as a mid-wedding outfit.  Finally, if full-length capes just aren't your style, you can always go for shorter capelets which are a lot subtler.
Ruffles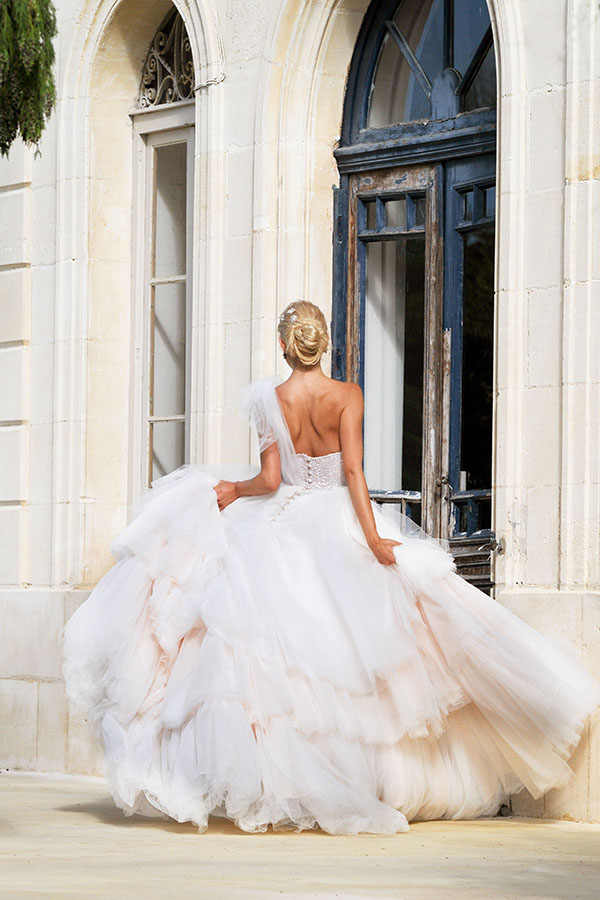 What's not to love about ruffles? They are modern, eye-catching, and can give any gown some much-needed texture. With every step the bride takes, ruffles move and create a mesmerizing look that is sure to leave people speechless. British designer Lyn Ashworth has perfected this trend, creating masterpieces that include multiple layers of cascading tulle. Ruffles have become a staple for many brides in 2018. Considering the beauty behind this trend, it's easy to understand why. Take full advantage of your golden-hour with a gorgeous ruffled gown that will have every single eye glued to you and your fairytale look.
Floral-Inspired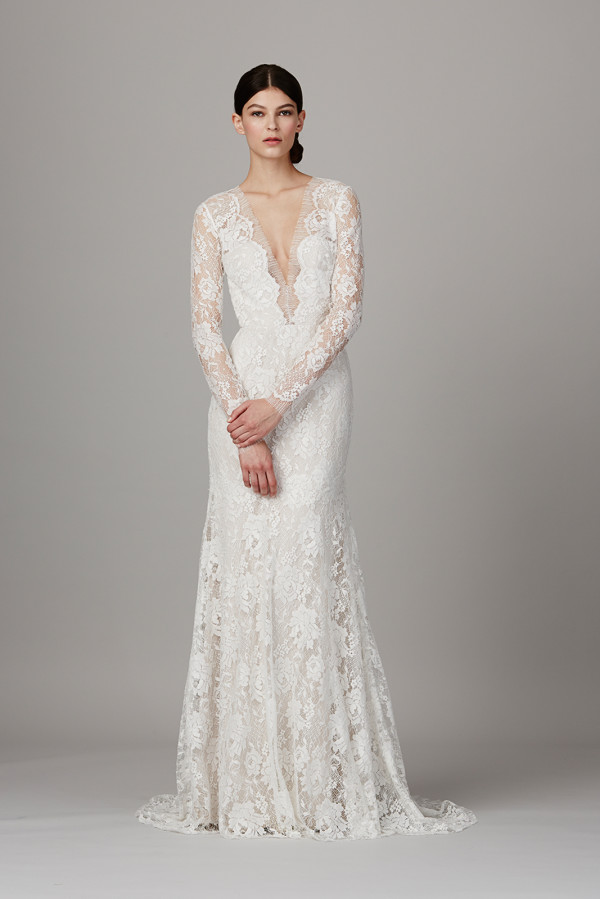 This next trend is in full bloom with both designers and brides having completely fallen in love with it. Floral-inspired wedding dresses are romantic, feminine, and utterly beautiful. Designers including Lela Rose and Naeem Khan are finding extraordinary ways to delicately incorporate them to create one-of-a-kind weddings dresses that are perfect for the sun-filled spring and summer seasons. Lace floral embroidery and 3D floral appliqués take a bridal gown to a whole new level, adding a lovely detail and creating a divine sort of quality that's perfect for a bride.
Wedding Dress with a Pearl Back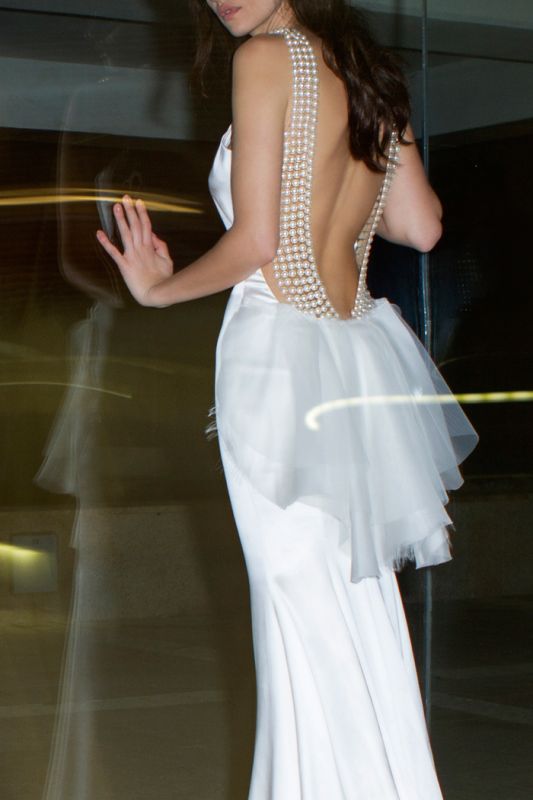 Pearls have made a huge comeback in 2018, with designers having reimagined the classic jewel to create dazzling bridal looks. They have integrated various pearl elements into their runway looks to create a new wave of interest behind the timeless jewel. Our favorite pearl-inspired dress comes from Zahavit Tshuba. The white gown is accented with a detachable silk tulle ruffle, and features an unbelievable open back adorned with six sensational rows of pearls on each side. As a look that is genuinely fit for royalty, it is an easy choice when it comes to our favorites. Furthermore, not only are pearl-embellished dresses trending right now, but so are the pearl bridal jewelry sets. Finish off this dress with a dashing pearl ring and a pair of classy pearl earrings to achieve your dream wedding ensemble.