After the cold winter months, why not warm the hearts one of these ten unique gifts for friends this spring?

While chocolate makes everyone happy, these options will go a whole lot further.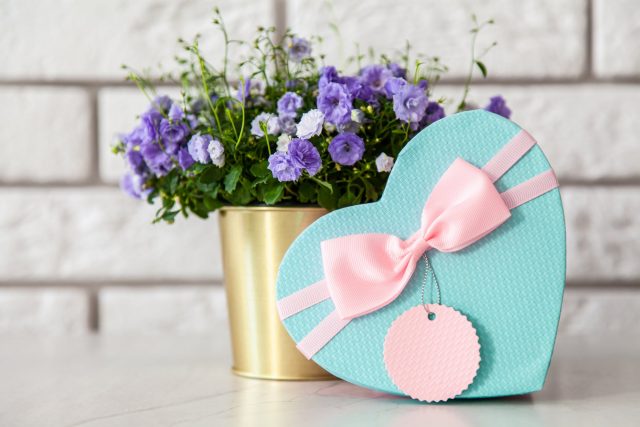 Starting with…
DIY Photo Frame
Do you and your friends love taking pictures? If so, they are going to love this gift. A DIY photo frame is perfect for sharing moments that will last forever.

This great idea came from The Merrythought and they are totally unique. Forget having one or two rigid pictures stuck inside a frame. Instead, this photo frame connects multiple photos in a flexible, fun way so you can look back and laugh at the fun times with ease.

Sharing memories is an original way to add some life into their home. People like to use the expression 'if these walls could talk' – this way, they can!
Watering Can Wreath
Spring is the time for new life. Flowers are blooming, birds are singing and in the sunshine, there's nothing like heading into the garden and taking it all in.

For your friends that love to spend time outside, or even planting their own arrangement, adding a watering can wreath, like this one from Tater Tots and Jello, on the back door shows how much you know them – and they look fantastic too!

You could go all out and find some of their favorite flowers to place in there too and show them how much you really know them.
Custom T-Shirts
Whether it's for a laugh, a special occasion, or just to show how much they really mean to you, a custom t-shirt can be a great unique gift for friends this spring.

If you have a favorite picture with them, the print will be original and can act as a great memory. You could even print a picture of them with their pet or family.

An excellent business that caters to this is ScreenPrintThis custom apparel. Simply tell them what you need and they will create the perfect custom design. There is also no minimum order and for the price, you get great quality t-shirts. Highly recommend!
Modern Easter Eggs
Not all Easter Eggs are delicious treats. Why not surprise your friends with original wooden Easter Eggs, like these from Lily Ardor that looks pretty as a decoration on the windowsill or tabletop?

These are adorable and when done right can add a touch of class to the room. If you know the style of the room, you can decorate them as such and earn a lot of brownie points along the way!

They make the perfect unique gift for friends that love crafts. Create your own using the techniques in the link above and they'll soon get over the fact they can't eat them.
Photo Candles
Whether they're for adding some mood lighting and getting cosy or to create a sweet, soothing aroma, scented candles are always a win.

However, to make them more of a unique gift for your friends, print a photo of their best times on the shell as they do here. Match their style and personality to the scent and you're onto a winner.
Even better still, for your best friends, if they have ever told you of a memory they associate with a certain smell, get THAT photo with THAT scent. A gift to treasure – until the candle burns out of course.
Reusable Water Bottle
This makes an awesome gift for your friends. With many people making new year's resolutions to be more active and start eating and drinking better, a reusable water bottle can keep your friends motivated.

When it comes to the summer months and you had down to the beach, they are a great way to keep your water and other contents cool and warm, depending on what you have in there.

I personally own a Kool8 water bottle. It has a unique, modern design, it's high-quality so will last you a lifetime and is available for a great price. You can learn more about the brand here.

Unique Custom Starmap
Celebrate a moment with your friends in a totally unique way this spring with a custom starmap that shows how the universe looked at that precise time in space! The cosmos is changing every second so no one else in the world can have anything quite like this.

For example, this Twinkle in Time starmap can be used to show how the universe looked on their birthday, on their wedding day or any other time that you know means a lot to them.

This gift works particularly well if you know they are into space and all its mystery and wonder!
DIY Early Grey Soap
While it may not be as cold as the winter, a cup of tea can make those chilly spring mornings worth waking up to. Not only can it taste great, but the smell is soothing and full of warmth.

For your friends that love the aromas that, create a DIY earl grey soap for a totally original gift this spring.

It's not even that difficult to make. There is a great tutorial by Shrimp Salad Circus that shows all the ins and outs to bringing this brilliant idea to life. It also works with coffee if you know your friends can't go without that iconic scent.
Mason Jar Herb Garden
Do your friends like to cook? Well, why not give them an original mason jar herb garden to give their meals an extra kick. This one from Shutterfly is a great example – they use it for rosemary and mint.

It saves your friends going out into the garden and looking after their plants. Simply place them on the kitchen windowsill and they can be easily taken care of. Then, once grown, your friends can make gorgeous meals.

All thanks to you and your out-of-the-box thinking – well done!
At-Home Cider Kit
Finally, for your friends that love to end the day with a fresh, great tasting cider, this makes the perfect unique spring gift. The Brooklyn Beer Shop Hard Cider Kit creates batches up to one gallon, perfect for a get together at the weekend or during a spring break.

Even if it doesn't turn out great, at least you had a lot of fun trying – which is what having friends is all about anyway.

This guest post comes from Codrin Arsene at Digital Authority Partners