It's already September, but with a 40 degree heat wave summer is far from over, which means that warm weather, sandy beaches, and spending time in the sun is still here! For many, this season is the time to relax. Others however get antsy and nervous thinking about the fact that they have to shed extra clothes during the summer in exchange for swimsuits. Some people are not in the best shape they could be while others are haunted by genetic lineage. Some people still have their winter bodies on which means that maybe some maybe they've packed on a few extra pounds or maybe gained some extra flab in certain spots. The thought of putting on a bikini is downright terrifying! If that's the case for you, then a tankini might be the perfect solution.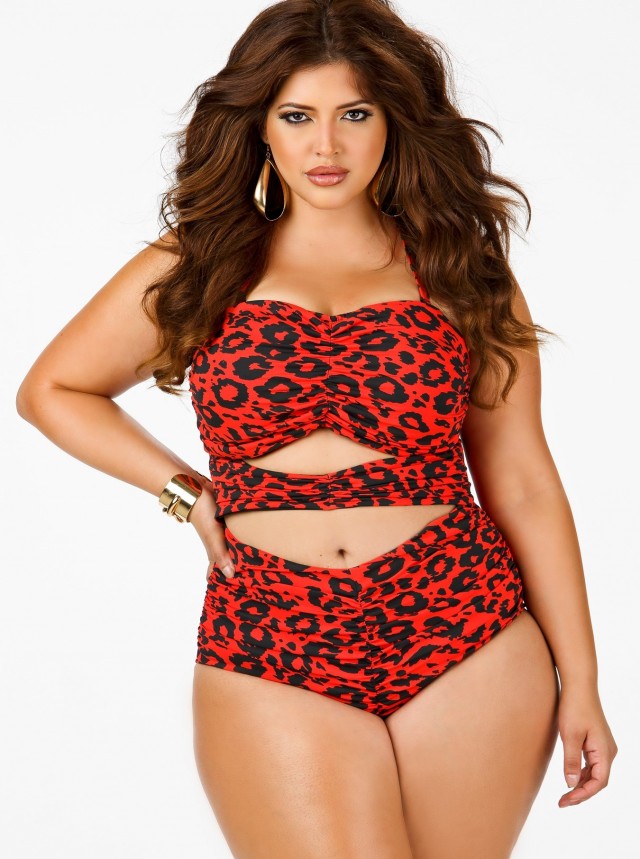 When some people think of tankinis they think of them as a swimsuit for an older, less fashionable crowd. That's not the case at all! Tankinis can still be sexy and stylish, without being overly revealing. The right kind of tankini can hide an area that many women have the most trouble with — whether that's the hips or the stomach area. Women are self-conscious of these areas for a variety of reasons. Perhaps they've had a baby and now have unsightly stretch marks, or maybe they think they've gained too much wait. Whatever the reason, sporting tankinis is the perfect solution. It will hide the problem areas all the while accentuating the stronger, sexier curves on a woman such as her arms or shoulders. Don't let fitting room anxiety get you down. Consider shopping for a tankini to solve your beach problems, and put a smile on your face.
A plus-size woman will often find shopping online as a great resource because many plus size online retailers offer a body shape calculator to help you determine what kind of swimsuit you will need. You can now finally kiss the fitting room good bye once and for all! Check out an online retailer such as swimsuitsforall to find a body shape calculator to help you out. Most reliable online swimsuit retailers will also have all the styles and colors right there on an easy-to-navigate page. Shopping through racks and racks of swimsuits to only not find your size is a thing of the past. Here a plus size woman can find the style that fits her needs. If you're a plus size woman and you need a high wasted swimsuit, or maybe something with ruffles, you can find it online. Another perk to shopping online is that a woman can also read the reviews to see if a swimsuit (a skirtini or tankini) is something she'll like!
A swimsuit is something that every woman should always have in their closet, and that means that finding and buying one should not be an ordeal. That's why swimsuitsforall is a hassle-free alternative to traditional swimsuit shopping — an alternative that takes a lot of the stress out of the plus size shopping experience. Check out the amazing selection of tankinis online right now. This swimsuit comes in handy for beach days, pool-side lounging, and impromptu vacations. Having a swimsuit that fits well and makes you feel comfortable is important; a woman can't truly enjoy lounging around in a suit unless she is feeling comfortable in it. Tankinis will help any plus size woman feel sexy, and therefore she will radiate confidence. Hop onto your phone or laptop today to check out the best selection of swimsuits online at swimsuitsforall. The better a woman feels about her clothes — especially her swimsuit — the happier she is.