The midi ring is a jewelry trend that is showing some staying power. A midi ring sits on a finger above the lower knuckle, but it rarely sits alone. Part of the fun of this type of hand jewelry is wearing it in multiples. Rules for wearing midi rings are few, while the design options are many. Midis may be delicate sweet little nothings, or bold metallic statement pieces. They may be fashioned from gold, rose gold, silver, beads, or set with stones. Mixing and matching can provide endless opportunities for different looks.
Endless Variety
The site Style.PK shows a variety of ways to wear multiple rings. One look can be achieved by lining up similar rings at the same level on each individual finger. Another option is to wear rings on alternate fingers. A dramatic way to wear midis is to stack them up on one finger. Stacking the same kind of rings atop one another displays a striking symmetry, while mixing styles brings energy to the "handscape." Stack for order or stack for contrast. Really, anything goes.
A Look to Suit Every Mood
Midis can be adapted to any situation. Adding a little color with a beaded ring or two to a selection of golden or silver midis can highlight an outfit. Jeans look great with a mix of metals and stones. A simple outfit can be accessorized by a statement piece flanked by a number of smaller rings. If a ring has a distinct shape, try flipping it for a new look.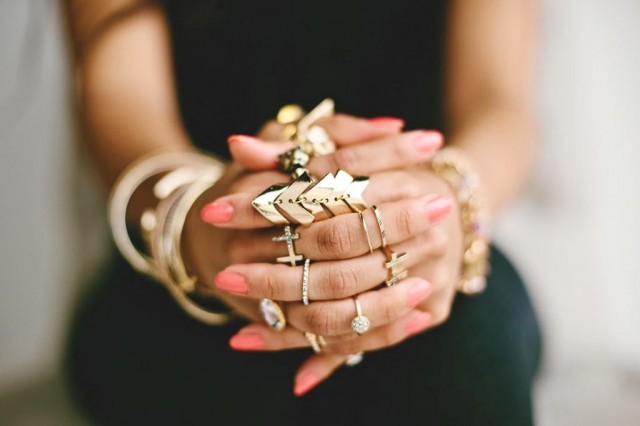 Bring the Bling, or Not
Midis can be simple or elaborate. For those who appreciate high-amp bling, it is possible to wow the brunch crowd without breaking the bank. Imitation stones sparkle like the genuine article in circlets and wrap midis. For an edgier look, opt for a wrap-around serpent or a spiky shape. Midis look chic whether the style is romantic or ultra-modern.
Focus on Fit
At first, wearing midis may take a little getting used to. The key to adjusting to wearing a ring higher on the finger is a good fit. The ring should fit snugly without being constricting. It is likely to feel natural more quickly if it stays put. This may be particularly important with the larger cuff styles. A proper fit can be especially easy with the elastic bands of many beaded designs. Whatever the style, once one is accustomed to the feel of a pretty ring above the knuckle, it might be tempting to start piling them on every finger.
Fashion Forward
One of the easiest ways to enhance one's personal style can be through affordable additions to a jewelry wardrobe. Midi rings are a fun way to play with style and layer interest into a look. As the trend is to mix and match, there is no wrong way to wear them. A simple shape on a single finger may feel complete one day. The next may call for every digit to be dressed. Different designs can complement the most casual or classic look. It is the versatility of the midi that may give it its long-lasting appeal in the fashion world. Midis can stand alone or combine to accessorize the style of the day.