When it comes to nail art, solid colours are a thing of the past. Complex effects, eye-catching colour combos and embellished designs are now being used to compliment outfits and make bold style statements. If you're looking to step out of your manicured comfort zone, here's a roundup of this season's most inspirational nail trends.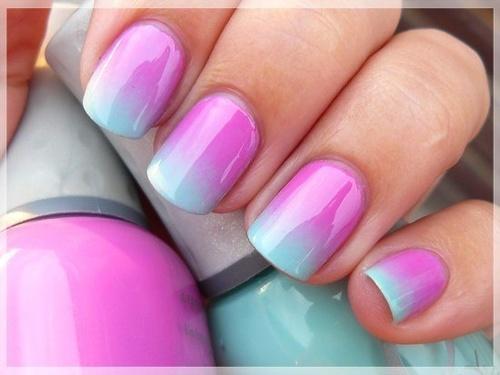 Customised patterns
2014 nail trends are all about unique, customised designs. The best way to achieve distinct styles is by freehand, using either a nail pen or a makeup brush to create a whole host of patterns, including polka dots, trailing patterns, swirls, floral designs, leopard print and more.
Themed nails are all the rage this season. Aquarium-inspired designs and comic book nail art are just some of the eccentric creations that are beginning to make an appearance in beauty magazines and nail forums. However, due to their intricate nature, these designs require the steady hand and creative flair of a highly skilled nail professional.
Ombré nails
Not only is the gradual fade-out look bang on trend, it is also one of the easiest designs to achieve. After applying a base coat, a makeup sponge is dipped into the chosen paint and gently dabbed onto the nail until the gradient is perfectly blended. Depending on the desired effect, you can choose between complementary colour combos, contrasting neons for dramatic style statements or even a delicate crescent fade for a modern twist on the french tip.
Vinyls and nail stamping
To achieve the perfect party nails, vinyls and stencils can be used to create sophisticated designs. After the nail has been prepped and painted, the vinyl is applied, painted over and removed for maximum accuracy. Patterns such as chevron and art deco are amongst the most popular vinyl choices this summer.
Nail stamping plates are also commonly used to transfer intricate patterns on to nails, such as animal prints. To ensure you nails are up-to-date with the latest fashion, why not play around with accent colours and enhance designs with finishing touches such as neon glitter or foil transfers.
Embellished designs
Adding eye-catching accessories to your nails is the perfect way to complete your look this summer. When it comes to embellished nail art, you have the freedom to be creative and experiment with a variety of add-ons, whether it's crushed shells, glass beads, glitter, dried flowers or crystals – the scope for creativity really is endless!
The beauty of using nail accessories is that they can be applied in a variety of configurations and styles, whether it's around the outside of the nail, in the centre, on the tip or used to create playful patterns, such as flowers.
It is worth noting however, that when it comes to embellished nail art, less is more. Applying jewels and accessories to selected fingers and keeping a few plain painted nails will help to keep the look classy.
Equipment
Nail art can be incorporated into gel or acrylic enhanced nails as well as natural nails, provided they are long enough and in good condition. To create the latest nail designs, there are a few essential tools you'll. Companies such as NSI Nails offer a variety of nail art utensils and accessories to help you achieve the perfect, professional look.
It may also be useful to invest in UV lights, as this can help to speed up the process of curing when applying several coats of polish. Having a selection of base coats and top coats is also essential to protect the nail and ensure that the art will remain in place for a long period of time without chipping.