With the festive season around the corner, all of us are looking to party after the long months of quietly quarantining. We have Christmas, New Year, and loads of office parties to attend and need super ideas to look and feel our best.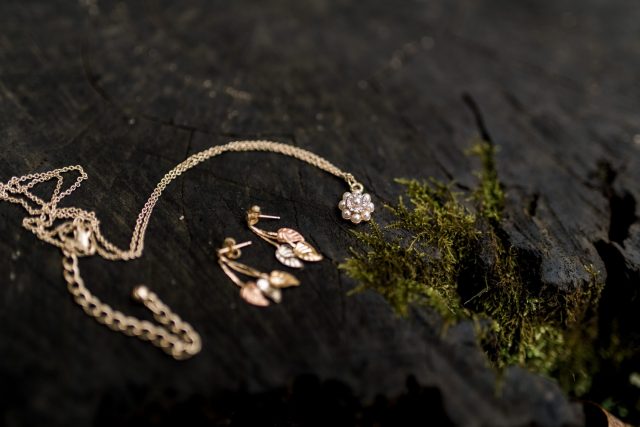 Dressing for work, since it needs to fall into professional guidelines, can often get tricky. At our workplace, we need to be very careful about our jewellery and clothes to give out the right message.
And it gets even more confusing when you have to dress for your corporate party. It is an occasion when you leave your serious professional garb and enjoy free-flowing friendly conversations. Such an occasion gives you space to get creative and mix and match your jewellery and outfit. You want to look professional yet stylish. This is where the subtle sheen of gold jewellery comes in. Styled well and you will be surprised at the elegance and subtle charm that it adds to your personality.
Here are some tips on how you can style gold jewellery at a work party:
Earrings: Earrings can uplift and complete any outfit. Be it that classy black dress, a pencil skirt, or a three-piece that you are planning to wear to your party, your earrings will complement everything. You can choose from small gold hoops or stylish rose gold stud earrings with a single white stone. This is sure to add subtle glamour to your evening.
Pendants: Elegant gold pendants make you look graceful and stylish like nothing else. A statement pendant dangling from a light gold chain is one of the most stunning conversation starters that you can wear. What's more, they go with every neckline and outfit. You can choose from stylish gold jewellery designs for pendants in geometric shapes, pearl or diamond-studded pendants, and even the ones set in contrasting metals and stones.
Rings: Sleek gold rings gently stacked on your fingers are chic this season and bring attention to a pair of beautiful hands. They are not as intimidating or complex as they look. These rings are all the rage and you can mix and match metals like white, rose, and yellow gold rings. Or you can wear a statement ring and build a stack around it. Experiment with midi rings and give your hands a bold personality.
Chains: Who said gold chains have to be staid and boring. Just layer them up and see your outfit glam up. For a stylish look, you can pile up different chains together with or without pendants. Or pair a minimalistic choker with a couple of chains. Another great idea is to wear your gold chain and pendant in the 'front to the back' style! This is a great idea to decorate your back when you are wearing an open back top. This is flirty yet elegant and feminine.
Bangles: Define your style by wearing a couple of thick chunky gold bangles for your office party. These bangles not only look solid but also add panache to your outfit. But remember to pick up plain bangles. Anything traditional is sure to look out of place in a corporate setup.
Now for the last pro-tip. Let your designs of jewellery for your corporate party be smart and chic to get an understated elegant look. The best way to do so is to wear a few statement pieces and build upon them.  Evolve your style statement and don't get swayed by trends or what people say. Don't be shy of experimenting with quirky pieces. Avoid anything jingly or over-the-top pieces to avoid looking out of the place.