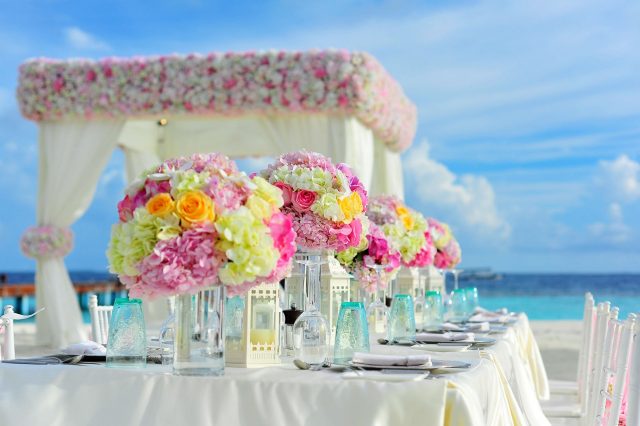 Weddings are a timeless commemoration of an everlasting union, and each year, there are more and more ideas by talented wedding planners and experts around the world to create beautifully themed weddings, from more modern to laid-back rustic.

Whether it's urban or neutral, wedding reception decorations sprinkle grace and meaning of the special tied-together moment. This article provides some of the top wedding trends 2018 has to offer.
Copper Elegance
Transitioning from silver or gold accents, copper gives an industrial yet sleek look. And a great thing about it is that it's very inexpensive. Lanterns, candles, or lamps are able to reflect light effectively. From kitchenware, to utensils, to dining chairs, the effect of copper is simply elegant from anywhere in the venue.
Colored Candles
Instead of the typical white/ivory candles, successful wedding planners are adding a classy touch to the wedding space: colored candles decorated on tables. From lavender, to yellow, to amber, colored candles smell nice and help paint the shades to something beautiful that day.

Secret Garden
Lush greenery and patio-chair outdoor weddings will never go out of style, and a petite garden wedding with light pink, white, and peach shades creates a graceful vibe along with the laces or flower choices like chrysanthemum bouquets.
Translucent Elements
With the revival of traditional midcentury design, using bright, see-through decor from wide spaces to glass tables or lucite place cards enhances the overall semitransparent glow of this minimalist-themed wedding style.
Enchanted Forest
Wildflowers, green ponds, dark moss, a forest wedding is wonderfully mysterious. The backdrop of tall trees and shrubberies (and maybe the sound of frogs and crickets) creates an enchanting ambience to the into-the-wild natural wedding decor.
Dogwood Blooms
Bright and wild blooms have always been an eye-catching implement to the wedding atmosphere, but wedding experts and planners have particularly noted dogwood bouquets that have particularly made great spring wedding decorations.
Potted Plants
Add to the secret-garden theme, potted plants in silk fabric would look positively lovely beside or behind the edge chairs where the bride and groom are to walk. This creates a natural embellishment with the already-abundant, lush green atmosphere.
Black Intonations
Black will never lose its sophistication. You may think that black mixed with a lavishly white bridal dress is insane, but Vera Wang has certainly made a flawless impression in the 2018 spring collection.
Make It Special
Because your wedding is the day to recollect and retell, it ought to come from a somewhere along the fairy-tale book. Sounds cliché, especially if you're not so much into the splash and color or theme-based romance for the daylight evening. You can always go down the aisle the traditional way.

Adding accents to a wedding day to recall is something you may end up regretting in the long run, however. So why not splash a touch of floral or a dash of urban (or perhaps rustic), and maybe then you'll change your mind? Or have you fashioned up a theme for the wedding already?