Hey deal ladies, I'm always here to inspire you and to embellish your day and for today I have made a collection of 5 diy bracelets that will be fashionable this Spring. The Spring is coming and we should all be prepared! Are you excited? We will have some new outstanding fashion trends on the street that we should all follow. Women's hands have always been considered a symbol of tenderness. To accentuate their beauty many of us wear bracelets. This hub will give some tips on how to wear bangle bracelets for spring fashion. But before I delve into the spring style deeply, find what kind of bangle bracelet suits your wrists better.
You should complete your look with some of these lovely bracelets that are easy and quick to make. Find the one that you like the most and try to make it at your house. Why spending money when you can improve your diy skills and techniques. Although you will enrich your jewelry box with new pieces, you can also surprise your mother, friend or other closer relative with a gift like this.
If you want to strengthen your relationship and communication with your daughter then ask her to help you! This can be quality time spend with her and you will have fun too. Take a look at the gallery and choose your next project. Enjoy in the rest of your day and stay up to date with the contents of Fashion Diva Design!
1. Multiple colorful bracelets worn as one – quick and easy to make idea that will take your breath away

Stunning green bracelet with dots for every occasion

Glam and chick bracelet with pearls, flowers and leaves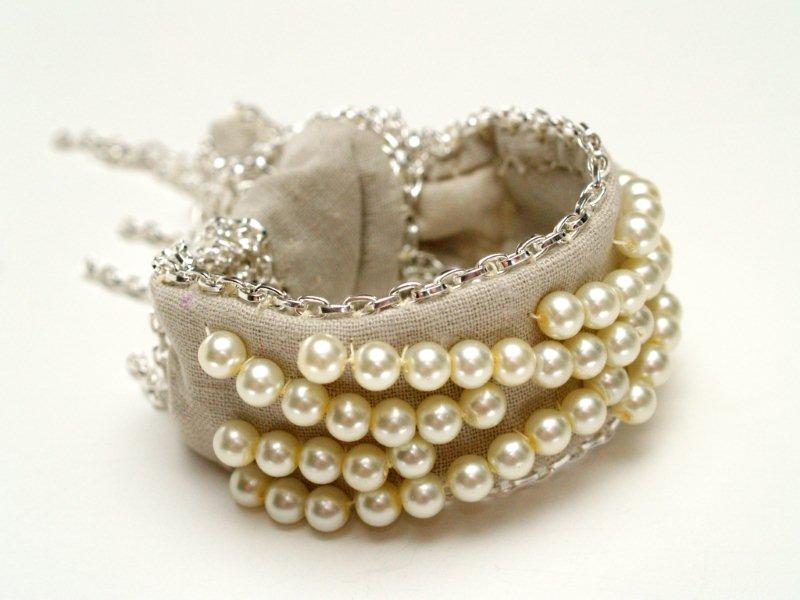 You can find DIY tutorial on flamingotoes.com.
 Outstanding, breath taking and eye catching bracelets made of golden chain, fake crystals and pearls