Matching your jewelry to an outfit sounds simple enough on paper, but sometimes can be a daunting task. There are some rules as to combining dresses and necklaces, earrings and hairstyles and even combining jewelry pieces with each other.
If you want your jewelry game to always be on point, read on to find some of the basic rules of pairing your jewelry to your outfit.
How to Pair Your Earrings to Your Outfit
Of all your jewelry pieces, perhaps the most difficult to pair with an outfit are earrings. Because you wear them so close to your face they could make or break your outfit completely. So when should you go for an elegant stud and when should you choose something more elaborate?
Halter, Queen Anne or asymmetric necklines work best with dangly earrings, while studs are perfect for turtlenecks, strapless or scoop-neck tops. The rule of the thumb is to wear one piece of bold jewelry, while the rest of your accessories should be subtle. So if you go for long, complex earrings choose a simple necklace. Similarly, if you wear a long or layered necklace, go for simple studs.
A great way to make your earrings stand out is to contrast their color to the color of your outfit, as suggested here: http://www.leohamel.com/blog/index.php/2017/04/match-earrings-outfit/. Finally, if you have long hair, a bun or a braid will help statement earrings really stand out.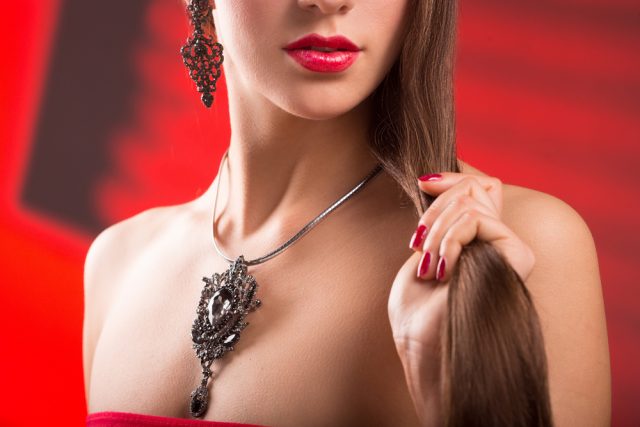 Necklines and Necklaces
Dresses with a simple, round neckline are complimented by chunky and long necklaces. However, make sure the length of the necklace is either longer or shorter than the neckline. Otherwise, you may end up pulling your necklace out of your dress all night.
A shorter necklace can really draw the spotlight to your face and draw the attention away from your chest. If you are wearing a low scoop neck dress make sure you choose a shorter necklace. A longer one will drape into your chest, which will demean its appeal.
If you are wearing a cowl neck top or a V-neck, try to get your necklace as short as possible, otherwise, it might prove to be a distraction. A short pendant or an elegant choker go hand in hand with dramatic necklines.
Bracelets and Sleeve Length
Statement bracelets can empower your outfit as much as any other fine jewelry piece. When choosing a bracelet to match your outfit, first make sure that your sleeves don't cover it.
So if you plan on wearing a statement bracelet go for the so called bracelet sleeves that end somewhere between the elbow and the wrist or a short or sleeveless top.
If you choose to wear a one-shoulder top, empower your look by wearing a bold bracelet opposite the shoulder strap.
Wearing Statement Pieces
The challenge with wearing statement pieces is to get your look just right, not too much or too subtle. Statement pieces are a great addition to an outfit and a single statement piece or a mix of harmonized pieces can help you look your best.
The first rule of wearing statement pieces is that they have to stand out. Therefore avoid wearing two statement pieces too close to each other. So if you choose a statement necklace, tone down the earrings. Or if you're wearing a breathtaking engagement ring, a complex bracelet can only steal its deserved attention.
The same goes for your clothes. The golden rule is that simple clothes go fantastic with bold jewelry and vice versa. If you are wearing a simple top and jeans, you can empower your look with bold statement pieces. Similarly, detailed necklines do not pair well with statement pieces. If you want to wear a statement necklace choose a simple neckline.