Wedding updos are timeless and elegant. And they look so stunning with a pretty wedding veil, flowers or dozens of other hair accessories. If you aren't sure how you want to wear your hair for your wedding, you are not alone. Every bride struggles with how she wants to style her hair for the big day.
We have gathered some pictures of wedding updos that are beautiful to inspire you as well as some tips on how to style your updo. From high volumes updos to chignons with soft cascading curls, we have something for everyone!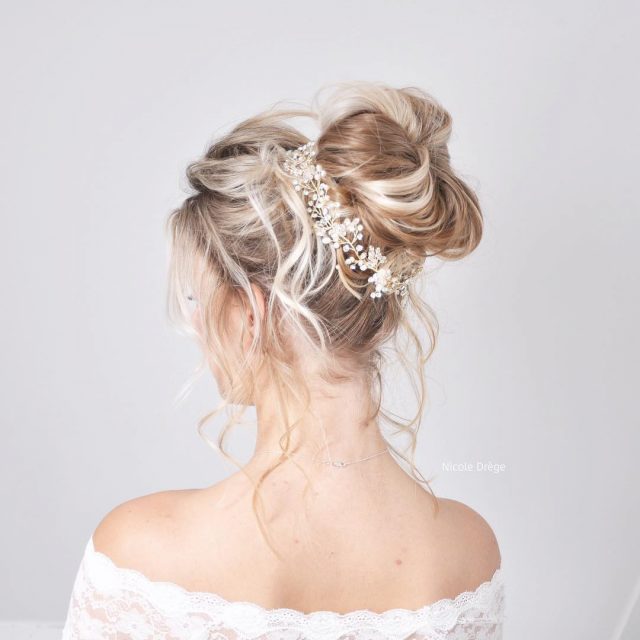 Wedding Updos Are The Perfect Choice For Every Bridal Style
Why opt for an updo for your bridal hairstyle? There are dozens of reasons. First of all, they are classy and elegant. If you want to add an air of sophistication to complete your bridal look an updo is certainly the way to go.
An elegant chignon with loose tendrils or a half updo and a veil is the perfect look for a traditional wedding with a romantic theme. As well, those styles will go nicely with a strapless gown. For an outdoor wedding, an updo with flowers or a headband is very stylish. Pair it with the pretty accessories such as tiny diamonds or tear-drop pearl earrings and jeweled barrettes or hair clips and you will have the perfect bridal look!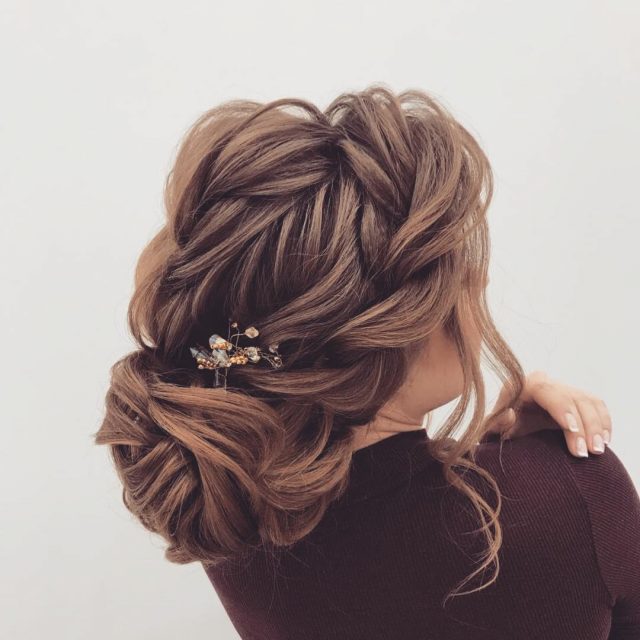 Wedding Updos For Different Lengths Of Hair
Wedding Updos for Long Hair
As it is the easiest to style, longer hair is perfect for a bridal updo. From intricately braided updos to fancy chignons to buns and beehives, the possibilities for longer hair are endless. And you can add some stylish accessories such as crystal hair bands, pearls, and flowers to make the look stand out! A lot of women purposely let their hair grow from the moment they get engaged, so they can have the perfect bridal updo for their big day!
Wedding Updos for Medium Length Hair
Medium length locks are also perfect for a bridal updo. There is still enough length to pull it back into a pretty updo that is perfect for a wedding. Some of the best updos for a bride with mid length tresses include braided updos, knots, and buns. And once you add some glamorous hair accessories such as fresh flowers, pretty jeweled hair clips or whatnot, you will have the perfect bridal look!
Wedding Updos with Veil
Wedding veils are the epitome of sophistication and tradition. And they are perfect for updos. You can choose from styles such as a curly updo, a high or low bun or soft and romantic chignon updos.
Short Hair Wedding Updos
Short hair? Don't despair! You can still wear your hair in an updo for your wedding. Some shorter styles have longer layers that lend to the perfect updo. As well, you can always get extensions just for your wedding.  With shorter hair, it's all about the accessories. Think of how pretty your hair will look with a beautifully accented headband or hair clip!
Tips On How To Perfect Wedding Updos
If you are unsure of what bridal updo is best for you, consult your wedding planner or hair stylists. Also, you will want to take into consideration the style of your wedding dress and the theme of your wedding! Remember to set aside the proper amount of time for your hair appointment on your wedding day. Some updos can take quite a while to perfect, but rest assured, they are worth the time and effort!
We hope you enjoyed our gallery of wedding updos and that you have found the perfect look for your special day!