Hey there my lovely divas! How are you? Are you enjoying the beautiful days? I'm always here to inspire you and awaken your creativity. For today, I have a very interesting post that is called "8 Fashionable Pieces of Clothes You Can DIY at Home". Are you excited?
You will be surprised when you see how many chic and stylish clothes you can create at home, in no time, easily and quickly. Plus, why spending a fortune when you can give a new look to our old clothes that are just taking space in our wardrobes? So, let's take a look at the gallery and draw some inspiration. Enjoy and have fun!
Comfortable Draped Floral Vest – When the weather is not so warm, you can complete your outfit with this vest. It is astonishing and very comfortable for wearing. If you don't like the floral print, then you can chose some other interesting print or you can go with a monochromatic one.

Astonishing Summer Top – You can make this top in no time. If you don't like pink, then you can go with any color you want.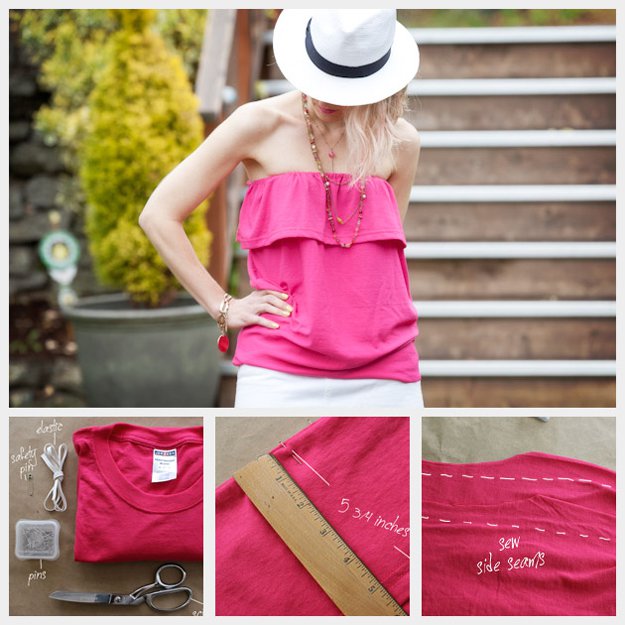 Universe T-Shirt –  You can embellish your tee easily and quickly with paint. Choose some interesting colors for more unique look.


Stenciled T-Shirt – If you are good in drawing or painting, you should definitely try this idea. Isn't it lovely? I really like it and would definitely try to make it.

Ice Tie Dye Tank Top – This top is perfect to complete your every day combination with sneakers and jeans. Find your old top and dye it with many colors for more cheerful and fun look.

Ostrich Feather Skirt – You can wear it with monochromatic shirt and for more fancy look, add some glam accessories.

DIY Stretch Knit Pencil Skirt – You can combine it with a monochromatic blouse or shirt and for more glam look, pick some comfortable heels or sandals.

So, what do you think about these pieces of clothes my dear ladies? Do you find them fashionable as I do? I would love to know your opinion, so feel free to share your comments. If you have some other fashionable projects and ideas, please share them too. I would love to see everything you have to show me. Thank you for reading! Enjoy in the rest of your day and don't forget to stay up to date with the content of Fashion Diva Design!