Accessories are a fun way to add seasonal and trendy interest to your basic wardrobe pieces. But some accessories are classics. These are the flourishes that you can always count on to add panache to outfits ranging from a little black dress to a turtleneck and jeans. Keep these items in the front of your closet or dresser for everyday wear.
A Gorgeous Scarf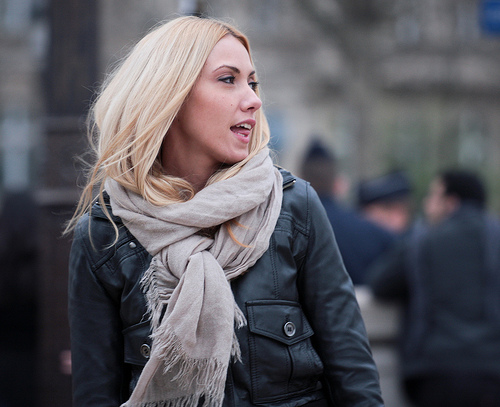 Image via Flickr by Matthew Kenwrick
Dashing some pashmina over your shoulders or a length of chiffon around your neck makes any outfit look effortlessly elegant. Scarves are highly collectible and make wonderful travel souvenirs — markets from India to Morocco offer lavish beaded and sequined pashmina scarves and shawls. The most useful color schemes are black and white (goes with anything), rainbow prints (to brighten drab outfits), and taupe/ivory combinations to warm up neutrals.
A Cape (Of Sorts)
Capes suggest excitement, conjuring images of superheroes and vampires. While a full-blown cape might not be very useful in your everyday life, any drape of fabric that offers movement around your body will create a bold and stylish silhouette. You can achieve the desired effect with a blanket cape (aka ruana), a generously proportioned poncho, or a full-length duster. Take your pick, and add an element of drama to all your entrances and exits.
A Statement Necklace
A stunning necklace can turn the simplest outfit into a dazzling reflection of your personality. Choose something bold that drapes between your collarbones so it can peek out of a collared white shirt front or V-neck dress. Mind your metals; if you nearly always wear gold, a silver signature piece will languish in your jewelry box. A long pendant necklace is very useful for jazzing up more casual styles like crewneck sweaters or turtlenecks.
A Bold Bangle
How much can bracelets add to a look? A lot. Imagine a woman dressed in a crisp white shirt and black pants, with no accessories other than a deep, jingling stack of gold bangle bracelets at one wrist. A stack of bangles works well on any woman, but otherwise you'll want to match your bracelet to your wrist and hand. If you are tall, heavy, or have large hands, choose wide cuff styles. If you are petite and small-boned, choose more delicate styles so you won't be swallowed by them.
A Stylish Smartphone Case
You never leave the house without your sleek iPhone 7, so make sure it's cased in a way that reflects your personal style. A case that can hold a few credit cards and some cash as well as the thin and light iPhone will double as a clutch when you don't want to carry a purse. For maximum fashion impact, aim for a stylish and sophisticated look in rich leather or an elegant textile finish that won't clash with your handbag.
A Killer Pair of Boots
Flat or low-heeled boots in black leather or suede are the most useful, and will pair beautifully with short skirts, leggings, or skinny jeans. Once you have those basic boots, you can add some smashing trendy pieces like an over-the-knee boot, a high-heeled bootie with an open toe, or some shiny red leather stilettos. Well-made boots are an investment that will serve you for years.
A Classic Handbag
You might enjoy a whole wardrobe of cute trendy purses or expensive status bags, but you still need one timeless design that you can reach for when you want to be taken seriously. The truly classic designer handbags are legendary, and priced accordingly, but what they all have in common is a clean, structured design, solid construction, well-chosen materials, and the absence of any flamboyant branding. You can apply those principles to choosing a bag in any price range to find your go-to bag.
Accessories allow each woman to style the same outfit in very different ways. Your signature touches should reflect your personality, flatter the proportions of your body, and reveal your sense of taste. Shopping for trendy seasonal scarves, bags, and jewelry is a fun way to keep your look current, but once you've stocked your closet with these classics, you'll reach for them again and again.