A long pixie cut is a great look for those who are growing tired of their longer tresses and want a bold and dramatic change. Short haircuts for women have been making a huge splash the last few years and they seem to be around for the long haul. Celebs are showing that short hairstyles are very sexy and trendy. Stars such as Ginnifer Goodwin, Halle Berry,  Tyra Banks and Miley Cyrus all rocked super cute pixies in 2017.
Pixie cuts are usually cut short in the back and sides and often work longer in the front. A long pixie cut is a slightly longer variation of the stanred pixie haircut. They are very easy to style and can be worn either slicked back, spiky or curled. As well, they are a great way to show off your inner punk rock chick and are perfect for brilliant and bold bursts of color. From fuchsia to fiery red to purple passion, there is no end to the ways you can play around with color on a pixie cut. All color techniques inducing highlights, lowlights, babylights balayage tones and ombe fades look absolutely stunning on a pixie!
Pixies are believed to have first burst onto the silver screen in the 1930s, courtesy of actress Josephine Baker. And thanks to Audrey Hepburn in her starring role in her debut film Roman Holiday, pixies became fashionable in the 1950s and have been a avant garde style for bold and confident women ever since.
Do you think you have what it takes to pull off this sassy and stylish hairstyle? If you are still on the fence about getting a long pixie cut, maybe one of the following reasons can give you a push in the right direction!
2O Reasons You Should Get A Long Pixie Cut
Pixie cuts are super easy to style
Pixie cuts will dry much quicker than a longer haircut
Pixie cuts are perfect for those who love to experiment with bold hair colors
Pixie cuts are a great way to express your style.
Pixie cuts are liberating and can boost your self-esteem
Long pixie cuts will transform your style and personality.
Pixie cuts are especially flattering on those with round, square, heart-shaped and oval faces
You'll be in good company. Superstars such as Pink, Emma Watson and Anne Hathaway are living proof that pixies are sexy1
You can totally rock hats and scarves with a long pixie cut
You won't have to worry about hot and humid or windy days with a pixie cut
You can still sport cute hair accessories such as clips and barrettes
Pixie cuts complement natural eyebrows for those who hate to wax their brows
Pixie cuts are a great way to show off bold makeup looks
A long pixie cut is a great way to sport trendy earrings and necklaces
You don't have to worry about knots and tangles with a pixie
You'll save on certain hair products like shampoo and conditioner as you will use less with a pixie haircut.
You won't have to worry about curling or straightening your hair.
Pixies are a great way to "start fresh" if your longer tresses are dull, dry and unhealthy.
You can donate your hair.
Still not sure? Well then, check out our favorite sassy and trendy long pixie cuts for 2018!
5 Playful Pixies For Confidant Women in 2018
Brown Balayage Pixie with Eye Grazing Fringe
This adorable pixie is a great look for those who want a long pixie cut but don't want anything too over the top. The wispy face-framing fringe give it a sense of innocence while he pretty chocolate brown and honey brown balayage hues give it hint of playfulness.
https://www.instagram.com/jacobhkhan/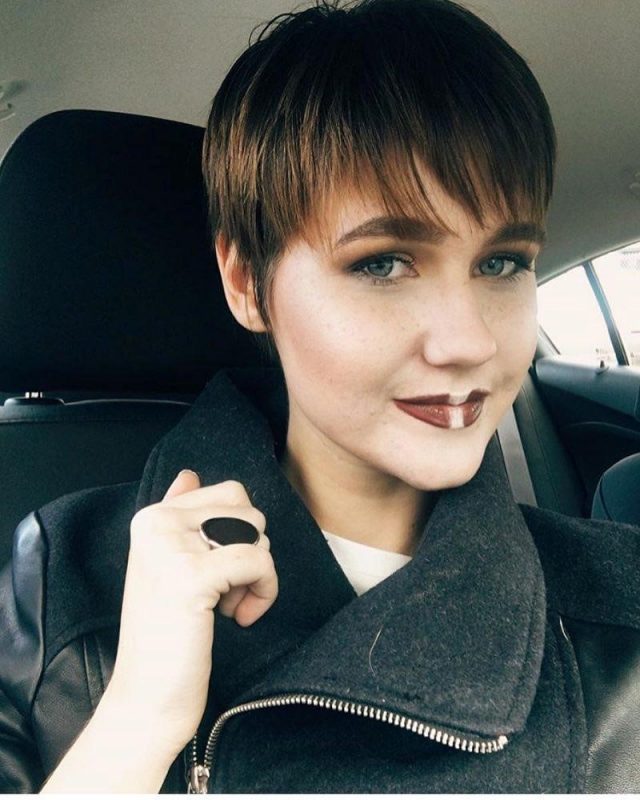 Fuchsia Fade Asymmetrical Pixie with Wispy Bangs
On the opposite spectrum, if you are looking to make a statement, this cherry red, fuschia and cotton candy pink fade is certainly eye-catching. The wispy bangs are mischievous and the slightly disconnected layers give it texture and volume.
https://www.instagram.com/jacobhkhan/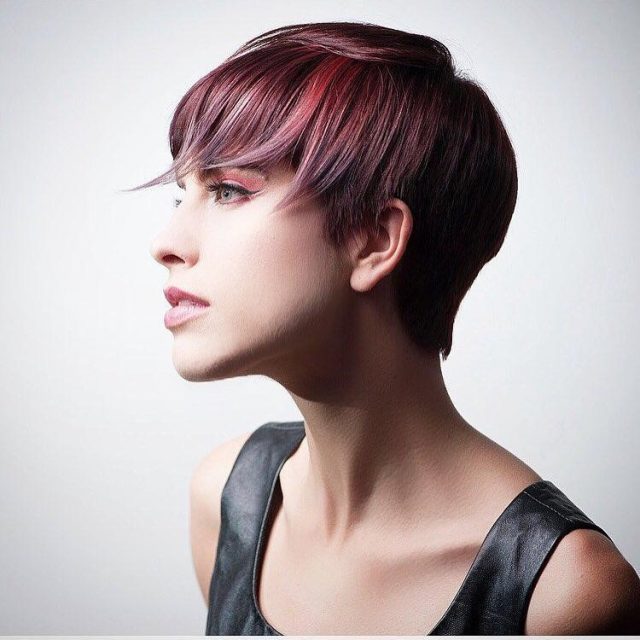 Asymmetrical Lavender Pixie with Shaved Sides
Another look for the bold is this stunning asymmetrical pixie with shaved sides to give it a faux hawk vibe. Leave the sides and roots dark and blend in varying shades of lilac, lavender and silver for a look that's out of this world!
https://www.instagram.com/courtneyxcentrichair/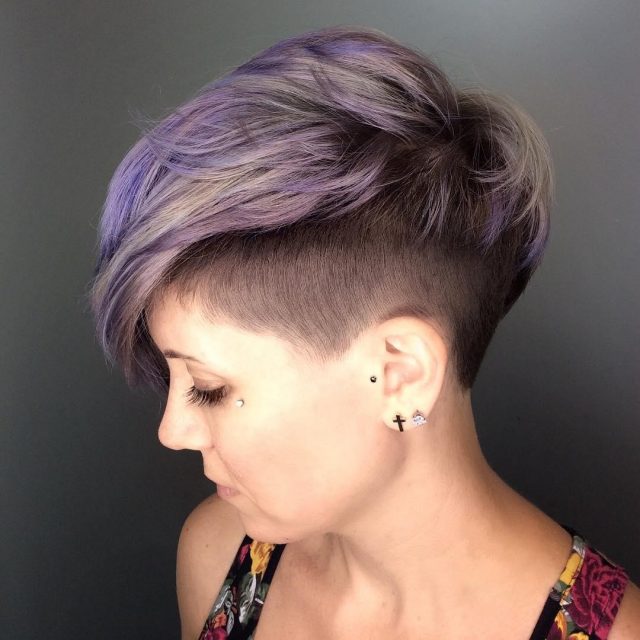 Honey Brown Pixie with Long Fringe
This pixie with longer bangs is classy yet edgy. The shiny honey brown is subtle but the bangs hang in your face to add a sense of mystery. Ask for shorter layers of varying lengths on the top to add volume to this super cute long pixie.
https://www.instagram.com/courtneyxcentrichair/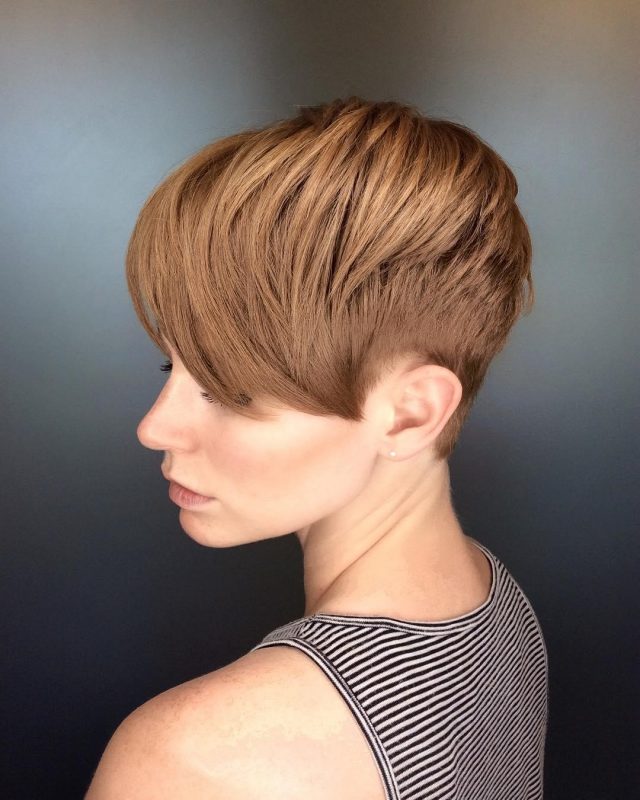 Ravishing Red Long Pixie
If you are daring enough to go red, this dark cherry pixie is just enchanting. The asymmetrical cut is drastically longer on one side and the bangs are brushed off to the side in a playful, carefree manner.
https://www.instagram.com/bonnie_elise05/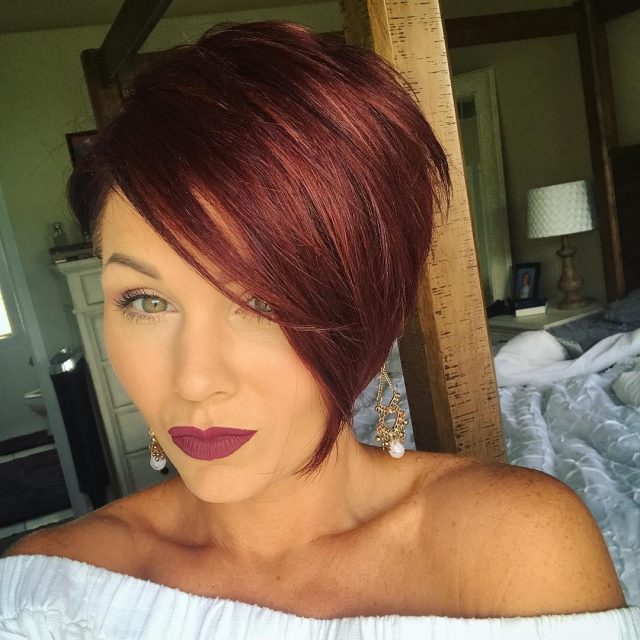 Have we convinced you to try one of these bold and sassy pixies? We think a long pixie cut is just what you need to face 2018 with vigor and confidence!