If you don't have a fireplace in your house, you may not realize what you're missing. While it might seem like a dated architectural feature in a world of central heating and modern amenities, the reality is that a fireplace still yields a ton of value. And contrary to popular belief, it's never too late to add one.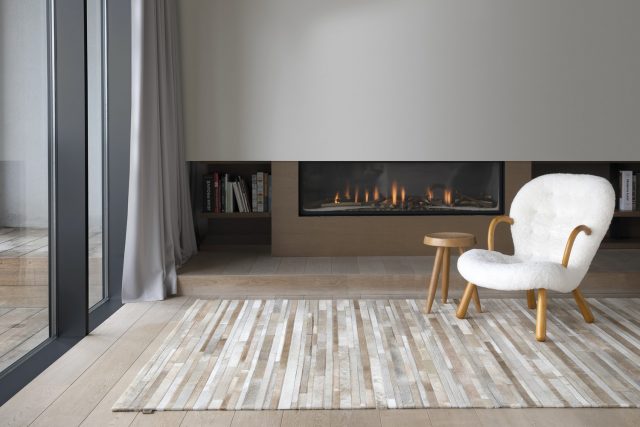 5 Benefits of Fireplaces in the Modern Home
With a fireplace, there's always more to it than first meets the eye. Here are some of the many benefits associated with having one in your home:
Heating Source
Let's start with the obvious: Having a fireplace in your home provides an efficient source of heat to keep you comfortable during the cold weather seasons.
Regardless of how advanced your home's heating system is, nothing is more efficient than a properly designed fireplace. It provides direct warmth and allows you to use your HVAC system less.
A fireplace is particularly effective when installed in a living room, bedroom, or office. If you spend long periods in these rooms, you can light a fire and close the door, allowing you to lower the temperature setting on your thermostat and save.
Visual Statement
Nothing says "you're home" quite like a fireplace. The mere visual of a fireplace – whether it's burning or not – is enough to make you feel relaxed and at ease.
Design-wise, a fireplace becomes the focal point of any room. Whether you put a TV on the wall above it, or you decide to design an intricate hearth and mantel, it's sure to elevate the look and feel of any room. (This is true regardless of whether you go with an electric fireplace or a more traditional wood-burning or gas option. Electric fireplaces convey a sleek and modern appearance, whereas a traditional fireplace can evoke feelings of classic design and architecture.)
Lower Utility Bills
Depending on the type of fireplace, your existing heating system, the cost of utilities, and how much you use it, you can save a lot of money by installing a fireplace. This is especially true when it comes to electric options. (Used two hours per day during the winter months, an electric fireplace will typically cost $10 to $15 per month.)
Cozy Factor
We can talk all about tangible factors like heat, savings, and increased home values, but there are also intangibles. This includes the "cozy factor."
"Whether you have an open hearth, a fireplace insert, a wood stove, or a pellet stove, you can watch the fire dancing as the outside cold melts away," one chimney sweep explains. "Fireplaces offer a cheerful place to gather around crackling flames with family and friends, to pull up in a favorite chair and read a good book, and enjoy countless other favorite indoor activities."
It doesn't matter if you have a brand new home or one that was built in the early 20th century, a fireplace can give you that cozy sense of belonging, no matter what's happening outside.
Increased Home Value
Research shows that 46 percent of homebuyers will pay more for a house that has a fireplace. More specifically, they're willing to pay an average of $1,220 more. And in certain locations with long and extreme winters, a fireplace can boost property values by as much as $12,000. (At these price points, installing a fireplace is a no-brainer!)
Choosing the Right Fireplace
Now that you know exactly what you're missing out on by not having a fireplace, you're probably wondering what your options are. And, for better or worse, you have plenty of them.
When choosing a fireplace, you have to account for fuel options (wood, gas, electric, or ethanol), fireplace venting options (B-vent, direct vent, or vent-free), size, location, design, and more.
With so many options, it's easy to get overwhelmed. So before you work yourself into a tizzy trying to research every detail there is to know about fireplaces, take some time to meet with a fireplace expert and gather advice that's specific to your situation. By taking your budget, home type, and needs into account, you'll increase your chances of purchasing the right fireplace – one that meets (and exceeds) your expectations!