Everyone imagines that their wedding day, the most important day of their life, would be perfect. Well, even if not everything goes as planned despite all your efforts, you can always bring a smile on your guests' faces with your wedding cake. If everything else in the menu failed, then your most "dangerous weapon" should be a delicious cake.
On CakesPrice.com you will find out about extraordinary bakeries, deserts' reviews, cake prices and delivery options. Make sure you find out about the sweetest recipes and most incredible combinations that you can have at your wedding cake tasting. Statistics indicate that on average wedding cakes can cost about $466. Not only the taste of the cake is important, but also the design. In what follows, we will show you our list of bakeries in the US specialized on wedding cakes.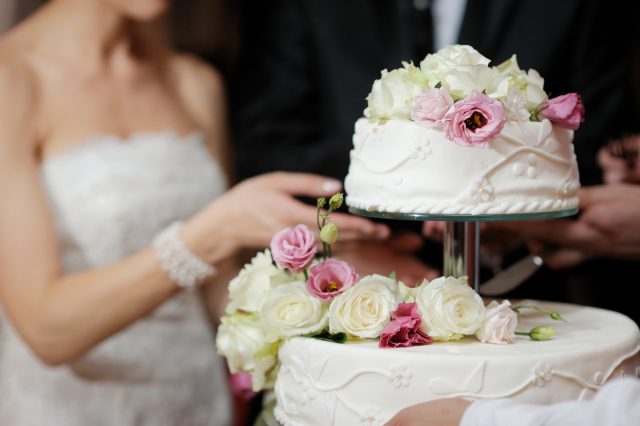 1.The Cake Lady Bakery, North Dakota
Choosing your wedding cake baker is a crucial decision. We all know how important deserts are at every party. That is why you need to make sure you make the right choice. At The Cake Lady Bakery, the most exquisite cakes get out of the oven. This small-town bakery has a rustic charm with all sorts of incredible, new recipes.
They really know how to keep it up with the rest, being one of the best bakeries. The Cake Lady Bakery has a wedding cake trend called the "naked" cake. Furthermore, the specialists working here are able to sculpt about anything that crosses your mind. Therefore, any couple would be pleased to hire them.
2.Irene's Cakes by Design, Vermont
The bakery Irene's Cakes by Design appeared in different publications and magazines. They are very famous for their bold style. Irene's contemporary cakes reveal the art of paying attention to the details. Every wedding cake they make is unique, featuring artful embodiments of the couple's style. The cake is not only made to have an incredible taste, but also to reflect the couple's personality.
Irene is a graduate of a culinary school and she is also a French bakery master. Her cakes spark with unique flavors and colors. A standard wedding cake at Irene's Cake by Design has four layers and three delicious filling flavors. You can taste the exquisite hazelnut combinations and lemon poppy seed.
3.That Special Touch Cakes and Flowers, Mississippi
That Special Touch Cakes and Flowers is an extraordinary bakery, meant to suit every taste. The bakers here have an eye for beauty. The decadent flavors of the wedding cakes could convince any couple. The bakery knows its clientele very well, being always aware of the new trends.
They focus on satisfying their customers' needs every day. Even if they are more skilled at creating classic wedding cakes, they have a unique style, admired by all those couples who appreciate elegance. If you are searching for the perfect wedding cake, you should at least go at this bakery to try out some samples.
4.Celebrity Cake Studio, Washington
On your wedding day, the Celebrity Cake Studio will make you feel like a star. If you choose these bakers to make your wedding cake, you will be more than satisfied. Everyone will praise your wedding cake with intricate designs.
Furthermore, you will be able to choose from a wide range of fillings and flavors. The third-generation family bakers have been into this business all their lives. They are dedicated people, working hard to stay up to date with all their designs, styles and flavors. Every wedding cake they make appears to perfectly highlight every customer's personal taste.
5.Let Them Eat Cake, Maine
The bakery Let Them Eat Cake was listed among one of the Top 100 Cake Designers and it has received different prizes. You should definitely go there for a wedding cake tasting if you are still searching for the perfect cake. Furthermore, this bakery specializes in location weddings.
Therefore, if you plan for a beach-themed wedding, the bakery will adapt the style of your wedding cake, using some seashore designs. Irrespective of the wedding theme you choose, you can confidently hire them for your wedding cake. They are exquisite masters when it comes to adopting different cake designs.
Have you already planned your wedding? What about your wedding cake? Every couple wants a wedding cake that highlights their taste and different styles, combining his and her preferences. These bakeries are ready to satisfy your needs and surprise all your guests with the extraordinary fillings and flavors. Make sure you go for a wedding cake tasting session to be able to choose the one that you love best.