Glasses can transform or improve your appearance. This can be considered as something fashionable or important for those who have a blurred vision. However, having glasses could make you feel uncomfortable, since the lens might create a disproportion on your face, but it could create an appeal if you know how to use them right.

Here are some ways to look great with glasses:

1. Choose a pair of frames based on your face shape

These days, there are different kinds of frames available for everyone. Regardless of gender, there's a fashionable Firmoo eyewear that fits your fashion choices. However, you have to make sure that it will complement your face shape better.

Knowing how to balance between your frame and the shape of your face is really important for it will influence how attractive you are while wearing it, so you must look for the frames that will complement your face.

Listed below are the following guides that will surely help you in choosing the right frames for your face shape:

Round
You have a round face if you tend to have more rounded forehead and circular face. You should choose rectangular frames because it will help you to put more emphasis on the width of your face, instead of its curves. It will also help adding the definition and formation of your face.

Square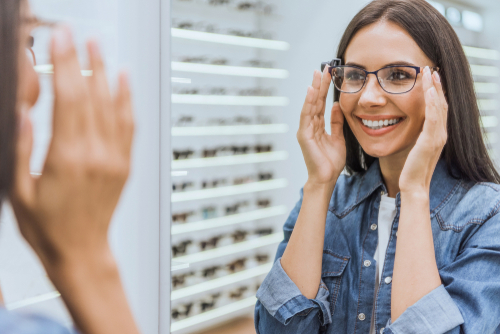 A square face is commonly for males and females with strong jawlines. You can use round frames to counter the extreme angles of your face.


An oval shape means you have fairly-balanced features. This means you have high cheekbones and your chin is slightly narrower or thinner than your forehead. You can wear any type of frame you want.


This is considered as a very uncommon shape of the face. Narrow chin, broad forehead, broad cheekbones and narrow jawlines. You'll need to have a glasses with round-shaped frames.

2. Play up your best facial feature

Your glasses should improve your look so make sure that it complements your best features and you can wear it with style. Most people avoid some types of frames because it makes their face look unappealing in a certain way.

Here are some ways to find glasses according to your best feature: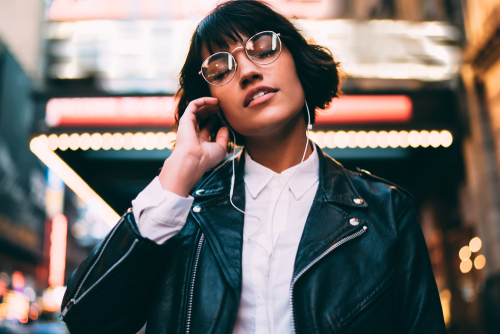 Complement the color of your eyes

If your eyes are warm-colored like gold or reddish-brown, then go for cool-colored lenses like dark blue or dark green.
If it is cool-colored like green or blue, then go for warm-colored lenses like red or orange.
If your eyes are of neutral color like brown or black then you can wear any shade you want.



Go with a shade to match your hair color
Try to match your haircolor with your frame.

Keeping your hair natural and long can be served as a relaxed look. You can also try curling the tip of your hair or pin the other side of it. It's also important that you should consider your hairstyle to your face shape.
.
Complement your skin
If you are out of options on what you should play up as a best feature, consider your skin color. If you have a light complexion, then make it stand out better with dark frames. On the other hand, if you have a dark skin tone, then you can use either light or dark frames.

3. Do your makeup to improve your appearance

Glasses can inhibit your ability to wear mascara but it's not a limitation that you should worry about.


Here are other ways to apply makeup that complements with glasses:


Your eyebrows should be groomed and made up so it frames your face beautifully.


Conceal dark circles under the eyes
The dark circles under your eyes will get magnified by your glasses' lens so you have to use concealer to lighten them.


Your lashes need to be curled up so it doesn't obstruct your line of vision.


Light blush on your cheeks
Even if your cheeks are mostly going to be under your glasses frames, you should still make sure that it has enough color to make you more attractive.


Complete your look with lipstick
If you have a dark-colored frame then wear light or nude lipstick; and if you have light-colored frame then you can wear bold-colored lipstick.
If you are going to wear glasses everyday, then you should consider these following tips in your daily routine. Also, don't think that by wearing glasses, you cannot make yourself good-looking, instead think of it as a beautiful accessory rather than a burden. You can boost your image and confidence using these to look even more attractive.