Hey there my lovely divas! How are you today? Your Fashion Addict is always here to help you look the best. I have already shown you many stylish outfits that you can wear now and in the upcoming seasons. For today, I have something different. My post is called "Step-by Step Hairstyle Tutorials You Should Not Miss". Are you excited?
The hairstyle plays a huge role in completing your outfit, so that I recommend you not to go out with a messy hair. Even if you are in a hurry and you don't have time to wash your hair, you can at least use a baby powder for more fresh look or put your favorite hat on. The hairstyle tutorials here won't take you mush time, as they are very easy and quick to do, so you may find them interesting and fun, and complete your outfit with a charming hairstyle.
Romantic Wavy Ponytail to Do Right Now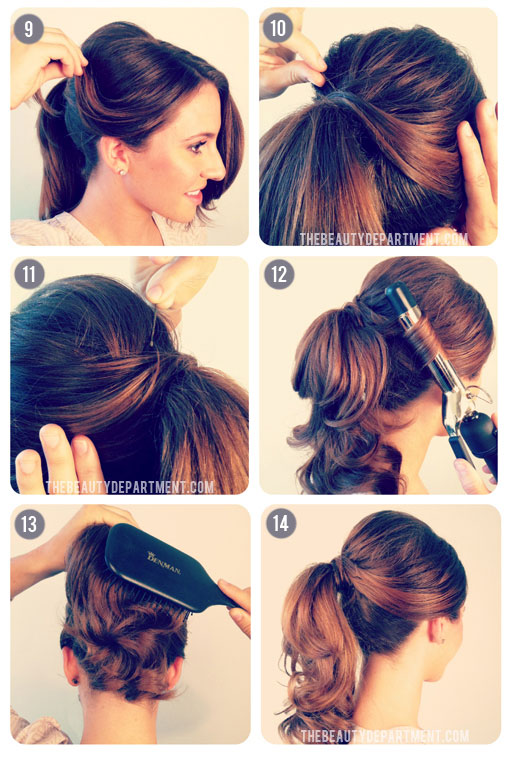 Marvelous Braided Ponytail for Everyday 

Fabulous  Bandana Fishtail Braid Hairstyle to Do in Less Than 5 min

Lovable Retro Updo to Make For Your Next Special Event 
Romantic and Very Charming Hairstyle for the Future Brides or for Those Who Want to Look Astonishing Wherever They Go

Stupendous Easy to Do Crown Braided Messy Bun 
Outstanding Hairstyle to Complete Your Office Look 

Fascinating Boho Hairstyle for Everyday 

Interesting Hairstyle to Hit the Street in Spring and Summer 

Braided Crown Like the One Above
Cute Half Braid Ponytail to Do for Work or Any Other Event 
Very Unique and Astonishing Braid Into Bun Sock Bun Tutorial

Cool Hairstyle to Beautify Your Look

Red Carpet Inspired Hairstyle 

Quick and Easy-to-Make Braided Hairstyle to Do in Less Than 3 min 

Marvelous Hairstyle to Beautify Your Formal Look 

Lovable and Charming Knotty Updo to Make in 6 Steps

Twist and Pin In Curly Hair For Fabulous Look 

Easy Curly Twist to Do in 6 Easy Steps and Less Than 5 Min 

Fascinating Hairstyle for Curly Hair 

So my lovely divas, what do you think about these hairstyle tutorials? Do you find them interesting and fun and would you dare to try them out and complete your office look? I would love to know your opinion, so feel free to share your comments below. Thank you for reading! Enjoy in the rest of your day and don't forget to stay up to date with the content of Fashion Diva Design!