Last month, I thought of beginning a habit of reading newspaper. While reading, I came across an article that was a detailed analysis of how the air pollution (both indoor and outdoor) is on an exponential rise and how it can be dangerously bad for our health. Though I was aware of the pollution increase, that article made me understand the seriousness of the matter. That is when I decided that I will buy an air purifier right away. Savings can wait, but diseases will not wait for you to prepare.
Earlier, I was planning to go to the market, but then due to the time constraint, I thought of first checking the options online. It was the first time when I was about to buy air purifier online, so I decided to go to the official website of renowned brands like KENT. I also called one of my colleagues who had recently bought an air purifier for her new home. She suggested me to buy KENT Alps Air Purifier, and I am thankful to her today.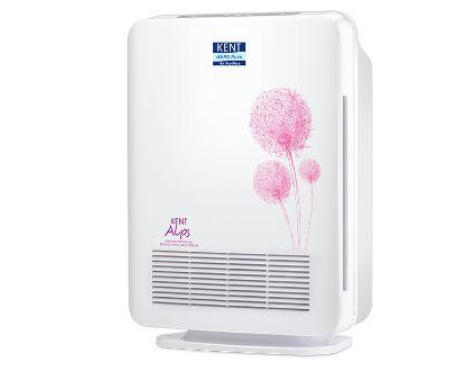 Today, it has become an inevitable part of my home which not only keeps the air inside my home clean but fresh as well. For me, it is the best air purifier in the market. And if you do not believe me then read ahead and know why I prefer KENT Alps over other air purifiers in the market.
KENT Alps' best feature is its High-Efficiency Particulate Arrestor (HEPA) Filters that use the tested and proved HEPA Technology from Japan. Through this technology, the air purifier removes the harmful particles such as pet hair, dust mites, smoke, bacteria, etc., using a 3-stage mechanism. This is the feature that effectively improves the air quality of my home, and I do not have to worry about the air pollutants that can harm my loved ones.
Intelligent Air Quality Monitoring
With this feature, I do not have to worry about which air purifier brand I should go for. KENT Alps' Intelligent Air Quality Monitoring means the combined work of an inbuilt sensor and an LED Display which inform me about the air quality of my home through different colors. It uses blue for excellent air quality, pink for good air quality and red for poor air quality inside the home. Once I see the colors, I choose the speed and time of the air purifier as per the needs. This helps me in making the air purifier run better and perform efficiently.
KENT Alps' activated carbon filter is another reason why I prefer it over others. This filter eliminates the foul smell from the air making it fresh and healthy. So, now after installing KENT Alps in my house, I don't even have to worry about the smelly surroundings and always feel fresh in my home.
To assist the activated carbon filter in its task of improving the freshness of the air, KENT Alps' also has an inbuilt ionizer that releases negative ions to make the air pollutants stick to the wall. It traps the pollutants on the electrically charged plate that is placed near its ionizing unit which makes the indoor air fresh.
Though last on this list, I think these features have proved to be quite an important asset of KENT Alps. While its design and look enhance the elegance of my home, its user-friendly functions do not pose a trouble while I try to customize the options. It has an 8-hour timer and three different speed levels which can be chosen as per the air quality.
The list may look short, but the benefits are innumerable. Some other features that made me refer to KENT Alps are its higher Clean Air Delivery Rate (CADR), low noise operations and child lock technology which makes it the best bet for a healthy and safe home. With the rise in air pollution, I think you should also buy air purifier online and give your family a dose of fresh and healthy air daily.