Every girl has played and replayed her wedding day. Starting from which song to dance on, to actually walking towards the mandap looking her best – she has imagined it all. Indeed, as the wedding day approaches, half of the family goes into a panic mode and the other half tries hard to keep calm. The soon-to-be bride, on the other hand, is nervous, excited, and in a mood of melancholy. She, in her ready-to-start-a-new-life avatar, looks ravishing. The credit goes to our new age brides who keep her lookbook for the wedding ready in advance. When it comes to jewellery, we need to throw the rule of 'one shoe fits all' out the window. Every bride is different and so is her wedding jewellery. To make things simpler for all the potential brides, we have customized jewellery looks by pooling latest jewellery trends and wedding ornaments. Are you too picky about gemstone jewellery? Or you like to keep it minimal? Whatever the case is, we have made a jewellery journal for all the brides. Each piece can be purchased from Rockrush, an online jewellery store, which has an exclusive Indian Colour Pallete Collection of gold and gemstone jewellery.
Your life itself has been nothing less than a movie. You have found your 'Raj', who met you in college and it was love at first sight. It is a given that you are more excited about the sangeet rather than the actual wedding (cause come on, you are dancing on Zalima and Radha!). Keep the filmy nerve pumping on your wedding day with this equally majestic wedding jewellery. The delicate earrings are everything beautiful – there are diamonds, there is gold and there are gemstones. Pair it with a half-moon designed Jisha Diamond Mangalsutra and a cluster diamond ring.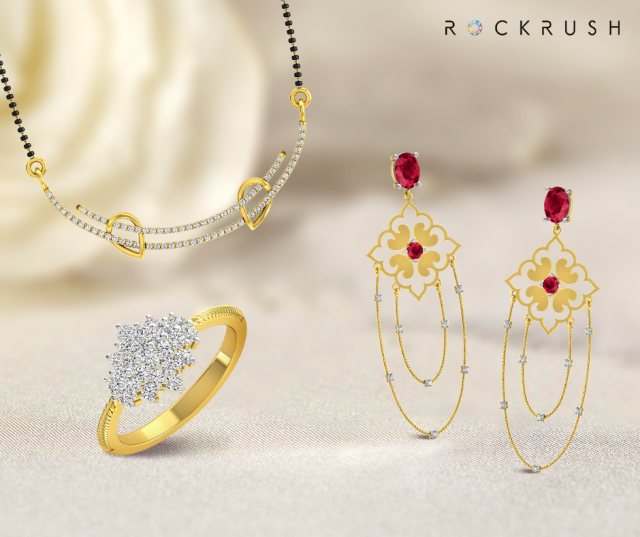 The one who likes to keep it minimal:
If simplicity is your sobriquet, it is highly suggested that you start looking for the wedding jewellery before everyone else. Keep in mind that it is not easy to find something which looks sober yet not boring. If you are going with basic jewellery, add a dash of colour to uplift the bridal look. This Leafy Diamond Half Eternity Ring made in rose gold befits the jali hoops and Nurvi Diamond Mangalsutra. Stick to delicate designs and instead of the heavy jewellery sets to make an impression.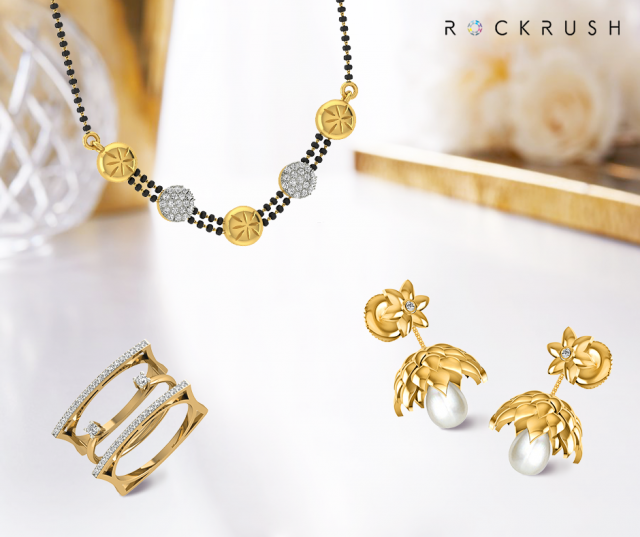 For the experimental bride:
For the one who is always up to try new things, how can your wedding rings, earrings and necklace not reflect the same? Go for offbeat designs or what we call 'desi patterns with a twist'.  The Mangalsutra here has a pendant which looks like an extended version of the black beads string. The alternate motifs of gold and cluster diamonds make for a distinct wear. You can mix gemstone jewellery and gold in a balanced way to find your groove on the D-day.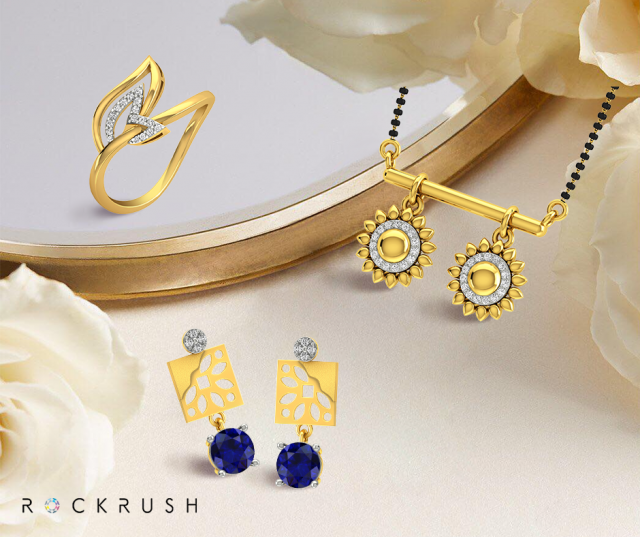 The gold earring design made in hoops with a leaf gold and diamond ring is a prized possession for this bride. For the one who is easy going and have not many qualms about the particularity of things, pick jewellery which is not over the top, neither too simple. Trust us, you are every designer's dream model. Some cutwork earrings, not-too-ethnic Mangalsutra and a gemstone ring will seal the deal as you walk down the aisle.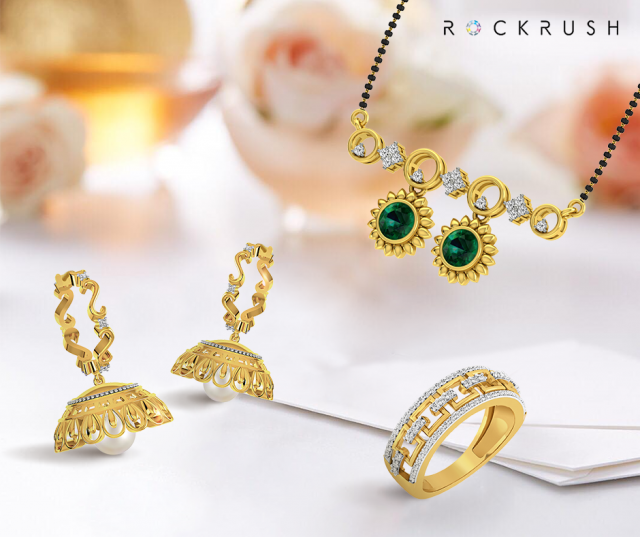 The one for the staunch traditionalist:
Haven't you loved your grandmom's jadau set and eyed it since you played with your dollhouse? Your mother's wedding pictures have been your go-to inspiration ever since you decided to get hitched. The traditional avatar speaks a lot about the particular culture. The one which is passed from one generation to another has a lot of sentimental value.  Make the age-old combination of green emeralds and gold the theme for every corresponding jewellery. You can easily go for heavy work bridal jewellery like these Allura Bali Jhumkis. Complete the look with a big fat dazzling ring diamonds and gold.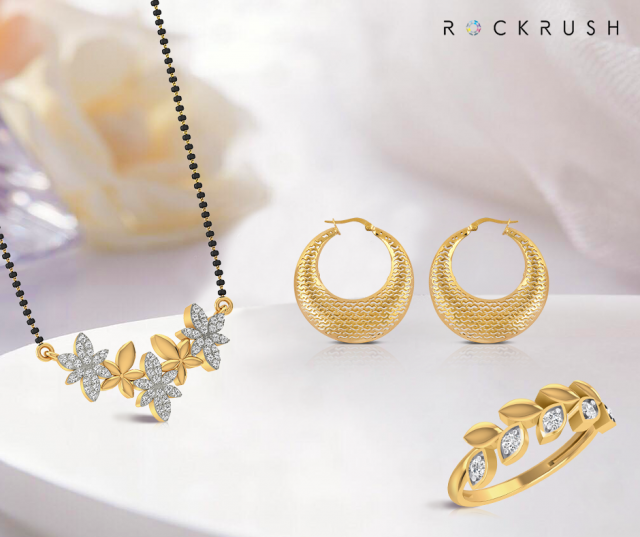 Start gathering your wedding jewellery well in advance. New bridal designs make their way in the collection by Rockrush which is bound to leave you spoilt for choice.