Summer isn't summer without sun-bronzed skin, a trip to the ocean, evening strolls with ice cream and an array of delightful dresses. Whether you're frolicking around a field at an outdoor concert or twirling on the dance floor at a friend's wedding, the perfect dress is a must!
Musical Festivals & Outdoor Concerts
While meandering around to the folky and bluegrass tunes of "I Will Wait" and "Babel," a light, breezy dress will feel cool and comfortable. If you're camping out with friends during a summer weekend for Mumford and Son's Gentlemen of the Road tour, then whimsy dresses are all you need to pack. Bring along a pair of slouchy leather ankle boots, sneakers or strappy sandals. Free People's chiffon sleeveless Falling Flowers Dress in cornflower blue accented with a bead-embellished floral print along the sides has that soft vintage look ideal for jamming to Edward Sharpe and the Magnetic Zeros and Vampire Weekend.
For a lower price point, the Urban Renewal Chambray Tent dress from Urban Outfitters may better fit your budget. Any music-loving gal will love to sing along to "Home" and dance around in a soft-woven tent dress that's handcrafted with reclaimed and vintage deadstock fabrics and a denim chambray cutoff top. Layer bangles and baubels down your wrist and adorn your tresses with an ivory ribbon floral headband.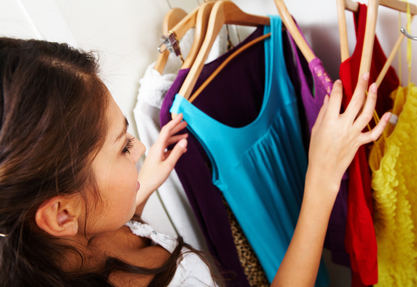 First Dates & Romantic Encounters
Dressing for a first date can be a conundrum for a single lady. According to Glamour.com's Smitten blog, dressing in too-revealing clothing, such as short skirts and cleavage-bearing anything, can be a turn-off. Glamour men recommend avoiding clothes that hide the body, too much makeup and uncomfortable-looking shoes. After you've determined whether you'll be dining at a five-star rated restaurant or drinking beer at a baseball game, select an outfit that's comfortable, simple and still true to your style. Shop Madewell for a collection of colorful dresses that are trendy, relaxed and not overtly sexy. For drinks and dinner in the city, don a Madewell eyelet trail shiftdress in jester yellow that's embellished at the waist. If you're on a budget, Old Navy's printed-metallic tube dress in a light or blue floral or bird pattern is an inexpensive, yet stylishly charming option.
Weddings & Love Affairs
A wedding is not only a celebration of love and reuniting with friends and family, it's a soiree for dressing up and looking fab. Shop for Macys dresses in bright colors that will fashionably turn a wedding reception into a party. Macy's sleeveless JS Boutique Dress in lipstick red will make a statement with its draped and beaded one shoulder and sheer flyaway fabric that cascades down the one side. Be bold in Jessica Simpson's Sleeveless Belted and Pleated dress in striking citronelle or captivating yellow. While sashaying around the bar or dancing with girlfriends on the dance floor, Simpson's dress is a flirty frock that will capture of the attention of that dashing single groomsman. If you prefer more of a simple, sexy look, then Calvin Klein's sleeveless Body-Con Cocktail dress is your LBD (Little Black Dress) fashion weapon.