Hey dear fashionistas, I'm always here to inspire you and to give you some interesting tips and ideas. For today I have an amazing post that is called "DIY: How To Make Tiny Hats Bobby Pins". Are you excited? The accessories are very important and you can change your look in a minute if you decide to add one. Do you agree with me? The accessories can be a little bit expensive and why spending money when you can make them at your home. There are plenty of tutorials on the Net that can inspire you to make your own pieces. And the video that I found is very interesting and useful and you should definitely watch it. I love this project and I have already tied it. I can just say that is very easy and quick to make and the bobby pins look fantastic when are put on the hair. They will refresh your look and will give you a romantic and flirting touch too.
What will you need for this DIY tiny hat bobby pins project?
small piece of cardboard
1/4 wide ribbon
small piece of netting (tulle)
plastic soda lids
large bobby pins
Krylon Fusion in gloss black
small ribbon roses
feathers
glue gun
scissors
Are you ready? Watch the video and make your own tiny hats bobby pins. Have fun!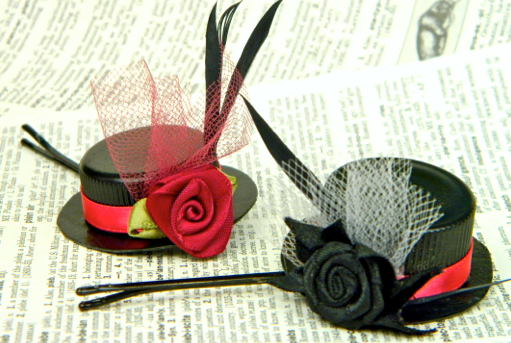 [youtube id=[youtube id="flcOTra3PaQ" width="620″ height="360″]
You can make your own designs and you can wear them on everything and everywhere. For more tutorials visit Mark Montano website. If you have some other ideas, then feel free to leave me a comment below – I would like to see them!
Thank you for reading! I hope that you have found this post interesting and useful! Enjoy in the rest of your day and stay up to date with the contents of Fashion Diva Design!