As a business savvy entrepreneur you are well aware of the importance of good marketing. You are aware that it's not enough to have a visually appealing website, a blog full of high quality content, your advertisements flooding the Facebook feed and huge billboards with your company moto.

You've also been savvy enough to make your employees your company's walking billboards through custom branded corporate apparel. You've done your research and taken advice from Brand RPM who claim that: "Your brand – and how you communicate it – says everything about you and your organization."
Once you've decided to take on this step, it's time to integrate this custom apparel with fashion. You simply cannot take a plain white T-shirt, brand your company's logo on it and hand away to your employers. Since, your employees will be the visual representatives of your company's mission, you need to pay attention whether that representation will be visually appealing or visually off-putting.
Inject Color to a Corporate Apparel Combo
Blazers
Since winter is synonymous with drabness, boost employee motivation through bold, colorful clothing pieces. Instead of customizing shirts for your employees, why not customize blazers? Layering is a big thing in fashion nowadays and blazers are the perfect way to achieve that. They will give your employees an instant smart look and you will leave them the freedom to choose what they'll wear underneath. Depending on your company logo and what you want to print on it, the colorful choices could be navy blue, pearly purple or royal yellow.
Combo: Pair the blazer with a neutral colored (ivory white, lavenderblush white) shirt with a collar and high waisted pants or a skirt.
Small Square Scarves
If branding blazers seem overwhelming, given the fact that you'll have to make sure it fits each employee perfectly, you could opt for a less stressful alternative – small square scarves or bandanas or neckerchiefs. The great thing about these wardrobe staples is that you won't have to deal with employee's different body sizes and you won't loose on the marketing impact they will carry. These square scarves grab attention and your company logo surely won't go unnoticed, especially if in bold color, like dark spring green or fire brick red.
Combo: Wear a square scarf on top of a light colored sweater (mint cream, beige) and dress pants. This accessory gives you a plethora of outfit combos, just make sure the scarf is visible.
Experiment With Accessories
Leather Business Bags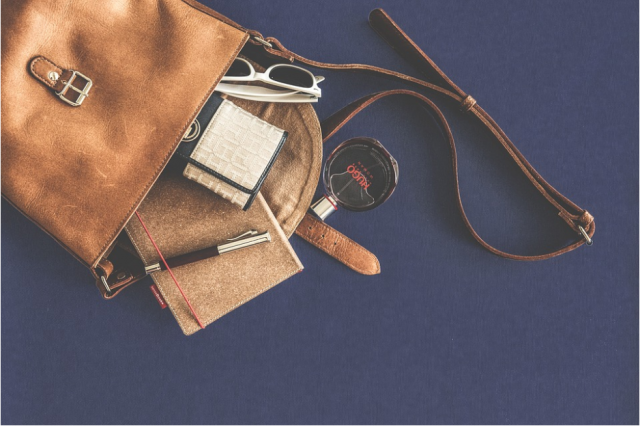 Lastly, if you want to leave the freedom to your employees to dress as they please but still promote your business, equip them with branded business bags they'll carry all day, every day. To make sure they're durable and your investment is long term, these bags should be made of real leather. Choose dark colors here, like any shade of brown or black.
The Takeaway
There are ways custom business apparel can be fashionable. The suggestions above are just hints at how you can create a winning business apparel combo. Start from here and add your own twist to it or consult your employees to get their insight. Together, you'll create your own winning custom apparel combo that will promote your business every step of the way.