Hello divas; is 2017 treating you well? Straight from the Christmas and New Year festivities, am sure some of you indulged a bit too much; and it shows. It is disheartening to stand in front of the mirror and be faced with yet another bulge.
The long-term solution is definitely to eat right and exercise. In the meantime, your choice of clothes should ensure that you cleverly conceal the unappealing parts as you work to get back in shape. Try the following styles:
High Waist Pants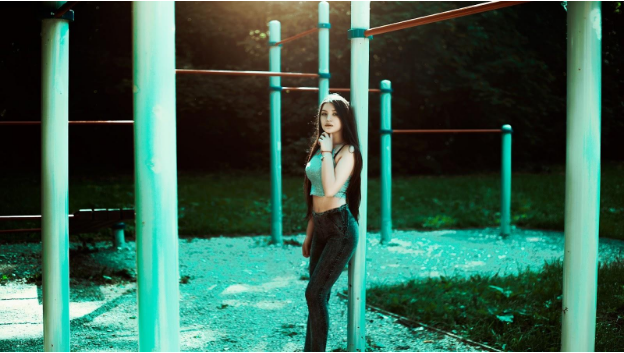 Most of the fat settles in the midsection. Once you put on your pants, the belly fat seems to spill out and create a bump at the waist line. Some will refer to this as a muffin bump. Instead of the normal pants, go for high waist pants which cover the belly and smooth out its appearance and give a great curvy shape. There are also pants with an elastic front, similar to those worn during pregnancy. They do a great job of hiding the belly and are also very comfortable.
Flared Top
Your choice of top is just as essential if you have a big belly. Avoid thin, clingy tops which only magnify the bumps. Try an empire waist shirt which has the waist line right under the breasts. The eyes are drawn up, away from the belly area.
Thinking of hiding your woes behind a baggy shirt? Wrong move! Such shirts only add bulk to the waist section, which is just the opposite of what you're seeking to achieve. Go for tunic style tops which give an overall slim effect while conveniently hiding the belly.
Banded tops also do a great job of concealing the body fat. The band here is at the bottom of the shirt and lies conveniently on the hips as the upper tapers slightly to hide the bulge.
Wrap Dress
Is your belly bulge keeping you from wearing dresses?  Grab a wrap dress. The double fabric covers the belly and draws attention to other areas. Wrap dresses comes in all sorts of styles. You can always get one for office, casual and even evening wear.
Wide Jeans
If all your holiday niceties seem to have landed on your hips and thighs, you may have to shelf your skinny jeans for a while. Those will only draw all attention to your hips. Go for jeans which are wider at the bottom. They will even out the bulk on your hips and give a more or less straight look.
Fitted Bras
One of the most unsightly appearances that you can have is the double boob; where the breasts spill over the bra cup and form an additional bump. If this happens with a bra that previously fitted, then it is time for a new one.
Get a professionally fitted one instead of selecting from the generic sizes. You will then have a smooth, even appearance. The issue can also be solved by loosening the straps of your bras.
They make them adjustable with good reason. Most of us tie the straps tight to get a boob lift.
You can still look sexy with your boobs at the normal position, and you'll be more comfortable.
Boobs can also spill to the sides, under the armpit. Shelf your tight tank tops with thin straps and goes for looser ones with thicker straps preferably going around the neck.
Remember this is only temporary; make an effort to get back in shape so that you can rock any outfit like the diva that you are. This for example can only be worn if you're in great shape. All the best as you get there!